Spend the night at Hart House for 12 hours of performances, panels and interactive activities (photo by Yi Zhao for Hart House)
Put on your pyjamas, pack your bathing suit and head to Hart House this Thursday for its first-ever overnight art party.
Night of Ideas is an action-packed event featuring live music, dance performances, art installations, roundtable discussions, a midnight swim and a pyjama pageant.
"Hart House is a magical place for an all-nighter," says Barbara Fischer, executive director and chief curator of University of Toronto's Art Museum and one of the event organizers. "We have the fireplace. We have the pool. There's food and drink. There are couches to nap."
Night of Ideas is a joint event between U of T's Art Museum, Hart House and the Cultural Service of the French Embassy of Canada. U of T and the French Embassy have been long-time collaborators, working together for over 10 years on programs and events.
While you're sipping drinks and crafting a sleep mask in the Great Hall, people in over 50 cities around the world will be celebrating the Night of Ideas too.
"We'll see the events unfold almost in the way in which New Year's Day gets ushered in, in that we'll see the first images come during the day on Jan. 25," says Fischer.
The event is taking place in conjunction with an exhibit at the Art Museum called Figures of Sleep, which will explore the idea of sleep from social, biological and economic perspectives.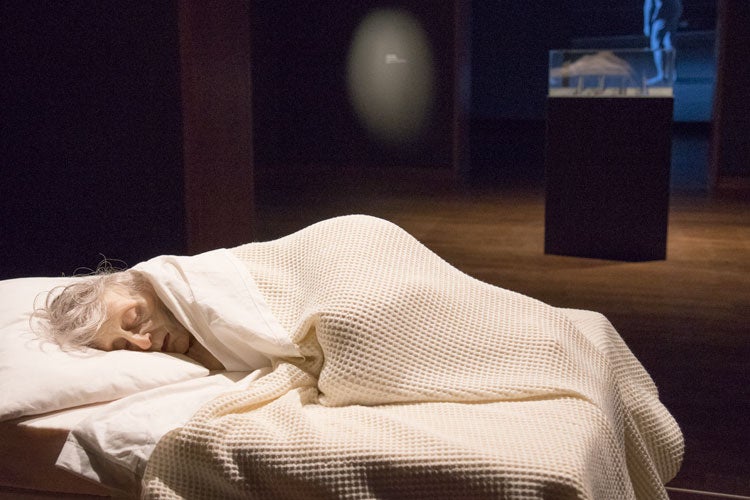 Old Woman in Bed, a sculpture by Ron Mueck on display at the Art Museum (photo by Romi Levine)
Don't forget to snap some selfies while dancing to the tunes of DJ L'Oqenz. Share your photos from the night on Instagram, with the tags #NightOfIdeasTO, #NightOfIdeas and #artmuseumuoft, and remember to set Hart House or the Art Museum as your location so you can be entered into a draw to win roundtrip airfare to Paris and a number of other prizes.
You'll be too busy to think about falling asleep at Night of Ideas, but Fischer hopes experts from all over the world will provide a new perspective on what it means to think, sleep and dream.
"It's fascinating to find out how in some ways the study of sleep is a cross-disciplinary, cross-cultural phenomenon," she says. "I was amazed at the kind of interest and intensity with which the subject is treated in different areas."
Hear from a number of U of T staff and faculty including Sarah Sharma, associate professor of communication, culture, information and technology at U of T Mississauga and the director of the McLuhan Centre for Culture and Technology. She will be speaking about her research on changing notions of sleep in the city – from late night taxi drivers to business travellers.
Jill Carter, assistant professor of drama, theatre and performance studies, and Indigenous studies at the Faculty of Arts & Science, will be reciting a "whacky, whimsical bedtime story."
"It's about creation, competing knowledge systems, right-and-wrong relations, and dreaming turtles," she says.
Explore how people hundreds of years ago understood dreams and dreaming with Janine Riviere, an instructor at New College who wrote a book about dreams in early modern England. Listen to sleep scientist Richard Horner, a professor of medicine and physiology at the Faculty of Medicine, bust myths about sleep.  
"Sleep has been a topic of interest to science, philosophy, religion, art for centuries," says Horner, who says he's looking forward to chatting with sleep experts across different disciplines. "When you open yourself up to more ideas, you realize how informative they are to other people."
The night also has the potential to generate new ideas, says Riviere.
"The opportunity to hear other scholars, artists and performers talk about their work is something I look forward to and which will undoubtedly make for a memorable and intellectually stimulating evening," she says.