Gun violence: U of T alumnus developing tool to screen U.S. patients for gun injury risk
As COVID-19 continues to spread around the world, some experts are warning of a parallel epidemic in Canada and the United States: a rash of gun violence. 
In Toronto, the number of shootings this year was 409, up from 380 over the same period in 2019. Over the summer, youth advocates warned that the closure of safe spaces such as community centres was partly behind the disturbing trend.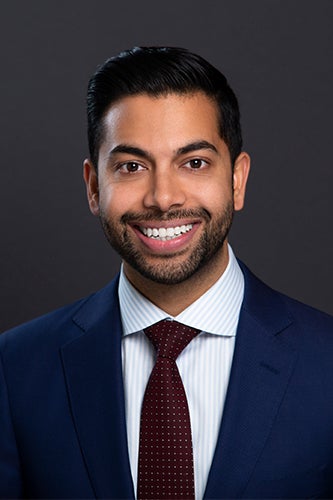 The problem appears even more acute in the U.S., which has one of the highest rates of death from gun violence in the developed world and has similarly seen spikes in gun violence during the pandemic. In the spring, firearm deaths were up while Americans sheltered at home, according to NBC, and gun sales also increased.
Chethan Sathya, a University of Toronto alumnus, surgeon and director of the Center for Gun Violence Prevention at Northwell Health in New York state, is working with colleagues to create a universal screening tool that would identify those at risk of firearms injury. The large-scale study received more than US$1.3 million in funding from the U.S. National Institutes of Health.
The goal, Sathya says, is to make medical screening for firearm injury as routine as questions about smoking or sugar intake, and to provide patients with counselling around guns.
"If we make it part of usual care, it will really push us to consider this a public health issue and to normalize the conversation around guns," he says.
Sathya recently spoke to U of T News about the screening initiative.
---
How did you become interested in gun violence as a research area?
When I was in Toronto doing my residency in surgery, we did start to notice toward the latter end of that training that we were seeing more and more gunshots. So you know this is very much an issue in Canada as well as in the U.S., especially in Toronto which has had an uptick in gun violence.
I came to Chicago for my paediatric surgery training and I was pretty horrified to have to continually treat children and babies with bullet wounds, pulling bullets out of six-month-old babies. It was horrific to see. That was a wake-up call for me to get involved in this issue as a public health issue.
Telling family after family that their kid had died from a gunshot wound became very horrendous. When I got to New York, that got me very involved in the American College (of Surgeons) and multiple national societies including Doctors for Protection from Guns that's led by Dr. Najma Ahmed [of U of T's Temerty Faculty of Medicine].
Our CEO at Northwell was one of the first health-care CEOs to take a stance on gun violence. It really reverberated. That led to the establishment for the Center For Gun Violence Prevention. Our goal at the center is to mobilize the health-care sector as a whole.
Your screening approach to gun violence is modelled after an earlier initiative at Northwell to address substance abuse. Why do you think a similar approach would work here?
The program for substance use really prides itself on asking everybody about substance use. The whole idea is that if you ask everyone, you avoid stigmatization. You make the conversation very normal and just part of the usual care that everybody gets as part of their hospital visit.
You could imagine asking targeted folks about substance use. It might come off as judgmental and it also makes physicians reluctant to do so. But if you make it part of the workflow, part of the routine visit, it's a pretty big movement.
Basically. this has never been done with respect to firearms in Canada, the U.S. or anywhere in the world. This is why we approached the NIH with this project and this is the thing they were most excited about: We are going to implement a universal, we-ask-everyone approach to firearm safety. We're going to ask every patient who comes into the emergency department questions around firearm access and gun violence risk.
We have a score that has been validated that will be integrated into the electronic health record. And so every patient will be asked, and our hope is that it will yield a ton of data that we've never had because of the Dickey Amendment [the 1996 rule passed by Congress that was interpreted as barring gun violence research].
It'll provide a wealth of data, but it will also normalize the conversation between physicians and patients about guns because in Canada and the U.S. very few physicians actually ask.
Why are doctors often reluctant to talk to their patients about guns?
There are multitude of factors – this has kind of been studied.
We are going to find out the real reasons because of this large-scale study, but thus far what we know is the barriers include not wanting to offend patients.
They also don't know how to have the conversation. It's not a normal conversation to have. They don't know how to counsel around gun safety and so if your patient says, 'OK. I have a firearm,' then what?
How do you counsel and what are the resources you can provide these patients, whether it be in the community or gun locks and that kind of thing? Most physicians have no idea.
Tell me more about the screening process. What kind of questions will you be asking?
We're going to be asking questions around firearm access inside and outside the household, and we're going to be asking questions about gun violence risk.
There's a population of folks who have guns in the household and then there's youths and so on from disadvantaged communities that are at increased gun violence risk. But there is a score called the safety score that has some questions that have been validated and can give you a sense of how at-risk a person is. Those include questions like: Have you recently had a gun pulled on you? Have you been in fights? That type of thing. It's more about situational violence.
When do you plan to start?
Hopefully in the next couple of months. We're already in the process of integrating it into our electronic health records. As you can imagine, there's a lot to work out because this is a big health system.
What kind of insights do you hope this initiative will provide?
Because this has never been done before, I think the potential impact is tremendous.
We know so little about why physicians don't ask and how patients really feel about this. From the studies, we know most patients are actually OK with doctors asking, but still we don't have enough of a broad study to tell that.
This will elucidate what the barriers and facilitators are on both the patient and provider side about asking these questions, and then a big part of this is not just the screening, it's the intervention. We're going to be counselling them, giving gun locks to all the patients that need them and providing those at gun violence risk with community resources.
We're partnering with community organizations for that. I think there's so much to be learned at every step of the way. We also want to learn: Is the counselling we do effective?
We're going to follow these patients in the community and see if they change their [gun] storage behaviour. Did they have repeat violent events? We're actually going to be assessing if this made a difference.
Then there's the overall paradigm shift that we hope to create by making gun violence questions part of usual care. We want to address this so that it's no different than with smoking or sugar intake. If we make it part of the usual care, it will really push us to consider this as a public health issue and to normalize the conversation around guns. That's the biggest asset that could come from this.
Last year, Congress set aside US$25 million for firearm safety studies. That doesn't sound much for something that the U.S. Centers for Disease Control and Prevention estimates is responsible for almost 40,000 deaths a year.
Exactly. I completely agree. We all welcome, for the first time, federal funding because it really gives us a sense of purpose when we're doing this research. This is what's going to allow us to do such a large-scale research project. At the same time, however, it's a drop in the pond compared to what's given to cancer research, heart disease, smoking, all that stuff. So, I think there's a lot more work to do. We're hopeful this will continue, and it looks like it will. The amount of support will increase, I think, depending on which administration takes over. But we're hopeful that this is the start of more to come.
UTC