'A great feeling': Fred VanVleet Scholarship recipient Abdullahi Hassan sits down with VanVleet, CBC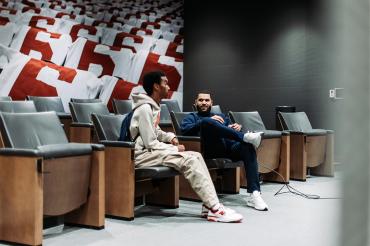 Abdullahi Hassan was in second-period accounting class when he was handed a letter and asked to read it out in front of his peers.
That's the moment when he found out he was the inaugural recipient of the Fred VanVleet Scholarship, which covers tuition at the University of Toronto's Rotman Commerce program, an annual stipend for textbooks – and mentoring from the Toronto Raptors guard himself.
"The first thing that I did, I just had to text my sister and tell her: 'I got the scholarship, don't tell mom, I have to tell her when I get home, I've got to surprise her," Hassan told the CBC News "Front Burner" podcast.
His mother's eventual reaction? "She was in tears. She was just so grateful and like, you know, proud of me. It was a great feeling seeing your mom in that state … seeing me accomplish so much."
The needs-based scholarship was launched by VanVleet to support incoming Black and Indigenous students at Rotman Commerce, an undergraduate business program offered jointly by U of T's Rotman School of Management and Faculty of Arts & Science.
The Raptors star, who was a key member of the team's 2019 championship run, told CBC News that the idea for the scholarship emerged from conversations inspired by the "huge social justice push" that occurred around the world amid the COVID-19 pandemic. "This is one of the things that was born out of that, which was to offer a full scholarship based on entrepreneurial skills and pursuits. [It's] just something that I'm honoured to be a part of," VanVleet said during the podcast, which also explored VanVleet's journey to winning an NBA championship and establishing himself as a team leader.
"For somebody who didn't love school that much, I think it's a great cause and giving a kid that may not have had as good of a chance at this a chance, I think, is pretty special."
In a video posted to the Raptors' social media channels, Hassan is seen meeting VanVleet at the OVO Athletic Centre in Toronto, with his proud parents in tow. "He said if I need anything, anything I'm struggling with, to just let him know," Hassan told the Raptors. "I just realized he's actually here to support me. I'm really grateful for that."
UTC