Fred VanVleet and U of T launch scholarship for Black and Indigenous students at Rotman Commerce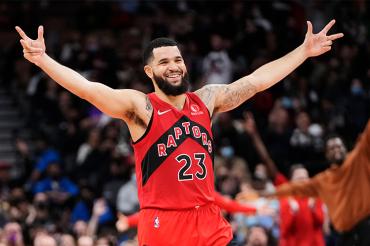 Toronto Raptors' guard Fred VanVleet has launched a scholarship at the University of Toronto for incoming Black and Indigenous students at Rotman Commerce.
The needs-based scholarship, which gives preference to students in the management specialist program, includes four years' tuition, a yearly stipend of $1,000 for books – and mentoring by VanVleet himself. 
"This scholarship is important because it's going to shine a light on some of those who may be under-served or under-privileged in certain communities and aspects," VanVleet said in a video posted to Twitter. "We know there's a selection process to a lot of different scholarships and sometimes that counts people out. We're just trying to make a concerted effort to shine a light on those who may have not gotten a proper opportunity."
Rotman Commerce is an undergraduate business program jointly offered by the Rotman School of Management and the Faculty of Arts & Science.
Alex Edwards, an associate professor of accounting and director of the Rotman Commerce program, thanked VanVleet for investing in Black and Indigenous students' academic futures. "Scholarships not only provide crucial financial support, they also inspire students to challenge themselves and pursue big dreams – within the Rotman Commerce program and beyond." Edwards said in a statement. 
Speaking to the Toronto Star, Edwards commended VanVleet for using his platform to foster diversity. "Diversity is important, important societally, important to us as a business school," he said. 
"It provides an experience and an opportunity for someone who might not have had that opportunity otherwise, but it also enriches the experience of everyone around to get a diverse set of perspectives in the classrooms, in group work, throughout their learning," he said.
The scholarship – valued at $57,800, plus the annual stipend for books – also includes one-on-one mentoring with VanVleet.
"Mentorship is an important part of this, because you won't find a lot of the answers in books – or the answers that are there are filtered through an experience and a history that is not yours or that may not even be accurate because of bias," VanVleet said in the statement. "So maybe the answers come through conversations or shared experiences. Mentorship can provide inspiration, too – seeing someone who looks like you, succeeding on their own terms, is huge." 
VanVleet, a member of the Toronto's 2019 championship team, re-signed with the Raptors last November for US$85 million.
"Fred sets an example on and off the court, and this scholarship is further evidence of his leadership and his vision," Raptors vice-chairman and president Masai Ujiri said in the statement. "I believe the recipient of the Fred VanVleet Scholarship will benefit from not just the support in their education, but their relationship with this incredible person."
UTC