New graduate credits U of T's Transitional Year Programme for her success – and plans to pay it forward
After overcoming challenges to achieve her dream of attending university, Floria Kangootui aims to help others by drawing on her own experiences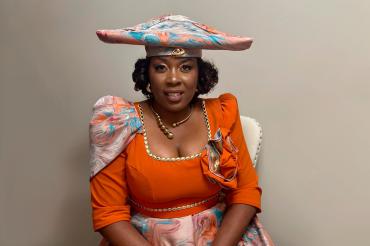 As Floria Kangootui crosses the stage at Convocation Hall this week, she'll be thinking about how far she's come.
While the University of Toronto graduate always planned to continue her education when she fled Namibia for Canada 12 years ago, obstacles kept getting in the way – until she discovered the Transitional Year Programme (TYP).
"I wanted to go to a country where I would just feel safe and be who I am. I came not having any friends or family, not knowing anyone – I just made a huge decision to come here and really wanted to go to school," recalls Kangootui, 40, who earned a bachelor's degree in the Faculty of Arts & Science with a major in critical studies in equity and solidarity and a double minor in Indigenous studies and African studies.
"When I arrived, I came in as a refugee claimant and did not have my immigration status yet. Due to my challenges supporting my family back home, I dropped out of school. I didn't know what to do – I didn't have a voice for myself."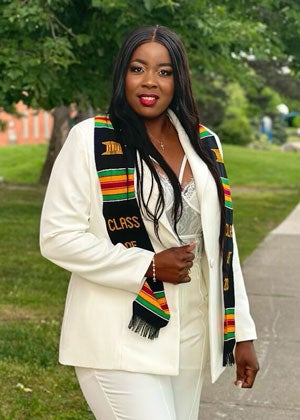 Kangootui, a member of University College, left Namibia because of societal pressures, including a longstanding tradition within her family to promise girls in marriage to their cousins, as well as deeply rooted homophobia within the country.
Once in Canada, she took a job in 2013 with a mining company in Timmins, Ont. – pushing her aspiration to finish high school even further off.
But when an Indigenous colleague at the company shared stories about residential school and the Sixties Scoop, Kangootui's desire to learn was rekindled.
"I really began questioning why I didn't know anything about this history and realized I wanted to go back to school and learn more about the history of Canada."
After becoming a single parent in 2016 and moving back to Toronto, she was set to study community services at college when a Facebook post about U of T's Transitional Year Programme caught her eye.
The eight-month program, which helps adult students who have not completed high school enter university, offers supports – including an academic adviser, access to counselling, funding options, spaces to work and social events – to ensure students succeed in transitioning to undergraduate studies.
"I remember going to my first TYP meeting – it was opening doors to people who never would have had the qualifications or background to go to university," Kangootui says.
Kangootui's interest in social justice quickly found a home in her studies, which opened her eyes to inequities at home and abroad and underscored her desire to effect change.
"For example, I have people from my community who are LGBTQ – they don't want to come out because of the stigma," she says.
"Learning more about equity has really changed my understanding about so many things."
Kangootui credits the TYP with allowing her to fulfil her dream of higher education – and for helping her to cultivate a network of peers who have overcome everything from addiction, language barriers, homelessness and more to work toward the same goal.
"Every story is so unique – most of us didn't have parents who went to university. I think all of us realized that it was something we had to do," she says. "The people that I have met in the program, we are still together to this day – it's a real community."
"Even though we may come from different backgrounds and speak different languages, we all still need a place where we feel that we belong."
She's also grateful for the mentorship and guidance of faculty and lecturers Francis Ahia, Stan Doyle-Wood, Chevy Eugene and Joanne Valin, as well as program director Lance McCready, registrar Shane Wallace and program administrator Maru Rodriguez.
"Floria was a committed, conscientious TYP student who built a strong network of support," says McCready, associate professor of leadership, higher and adult education at U of T's Ontario Institute for Studies in Education.
"She is a shining of example of the transformative power of undergraduate studies and the importance of investing in education access for mature students."
During her studies, Kangootui served as the upper-year representative of the African Studies Course Union and volunteered with Fife House, an organization providing supportive housing and support services to people living with HIV.
"Now I can understand others' struggles based on my experience, and want to give back in any way I can. That's my goal for the future," she says.
Kangootui plans to live up to that commitment through the next step in her educational journey – she'll start a master's degree at U of T's Factor-Inwentash Faculty of Social Work in the fall – and hopes her achievement will inspire her seven-year-old daughter.
She has a simple message for others facing challenges on the path to university: "School does not have any age – we can all do it. If I was able to go to school given my whole journey, and as a single mother, then everyone can do it."
UTC