'Grab this opportunity': U of T alumna's startup to empower women through connection-focused app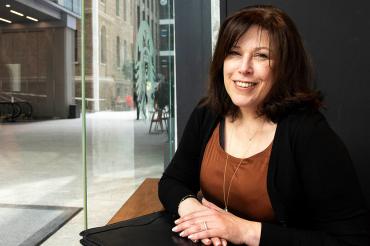 One oft-noted irony of the "social" media age is how much time we spend in physical isolation, staring at our mobile devices.
It's a trend Sandra Pellegrini is hoping to ameliorate – for women at least – via a real-time mobile app to connect users who want to share a meal, go to the theatre or take in a sports event.
Pellegrini, a U of T alumna who has spent much of her career in HR consulting, says she first got the idea two years ago while looking for a fellow tourist to dine with during a visit to Whitehorse.
"I ended up on my own for dinner, watching the Blue Jays on the big screen in a sports bar," says Pellegrini, who graduated from U of T in 1981 with a bachelor's degree in economics.
"I drove back thinking, in this day and age, there's got to be a better way to connect with people."
Pellegrini's answer was Wengage. The free app is strictly limited to women who are looking for company, and offers detailed user profiles, a recommendation engine and chat functions. It allows users to see, in real-time, who else is interested in, say, going for a run, visiting an art gallery or grabbing a bite to eat in a particular location.
As the venture's founder and CEO, Pellegrini says Wengage targets a large, underserved market of women who travel solo for business and pleasure, but aren't able to fully take advantage of the experience because they feel uncomfortable – even unsafe – venturing out alone.
"I thought back to business trips when I had free time between meetings, or I was somewhere overnight on my own in a place like Chicago, San Francisco or L.A.," Pellegrini says.
"As a woman, you end up staying in your hotel room nine times out of 10 unless you have some company."
Pellegrini adds that she also sees a potential market among university students, including at U of T – particularly international students who are new to the city and have yet to develop a social network.
Still in beta testing, Wengage is preparing for a Toronto launch in the coming months. After building a user base, Pellegrini says the plan is to roll out the app in other cities and eventually generate revenue by selling ad space, entering into promotional deals and offering users the opportunity to upgrade to a premium service.
How does Wengage plan to prevent men from lurking on the site, and to keep users safe more generally? 
"You can't use the app unless you're a woman," Pelligrini says. "There's state-of-the-art technology, including facial recognition, to confirm gender."
She adds that there is also a "zero-tolerance policy" for inappropriate behaviour, and that Wengage has designed the app to give users complete control over their profiles and interactions.
That said, Pellegrini stresses that Wengage is not only about creating a safer space for women, but further empowering them.
"It's not a 'poor me' situation," she says. "It's about saying, 'I want to grab this opportunity – I don't want to miss this moment in time.'"
UTC