Going places: Students work with Toronto Public Space Committee to address city's lack of public washrooms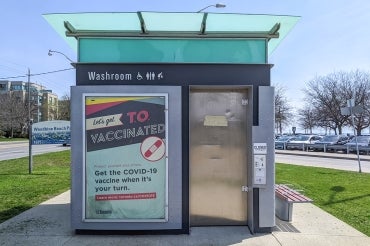 What do you do in Toronto when you have no place to answer nature's call? 
The lack of public washrooms in Canada's largest city is a real and ever-present concern for many – particularly for unhoused populations, families with young children and those living with incontinence.
The pandemic has only exacerbated the situation. As restaurants and retail outlets closed or began restricting access to their facilities, many essential workers, including delivery drivers and public transit operators, found themselves with no place to pull over for a pit stop during the work day.
"I think it's a problem everyone in Toronto has felt, especially this past summer during the pandemic when our only options for seeing people was to gather outdoors," says Alycia Doering, a master's student in the University of Toronto's department of geography and planning in the Faculty of Arts & Science. "There are not a lot of places for people to go."
In the summer of 2021, the Toronto Public Space Committee was eager to make headway in its GottaGoTO campaign, advocating for increased public washroom access across the city. So, Igor Samardzic, a member of the steering committee and a U of T alumnus, turned to his former graduate program at the department of geography and planning for help.
The department accepted his pitch to include GottaGoTO as a project for students in the Workshop in Planning Practice course, which has student teams partner with an external client to tackle a real-world planning problem.
Doering and fellow master's students Sawdah Ismail, Siobhan Kelly, Emily Power and Rameez Sadafal spent months looking into the issue – and their work promises to go a long way in supporting the Toronto Public Space Committee's mission to make the city more liveable.
"We wanted to give talented students an opportunity to make a real impact with us," says Samardzic, who earned his honours bachelor of arts as a member of Trinity College and his master of arts degree from the department of geography and planning. "This was not going to be a project where they wrote a dense report that would collect dust on a city planner's desk."
Sadafal says the team quickly discovered there are many gaps in Toronto's current public washroom network. "It's also a multifaceted issue," Sadafal says. "Our main challenge was figuring out how to summarize the issue so a decision-maker could fully appreciate the problem."
The students completed a rigorous review and jurisdictional scan, which involved poring over policy documents and analyzing strategies undertaken by other cities, including implementing automated public toilets and arranging agreements with commercial businesses.
"We did a deep dive into all aspects of public washroom planning," explains Doering. "We really needed to understand all angles of the issue."
The team toured Toronto neighbourhoods, paying close attention to gaps in public washroom access. They spoke directly to stakeholders, including community groups, City of Toronto staff members and city councillors.
"I am really proud of what this group was able to accomplish on behalf of the Toronto Public Space Committee at a time when the topic is especially charged with a sense of urgency and political debate," says course instructor Michelle Berquist, manager of area transportation planning at the City of Toronto. "This group took on a project with an ambitious scope, looking critically at the state of practice in our city and its shortcomings. It was a job well done."
Ultimately, the effort paid off. The students delivered a comprehensive report and presentation to the Toronto Public Space Committee in December, when the workshop wrapped, and a few students hope to continue their engagement with the GottaGoTO program in the future.
"We were truly impressed by the work, and we're excited to have a report, backed with evidence, that we can make public and create buzz around the city on this issue," says Samardzic.
Arts & Science