Going with the flow: U of T students tackle Toronto ravines' pressing issues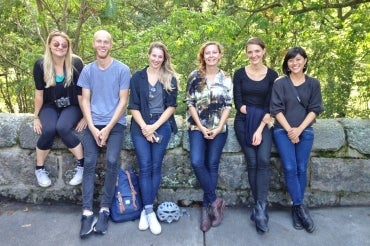 Toronto's ravines snake through the city, providing a quick escape from the concrete jungle while serving as a haven for the city's wildlife. But the ravines are under threat as climate change, rapid growth and even invasive species threaten their future.
University of Toronto landscape architecture master's students at the John H. Daniels Faculty of Architecture, Landscape, and Design are hoping to inspire City of Toronto planners with innovative design solutions to the biggest issues facing the ravines.
They've spent the past semester drafting and perfecting their ideas, biking along the Don and Humber rivers and touring Boston's Emerald Necklace, the city's 1,100 acre chain of parks, to get a first-hand look at how other cities interact with their ravines. Their final projects, which were part of a public exhibit at Daniels on Monday, took into account actions proposed as part of the Toronto Ravine Strategy – a city-led initiative to create a vision for the city's ravines. 

Students went on a 15 km-bike tour to the mouth of the Humber River (photo by Alissa North)
"The city is really growing and population and density is increasing a lot. It puts a lot of pressure on the ravines, and so we're seeing a lot of the issues like flooding and ecological deterioration of the ravines," says Alissa North, an associate professor at the John H. Daniels Faculty of Architecture and director of the master of landscape architecture program.
North grew up right next to the Humber River so she is keenly aware of the importance of preserving the ravines. 
"It's a big issue and a big opportunity to see how we can find more productive relationships between the city and the ravines," she said.
Students picked a particular issue to focus on – like promoting cultural heritage or preserving ecological features – mapping out a big-picture strategy while also focusing on site-specific solutions. 
Andrew Hooke looked at how to save at-risk plant species while mitigating invasive plants and flooding. 
"I learned a ton about different plant species, and how they're able to spread throughout the ravines," he says.
Stephen Brophy chose to re-imagine Black Creek, a watershed that connects with the Humber River, to incorporate cultural programming while also preventing flooding. He says Toronto's ravines should play a more important role in the city's identity. 
"Central Park in Manhattan is its main defining feature. Toronto has a Central Park. It's in the ravines, and it's way bigger but completely overlooked," he says.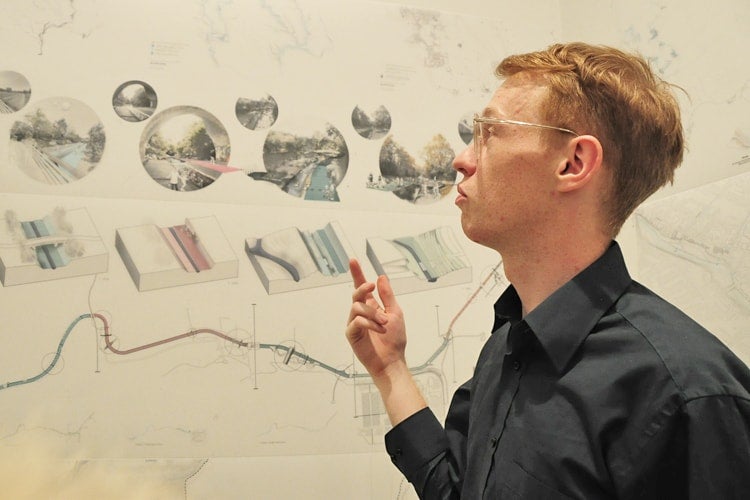 Stephen Brophy wants to include public art in his re-imagining of Black Creek (photo by Romi Levine)
North says students' involvement in the Ravine Strategy is a great way to provide them with real-world opportunity. In turn, city workers can find inspiration from the students.
"Their creativity and unbounded enthusiasm can have a lot of impact on the people who are in the roles that are shaping our city right now," she says. 
The City of Toronto provided students with base map material and city representatives have been present at many of the students' presentations, including their final exhibition. 
"It's quite lovely to see little gems of ideas that could be very useful," says Jane Welsh, a project manager for Toronto's city planning department as she admired some of the final projects.
Maintaining waterways is crucial to creating sustainable cities, says Carolyn Woodland, a senior director at Toronto and Region Conservation Authority. 
"It's great students are thinking long-term because they'll be the professionals of the future," she says.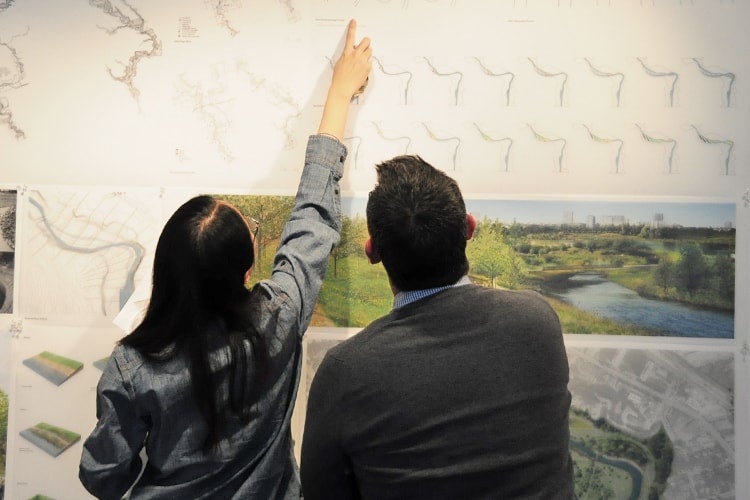 Students presented their final projects during a public exhibition at Daniels (photo by Romi Levine)