Global research partnerships vital to tackling COVID-19: U of T President Meric Gertler in the Globe and Mail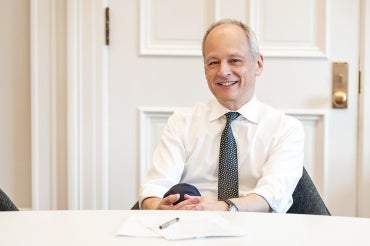 While governments have taken understandable steps to reduce reliance on global supply chains when it comes to COVID-19 protective equipment, an anti-globalization approach should not be taken towards research activity focused on the noval coronavirus.
That's according to an op-ed in the Globe and Mail by University of Toronto President Meric Gertler, who writes that scientific advancement is largely "a team sport whose most rapid advances are achieved when international co-operation is fostered, not frustrated."
As examples, President Gertler cites Canadian researchers' involvement in the World Health Organization's international mega-trial for therapies and the participation of Leslie Dan Faculty of Pharmacy Assistant Professor Keith Pardee in a four-country effort to develop a low-cost, rapid COVID-19 test.
He also observes that the research talent leading these and other efforts "is itself fundamentally globalized," with many of Canada's top scientists recruited from abroad, often with the help of federal programs.
"So, while shortening supply chains might make sense when it comes to the protection of protective equipment and ventilators, creating barriers to the free flow of knowledge and international scientific collaboration is precisely the wrong response at a time like this," President Gertler writes.
UTC