Giving back – around the world: U of T grad supports fellow international students during COVID-19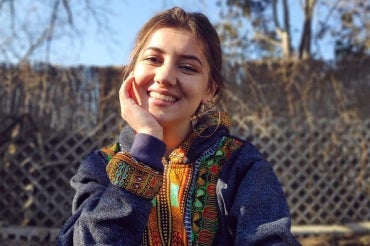 Zarina Mamadbekova's grandfather was a role model, teaching her lessons she would live by while studying at the University of Toronto. Always be kind to others. Get a good education. Volunteer. Use your knowledge to help others. 
As the U of T Mississauga graduand prepares to receive her degree in psychology and political science this year, Mamadbekova says her grandfather's guidance helped her achieve academic success and prompted her to give back to the international student community.
"I felt like it was my responsibility to pay it forward," says Mamadbekova, who came to U of T Mississauga as an international student from Tajikistan.
Mamadbekova officially began her academic journey abroad at age 12 when she moved from her hometown of Khorog to study at the Aga Khan Academy in Mombasa, Kenya. It was her grandparents who convinced her parents to let her go.
"I was so lucky to be part of a space where I had so much diversity and difference around me. It really shaped me as an international student," Mamadbekova says.
Mamadbekova spent her third year at U of T on exchange in London through the International Education Centre (IEC). When she returned to Canada, she sought to help U of T Mississauga's international student community by applying for a job at the centre, where she was offered a position leading programming for international students.
"The first day on the job, I knew that I was meant to be there," Mamadbekova says.
She re-invented the IEC's Buddy Program, now called the International Student Mentorship Program, which connects first-year international students with upper-year students who have similar backgrounds – such as language or country – in an informal atmosphere.
She was also a Launch leader within the Centre for Student Engagement, where she supported the transition of new students at U of T Mississauga.
When the pandemic struck, Mamadbekova says many students returned home and faced challenges such as studying in different time zones or struggling with poor internet connections.
"I really understood the struggles that they were going through," she says, adding that she spent her first semester in Tajikistan, which is 10 hours ahead of Toronto's time zone.
Noting that students were "missing those personal connections," Mamadbekova says it was important for her to foster bonds in a virtual space. She connected with her peers virtually and was "able to provide that kind of support and mentorship to my students because I was going through exactly what they were going through."
During her time at U of T, Mamadbekova was also involved with the U of T Mississauga Athletic Council, where she focused on virtual programming for students to help maintain their physical well-being.
Upon graduating, Mamadbekova will be working at U of T Mississauga as a global living learning community developer at the Student Housing and Residence Life's Global Living Learning Community.
In this role, she will be developing programming and organizing a speakers' series for students who live at U of T Mississauga's multi-disciplinary residence community.
Mamadbekova also hopes to do more work with the Pamiri Youth Network, a group she co-founded with other students from Khorog she met while studying in London. So far, the group has successfully raised funds for communities during COVID-19, including the Pamiri-Ismaili community in Moscow, and is now raising money for an oxygen generator and medical gear for Tajikistan.
She says her grandfather's lessons continue to loom large.
"He was so humble and down-to-earth, and he was the same with everyone," Mamadbekova says. "That kindness has inspired me from day one."
UTC