Gelareh Zadeh, a neurosurgeon-scientist, recognized with Canada Gairdner Momentum Award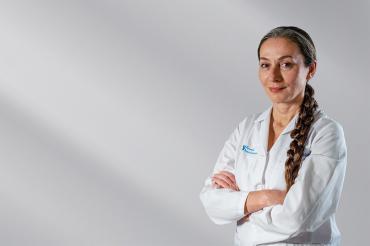 Gelareh Zadeh, a researcher at University Health Network and the University of Toronto, has been recognized with a 2023 Canada Gairdner Award for her work on the classification and treatment of brain tumours.
She is one of two winners of the inaugural Momentum Award, created by the Gairdner Foundation to recognize mid-career researchers who have made significant discoveries with the potential to improve human health.
"It is such an honour to receive this award from the Gairdner Foundation," said Zadeh, a senior scientist at University Health Network and a professor of surgery in U of T's Temerty Faculty of Medicine.
"I attribute my success in large part to the highly skilled and integrated research and clinical teams that I work with at University Health Network. My team's achievements in translational brain research simply would not be possible without the exceptional researchers, trainees, neuro-oncologists, surgical teams and patients that we work with every day." 
The Gairdners are Canada's most prestigious honour for health-related research and have developed a reputation since their inception in 1957 as a precursor to the Nobel Prize, with roughly a quarter of Gairdner recipients later winning a Nobel.
Zadeh was recognized for her contributions to the understanding of brain tumours. Her work has led to a new molecular classification of meningiomas, one of the most common types of brain tumours – an advance that could produce more effective treatments, models for predicting patient outcomes and biomarkers of treatment response.
Her research integrates molecular, genomic and epigenomic techniques with experimental models of brain tumours to accelerate translational research.
Zadeh has also led international efforts to define the genomic landscape of neuronal tumours that have not been the focus of significant biological research, including schwannomas, peripheral nerve tumours and malignant peripheral nerve sheath tumours. These efforts have revealed novel fusion proteins and resulted in the molecular sub-classification of schwannomas.
Additionally, her team has identified two biological pathways that drive the progression of benign peripheral nerve tumours toward malignant sarcomas. These molecular pathways provide a better biological understanding of tumour transformation, but also offer targets that could be used to develop therapeutic strategies, including the repurposing of existing pharmaceuticals.
In collaboration with researchers at the Princess Margaret Cancer Centre, Zadeh has advanced the development of blood-based biomarkers that can help discriminate among different brain tumour types and potentially to track response to therapy and early recurrence of disease.
Zadeh holds the Dan Family Chair in the division of neurosurgery in U of T's department of surgery and is the first woman in Canada to be named neurosurgery chair. She is also the head of neurosurgery at Toronto Western Hospital and co-director of the Krembil Brain Institute. She leads a 30-member research team at Princess Margaret Cancer Centre.
Her other prestigious honours include the William E. Rawls Prize from the Canadian Cancer Society, the Top 25 Women of Influence Award, and the Ab Guha Award, which is jointly awarded by the Society of Neuro-Oncology and American Association of Neurological Surgeons.
The Gairdner Momentum Award comes with a $50,000 prize and will be presented during Gairdner Science Week in October 2023.
A version of this story originally appeared at University Health Network.
Medicine