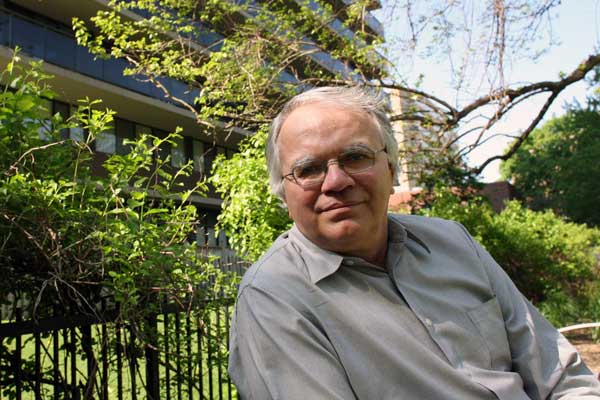 Gap between rich and poor widening, says U of T's David Hulchanski
The headline in The Independent read: "Toronto is the best city in the world" – based on a report from the Economist Intelligence Unit, which rated 36 cities on safety, cost of living and liveability.
But the same week that saw Toronto ranked ahead of London, Hong Kong and New York, the Toronto Star reported more sobering news: University of Toronto Social Work Professor David Hulchanski had found that Toronto was becoming increasingly polarized. Pockets of wealthy residents were surrounded by increasingly lower income neighbourhoods. Meanwhile, predominantly middle class neighbourhoods were rapidly disappearing. 
Hulchanski's research also showed average incomes rising dramatically in the city core and north up the centre on either side of the Yonge subway line. The average incomes plunged in the inner suburbs, particularly in northwest Etobicoke and northeast Scarborough.
His current work updates a previous study he published in 2007, The Three Cities Within Toronto. According to that study, the city actually consists of three separate groups – a low-income group, a middle-income group and a high-income group. The low and high groups are both growing at the expense of the middle-income group, Hulchanski and his colleagues warned at the time. The latest research not only shows the trend is continuing but that, ominously, the three groups are increasingly isolated from each other.
U of T News writer Terry Lavender talked to Hulchanski about his findings and their implications.
What sparked your interest in cities and inequality?
I'm originally from Albany, New York. In American cities in the late '60s, early '70s you had neglected neighbourhoods and a huge gap between the quality of housing for different people. So I was involved with some organizations – university students and professors – back then, and then continued with my activism when I came to Toronto to do my master's.
That year saw the municipal election when David Crombie was elected mayor along with a reform council that was doing interesting things – such as the St. Lawrence neighbourhood. Now it's surrounded by condos but there's a very nice mixed-income neighbourhood there that was planned and designed properly with medium to high density, maximizing the number of units for families. So we had those exciting things going on in the '70s in Toronto as I was studying urban planning.
Why is inequality increasing in Toronto?
It took us 25 years to get to today's situation of income inequality and income polarization with a smaller middle and the two larger poles– a low-income group and a high-income group. There are four reasons for the current situation. One is the labour market: there's the replacement of so-called good jobs by jobs without benefits, jobs that are part-time, and especially minimum wage and very low-wage jobs. Second is the cost of housing. It's the most expensive budget item for the average family. Housing costs have outpaced inflation and certainly have outpaced average wages for average people so that's a really big hit on the household budget. The third is the cutbacks in social programs. The final one is discrimination – workplace discrimination, job discrimination, housing discrimination and educational discrimination. Those four things, year by year, have helped produce the various trends that my research team and I have been documenting for about 10 years.
How did your study come about?
We got this first big Social Sciences and Humanities Research Council grant to study Toronto in 2005 which led to the Three Cities in Toronto report in 2007. In 2010 we updated that report because the 2006 census was available. With the help of the Toronto Star, we were recently able to update the trends to 2012 using tax filer data.
What has been the reaction to the updated figures?
It's been positive. It's better to know than not to know what the trends are. We've had very good partners in the media. The Toronto Star has recently made our main map interactive so you can click on your census tract and it shows you the 40-year change in income in your area. Because our findings have been disseminated more widely, there's now more of a focus on the seriousness of income equality – in the entire city, the entire country and globally.
Your report relies on census data. Have your results been affected by the elimination of the long form census?
The ending of the long form census will seriously affect future research. But the main theme of the Three Cities – the growing income polarization analysis that we do – uses income data, which the Canada Revenue Agency releases annually through Statistics Canada. There is, however, a big loss in that the census provided us with cross-tabulations of everything, not only what the income is, but the income by diversity, by age, by type of job, by renting or owning – allowing all kinds of analysis. That's what we lose. We can't do that with the voluntary National Household Survey – it undercounts so many groups that it's just flat-out inaccurate. We cannot use it. Hopefully the 2016 census will be a good one, the regular mandatory long form 20 per cent sample.
Is this a Toronto-only problem?
The income and polarization trends are the same everywhere in Canada, but they are more pronounced in the faster-growing metropolitan areas. So that would be Toronto first, followed by Calgary and then Vancouver. The trends there are starker, more dramatic. But, they are the same in Halifax, Winnipeg and Montreal – a growing inequality and polarization, just to a slightly different extent.
What can be done to mitigate or reverse the trend towards income polarization?
We need to act through our governments – in the four areas I mentioned earlier – the labour market, housing costs and social supports for those who are disadvantaged, and deal more explicitly and effectively with discrimination.
 
This interview has been edited and condensed.