Knock a block is a cross between croquet and mini golf (photo illustration courtesy of Michael Piper)
Torontonians love to play – obsessing over escape rooms, ping pong bars and board game cafes, all of which are sprouting around the city. 
Michael Piper, an architect and assistant professor at the University of Toronto's John H. Daniels Faculty of Architecture, Landscape, and Design, is tapping into the city's fun-loving attitude to bring more people into Toronto's most-underused open spaces with a game he's designed that's a cross between croquet and mini golf. 
In some ways, it's a new form of public art – but one that is active and can be easily moved around the city.
Piper built the portable game called knock a block with his graduate architecture students. It's fun to play and to assemble, he says. 
"Setting it up is kind of a game in its own right. They're kind of like giant Legos."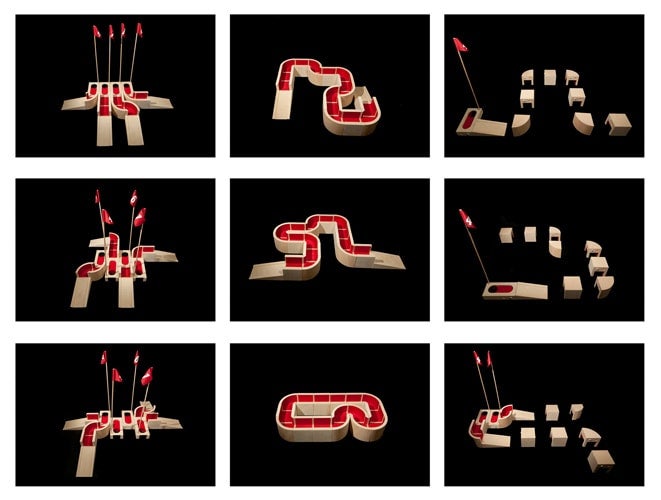 Pieces of the knock a block game are attached using magnets (image courtesy of Michael Piper)
The game, which was created in partnership with New York City's Department of Transportation, will show up first in New York City where it debuts this spring. 
"We like the idea of an alternative form of public art – one that's engaging and playful rather than just something to look at," says Piper. 
Piper says it will find its way to New York's provisional plazas – unused parts of streets transformed into public, recreational spaces – particularly those located in lower-income neighbourhoods. 
"It provides another use for the plaza," Piper says. "Now they serve a sedentary function, mostly adults hanging out, reading the newspaper, drinking coffee. The idea with the game is it adds another constituency to the mix – that being kids and families, mostly, to play these games."
Piper hopes to bring it soon to Toronto. He wants to work with city builders – from the Faculty of Architecture to condo developers – to introduce the game here.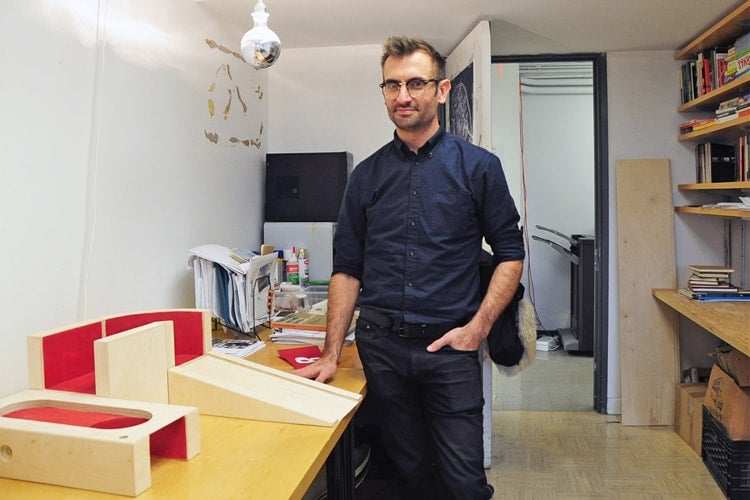 Piper poses with a component of the knock a block game. (photo by Romi Levine)
He says he'd like to see knock a block played on the U of T campuses to bring more activity to areas that don't get a lot of use.
The game would also be a perfect fit for the city's privately owned public spaces, says Piper.
"With all the new condo developments, you get these tiny little plazas, which have been criticized for being underutilized. Those are actually the ideal size for this sort of thing," he says.
Architecture graduate students Michael DeGirolamo and Drew Hart enjoyed working on the project.
"It's a bit out of my comfort zone," says DeGirolamo, who adds that he liked the challenge. "It was quite fun to piece it together and make it actually assembleable."
Hart helped put together the elements that surround the game like the instruction manual and logos. 
"It was fun to kind of dial in the tone and find the right amount of kitsch," he says. 
Piper says portable games like the one he designed are a great way to foster public engagement without the financial strain.
"When funding for the arts isn't something that's on the top of everyone's list, it's a way to share [an activity] among multiple constituencies, stakeholders, property owners, agencies."