Fringe Festival: U of T students and grads take the stage
As the curtains rise on this year's Fringe Festival, 142 productions are getting ready to take the stage – many rehearsing into the wee hours to make sure everything is perfect before their big debut. 
Fringe is Toronto's largest theatre festival, drawing around 90,000 spectators to the 32 participating venues across the city.
The University of Toronto has long played a part in the festival – many of the participating theatres are scattered across the downtown Toronto campus. And with programs such as drama, theatre and performance studies and a large community of theatre fanatics, it's no surprise that there's a sizeable contingency of U of T students, faculty and alumni from all three campuses performing in Fringe plays. 
Fringe also plays an important role in developing the careers of U of T students interested in theatre, says writer and director Banuta Rubess. She teaches at the Centre for Drama, Theatre and Performance Studies. 
"Countless independent theatre artists have begun their careers via the Fringe," she says. There is a big audience ready to look at all sorts of work, and therefore it's not difficult to get spectators, and it's also a great venue for mingling with your future collaborators." 
U of T News spoke with current and former students about their experience preparing for this year's festival. 
The PhD candidate making a difference 
"I just love fringe," says Shira Taylor with the enthusiasm you would expect from someone about to participate in her fifth Fringe Festival this year. 
She's in the midst of her PhD in social and behavioural health science at U of T's Dalla Lana School of Public Health. 
What began as research for her thesis became the play SExT (sex education by theatre), making its Fringe debut on June 29. 
She set out to generate discussion with teens about issues surrounding sex and sexuality. It led her to the Thorncliffe Park and Flemingdon Park neighbourhoods of Toronto, which have a large newcomer population – mostly Muslim families from South Asia.  
Taylor was surprised at the teens' enthusiasm and openness during discussions. Inspired by their talks, the students found ways of presenting their views as skits, songs, raps, poems and dances – "any creative way they felt moved to engage with these topics," Taylor says.
And that is how the play was born. 
"I think it's very exciting and very different from what Toronto theatre usually sees because it was just so real and raw and these are kids that have never been on stage before," Taylor says. "But when you put them on stage, it was magic."
Tackling the subject matter, of course, had its challenges. The cast members live in the epicentre of protests against this year's changes to the sex-ed curriculum. This meant that some of their involvement in the production had to be kept secret from their parents. 
But Taylor was adamant on making their voices heard as part of the debate and discussion. 
"They have a lot of really insightful things to say," she says.   
Info and tickets: http://fringetoronto.com/fringe-festival/shows/sext/ 
The Fringe veteran
Taylor Hammond graduated from the master's program at the Centre for Drama, Theatre & Performance Studies in 2015. He acted in a Fringe play that year called You and That F***ing Gorilla. After getting a taste for Fringe, he decided to take on his own passion project for this year's festival. 
"To see this thing that began in the imagination come to life is really cool as a young playwright," he says. 
His play, called Damn Tank, takes on the topic of assisted dying in an offbeat yet meaningful way. 
"It's about two women who euthanize illegally in the dessert," says Hammond. "The son of someone they euthanized comes back to revenge his mother."
The play is as timely as it is thought-provoking, with its debut coming just weeks after Bill C-14 was given royal assent.
"I wanted to offer audiences an artistic rather than a political or intellectual approach to understand what these current laws that our government is struggling with mean for the people," says Hammond. 
The tight-knit cast includes two other U of T alumni – Laura McCallum and Julija Pesic (who will be starting her PhD at U of T in the fall). 
"You sort of enter this territory with your cast and the actors and the production team of creating something and it's everyone's artistic creation that we're risking pieces of ourselves to put into the real world," says Hammond. 
Info and tickets: http://fringetoronto.com/fringe-festival/shows/damn-tank/
(Pictured below is the cast of Damn Tank in a photo courtesy of Taylor Hammond.)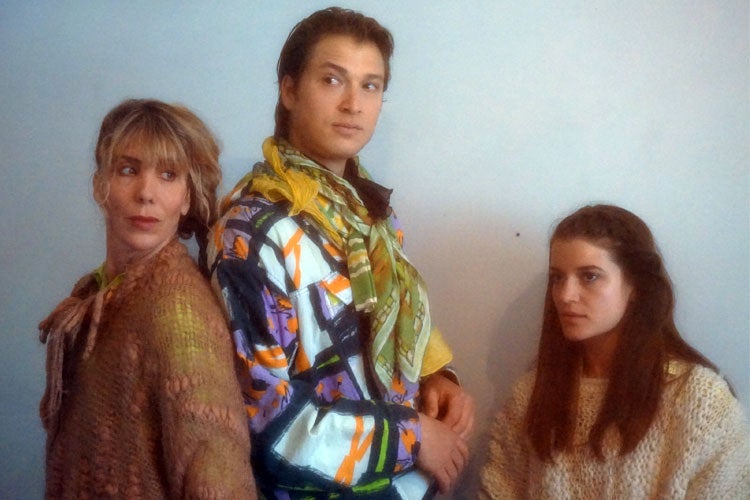 The Fringe rookie 
For OISE grad and Fringe first-timer Joseph Garrett, the process of writing and producing a play has been a good lesson in creativity but also in limitations.
"It's a great overall experience but it's definitely really given me a lot of perspective on what I can do in the future for any other performances," he says. 
Fringe plays are very grassroots productions – the cast and crew have to create their own set pieces, costumes and promotional material – all in a short block of time. 
Garrett's play, The Pain in my Ass or: How to Adult, tackles millennials' favourite existential question: "who am I and what am I doing with my life?"
It follows a recent university grad who has just returned home, unsure of what his next steps should be. And then it gets worse – the protagonist is told he has a cyst on his tailbone – called a pilonidal cyst. As the play's title suggests, it's a real pain in the butt. 
The pain comes from a real place – Garrett was once diagnosed with the same cyst – but instead of dwelling on it, he used it as creative inspiration. 
"I found the humour in it and that's what a lot of the show comes from," he says. 
Info and tickets: http://performers.fringetoronto.com/node/11613 
(Pictured below is some of the cast of The Pain in my Ass or: How to Adult in a photo courtesy of Joseph Garrett.)
Where to watch U of T students and grads at Fringe 
Here are just a few of the shows where you might see some familiar faces:
#Scarecrow – Written by U of T grad Chantel McDonald, this dark comedy looks at the difference between projected and authentic identities. Which one is more real?
Info and tickets: http://fringetoronto.com/fringe-festival/shows/scarecrow/ 
Cowboy Mouth – Starring U of T grads Bobby Del Rio and Matthew Krist, who also produced the play, this is a surrealist love story based in a hotel in 1971
Info and tickets: http://fringetoronto.com/fringe-festival/shows/cowboy-mouth/
Life After – This story of love and loss written by Britta Johnson, who graduated from U of T's music program, tells its tale from the perspective of a 16 year old named Alice. It won the Paul O'Sullivan Award for Musical Theatre. 
More info: http://fringetoronto.com/fringe-festival/shows/life-after/
That Joyce Girl – Written by U of T Mississauga theatre student Kate Cattell-Daniels, the play follows the life of the daughter of famed author James Joyce as she looks to find her way out of her father's shadow. 
Info and tickets: http://fringetoronto.com/fringe-festival/shows/that-joyce-girl/ 
Romeo and Juliet Chainsaw Massacre – Two UTM theatre grads – Brittany Kay and Victor Pokinko – star in this comedy-horror mashup of a Shakespeare classic.
Info and tickets: http://fringetoronto.com/fringe-festival/shows/romeo-and-juliet-chainsaw-massacre/
Bite Sized – Broadleaf Theatre presents a collection of 18 short plays, all tackling environmental issues in different ways. The theatre company was founded by U of T Centre for Drama, Theatre and Performance Studies grads Kevin Matthew Wong and Nathaniel Rose and is made up of mostly current and former University of Toronto students. 
Info and tickets: http://fringetoronto.com/fringe-festival/shows/bite-sized/