Four U of T researchers receive two-year Killam Research Fellowships
Four University of Toronto researchers have been awarded Killam Research Fellowships in support of their projects in the natural sciences and health sciences.
The two-year fellowships, each valued at $70,000 per year, are awarded annually by the Canada Council for the Arts and are intended to support research projects of broad significance and widespread interest. Two U of T researchers were also awarded Killam Prizes.
At U of T, the Killam fellowships will support work in fields ranging from astronomy and complex mathematics to molecular engineering and Alzheimer's disease.
The U of T scholars awarded 2019 Killam Research Fellowships are:
---
Marten van Kerkwijk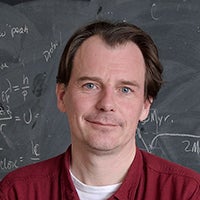 Marten van Kerkwijk, a professor in the department of astronomy and astrophysics, has spent most of his career studying one of the most enigmatic objects in astronomy: neutron stars.
"I have always been fascinated by the extreme physical conditions encountered in neutron stars," van Kerkwijk said.
"As their name suggests, they contain mostly neutrons. You have a mass of 1.4 times that of the sun packed into a sphere only 20 kilometres in diameter. We don't yet know how matter behaves at these densities, and much of my research aims to find out by measuring the properties of these stars."
During the two-year Killam Fellowship, van Kerkwijk will pursue a groundbreaking technique known as scintillometry to make extremely high-resolution observations of radio pulsars – neutron stars that emit rapid pulses of radio energy. The technique results in observations equivalent to ones made with a radio telescope the size of the solar system.
Van Kerkwijk joined U of T in 2003 and is a former Hubble and Guggenheim fellow.
Of the importance of the award, he said, "It means having time – time to discuss with students and colleagues, time to implement the rather tricky techniques and test them, time to think."
Catherine Sulem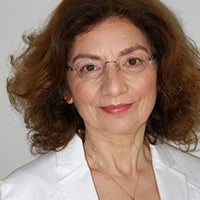 Catherine Sulem, a professor in the department of mathematics, has been a faculty member since 1990. She is an internationally recognized expert in the complex mathematics describing "the motion of the free surface of a fluid under the influence of gravity and surface tension" – in other words, phenomena such as ocean waves.
Such phenomena are classified as non-linear and the tools Sulem uses in her work are known as partial differential equations, which are also used in optics and the study of plasma (a fourth state of matter along with solid, liquid and gas).
During the two-year fellowship, Sulem will focus on two main projects. In one, she will study how large-amplitude waves interact with each other; how the topology of the ocean floor affects wave formation; and how waves on and below the surface interact with each other. In the other, she will further her research into waves in optics and plasmas.
"The study of ocean waves has important applications in oceanography and coastal engineering," said Sulem. "It is central to the prediction of key features of waves and currents, and their effect on weather and climate."
Sulem was elected an Inaugural Fellow of the American Mathematical Society in 2013 and a Fellow of the Royal Society of Canada in 2015.
 "I am very honoured to be awarded this research fellowship," said Sulem. "I look forward to a productive couple of years where I can focus on full-time research and, I hope, achieve some of the goals that have inspired my research for many years."
Xiao Yu (Shirley) Wu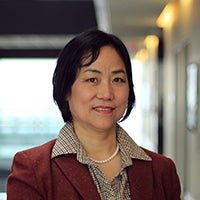 Xiao Yu (Shirley) Wu is a professor of advanced pharmaceutics and drug delivery at U of T's Leslie Dan Faculty of Pharmacy. She is an internationally recognized expert and leader in controlled release dosage forms and novel drug delivery strategies and delivery systems.
Wu's research has focused on developing new treatment options for major diseases including brain cancer, diabetes and central nervous system diseases. The two-year Killiam Fellowship will allow Wu to focus on the challenge of Alzheimer's disease.
"Despite decades of efforts and billions of dollars spent on the research and development of new drugs for the treatment of Alzheimer's disease, there is no product available to halt disease progression yet," Wu said.
"The goal of this project is to develop new agents that can efficiently enter the brain to enable non-invasive, early detection of neurodegenerative disease including Alzheimer's disease and effectively modify the disease."
While this is a completely new area of focus for Wu, she is not intimidated by the challenge. She also encourages other scientists to explore multidisciplinary and interdisciplinary research.
"We should not be afraid of exploring new research directions or initiating new projects outside our comfort zone," she said.
"This helps us to create paradigm-shifting approaches to solving complex medical problems."
Andrei Yudin
A professor in the department of chemistry, Andrei Yudin's research focuses on synthetic molecules and how they interact with biological "targets" like proteins. The techniques he is developing make it possible to control the shape of these molecules and other chemical structures, thereby making them tools to modify or control the processes involving those proteins.
Yudin's work has important applications not just in chemistry, but also in biology and medicine – including finding new medicines for intractable diseases.
"Inevitably, diseases are caused by proteins," Yudin said, "and we throw wrenches into their otherwise well-orchestrated march to invade cells."
"Our goal is to do molecular engineering. We are like architects, except our building blocks cannot be seen with a naked eye. We make molecules one atom – or perhaps a group of atoms – at a time."
Yudin, who joined U of T in 1998, is a fellow of the U.K.'s Royal Society of Chemistry and of the Royal Society of Canada. He is editor-in-chief of the Royal Society of Chemistry journal, Organic & Biomolecular Chemistry.
 "This fellowship will allow me to concentrate on what I think is the most exciting phase of my career – exciting because the challenges we've selected are enormous," Yudin said.
Faculty of Arts & Science/Pharmacy