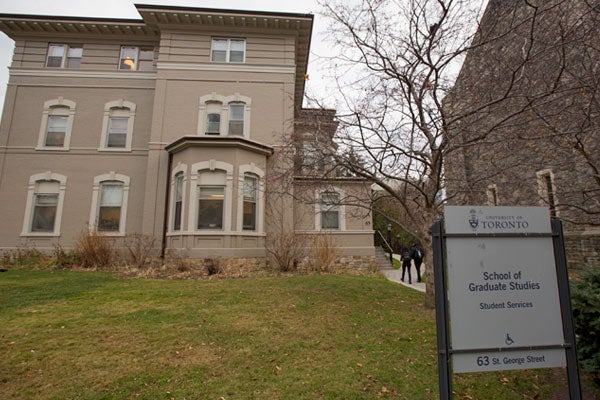 Former home of Sir John A. Macdonald, Oliver Mowat to get upgrades for grad students
Creating "more welcoming space" with student lounge, better facilities and services
It's said that the ghost of Sir John A. Macdonald still haunts 63 St. George St., where he lived almost 140 years ago.
If the story of an apparition of a man in a frock coat on the second floor is true, then Sir John A.'s spirit will probably approve of the planned renovations to his former property, now occupied by U of T's School of Graduate Studies.
The renovations will not only restore the house's heritage features, but also improve services, according to Locke Rowe, dean of graduate studies and vice-provost, graduate research and education. 
"We're making it a more welcoming space for graduate students," Rowe said. 
The heritage-listed building was built in 1872 and occupied by MacDonald from 1876 to 1878. It was later owned and occupied by Ontario premier Oliver Mowat. Knox College took over in 1910 and now leases the house to U of T for use by SGS, which also occupies the house next door.
Both buildings need work but priority is being given to Macdonald-Mowat House as it is used more by students. The neighbouring property at 65 St. George St., consisting mostly of administrative offices, is in better condition.
Services offered at Macdonald-Mowat House will be temporarily relocated to 704 Spadina Ave. (near Sussex Street) beginning Dec. 14. Renovations are expected to take about six months to complete. 
Many graduate students defend their thesis or dissertation at Macdonald-Mowat House. One of the aims of the renovations is to create better rooms for these defences, said Josie Lalonde, SGS associate director, student services.
(At right: one of the unrenovated rooms used for students defending their thesis or dissertation/ photo by Johnny Guatto) 
"Their defence date is one of the most important days of their lives up to that point," Lalonde said. "We want to make sure that it's a special experience and that the space honours that." 
Many rooms and corridors were subdivided over the years, especially when the building was used as a student residence in the 1960s. Fire escape stairwells were added, detracting from the exterior appearance.
As part of the renovations, offices will be reorganized and non-structural partitions removed. Heritage features are to be restored.
(Below, a room that has already been renovated for students defending their thesis or dissertation/ photo by Johnny Guatto)
Washrooms will also be updated. Mechanical, plumbing and electrical systems will be improved and windows replaced.
The building's original library will be restored and converted into a student lounge. There will be additional student services for grad students, including mental health services, services for international students, and graduate professional development. 
"We're focused on the graduate student experience," Rowe said. "We're providing more services to graduate students, and the building will allow us to do so, and in a more welcoming manner."
Students are looking forward to the renovations, said Caitlin Campisi, internal commissioner for the U of T Graduate Students' Union, and a doctoral student at the Ontario Institute for Studies in Education.
"Graduate students will benefit greatly from the provision of graduate-student-specific services, such as embedded counselling services and graduate professional development programs, in a centralized and accessible location."
U of T has the largest graduate school in Canada, with more than 17,000 students in about 280 graduate degree programs. In addition to its role in enhancing the student experience and pursuing innovation in programming, the School of Graduate Studies defines and administers university-wide regulations for graduate education; deals with such issues as program delivery, performance standards, equity and ethical conduct; and provides awards and financial assistance.