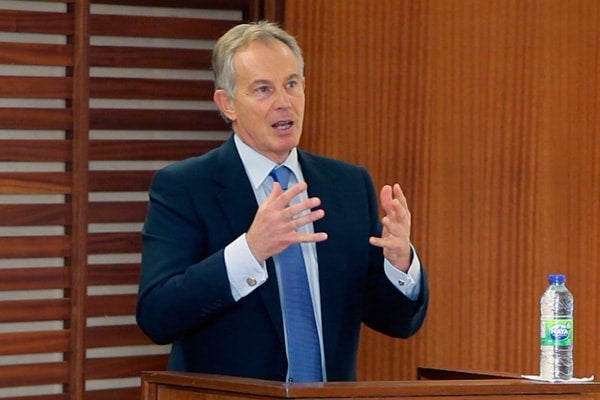 Former British prime minister discusses faith and action
Tony Blair visits U of T Multi-faith Centre
Former U.K. Prime Minister Tony Blair, founder of the Tony Blair Faith Foundation, applauded the efforts of the foundation's six Canadian Faiths Act Fellows to help eradicate malaria and address other pressing community issues.
Blair recently took part in a discussion at the Multi-faith Centre on U of T's St. George Campus where he talked about the impact of faith communities on global health outcomes alongside expert U of T academics, faith leaders and his foundation's Faiths Act Fellows (See photos of Blair's visit). Faiths Act is the foundation's multi-faith social action program comprising 34 fellows across the world taking action together against preventable disease and extreme poverty.
One of Blair's larger goals is to help people of various faiths to learn to live and work together.
"The threats to stability in the world are actually a lot to do with the question of whether people of different cultures, backgrounds and faiths can co-exist peacefully together or not," said Blair. "The reason this is so difficult today, as opposed to in previous times, is not that these difference didn't exist, but the context in which differences and diversity operate is completely different today.
 "Migration physically is pushing people together, and then you have the internet and online communities, which means there's instant communication among people across the world, which also brings people together. The question really is this: as globalization pushes the world together, does religion become a civilizing force or does religion become a phantom identity in opposition to others which tries to push that globalization away?"
Blair contrasted the insular world in which he grew up with the world his son lives in today.
"At my 11-year-old's birthday party a short time ago, he had four faiths represented amongst his friends, seven nationalities and several different colours of skin. Personally I'm excited by it."
During the event, Blair honoured the contributions of the six Canadians of Christian, Muslim, Jewish and Baha'i faiths who are the Faiths Act Fellows and added that Toronto is a great place to expand interfaith work.
 "I'm immensely proud of the work the Faiths Act fellows are doing and I can't think of a better place for us to do it than Toronto. It's a diverse community here in Toronto."  
He noted U of T is perfectly positioned to help them make an impact.
"The university has been really kind to us in hosting this and the university is above all else the place these issues should be discussed and debated. It's really important at this stage -- where people are in their student years -- that they do get a sense of cultures coming together, so the university has a great role to play."
This year, two Faiths Acts Fellows are based at U of T. Davina Finn, who is Jewish and Anna Siu, a Christian and a U of T graduate, are raising funds for and awareness about eliminating of deaths from malaria and related maternal and child health issues. They will support the work of U of T researchers engaged in malaria projects in malaria-endemic countries such as Uganda. 
In addition, another recent U of T alumna, Farhana Rahman, serves as a Faiths Act fellow elsewhere in Canada. A Muslim, she specialised in International Relations and Peace and Conflict Studies at U of T, with a Language Citation in Modern Standard Arabic.  Her passion is development and women's issues and she has done internships abroad that focus on women and human rights.
Rahman said she is proud of this opportunity to combine faith with public service.
"I've interacted with people of other faiths and it really helps to understand your own beliefs and develops tolerance with other people," she said. "This is my way of giving back to the community and it really inspires me."