Flu, COVID-19 and more: Leslie Dan Faculty of Pharmacy expert on the importance of getting vaccinated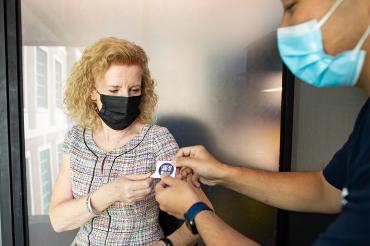 With the arrival of respiratory virus season and ongoing circulation of the virus that causes COVID-19, a University of Toronto expert says getting vaccinated is one of the best things people can do to protect themselves and others who may be vulnerable.
"We know influenza is now circulating in our community and cases are greater and rising earlier than usual this year," said Natalie Crown, assistant professor, teaching stream, and director of the doctor of pharmacy (PharmD) program at the Leslie Dan Faculty of Pharmacy.
"We also know about the immense strain facing our emergency departments, hospitals and our health-care system at the moment."
FluWatch, the national system that tracks the spread of influenza, reports that the percentage of hospital visits by patients with flu-like symptoms has been above the seasonal average across the country.
To help protect members of the U of T community, the university is offering vaccines – including COVID-19 vaccines and the flu shot – at clinics across its three campuses (more information is available at UTogether). Students are also getting involved; members of U of T Emergency First Responders participated in a unique lay vaccinator pilot program earlier this year that involved experts from the Dalla School of Public Health and University Health Network.
On the St. George campus, students, staff, faculty and librarians can schedule a vaccination appointment at the Leslie Dan Faculty of Pharmacy's Discovery Pharmacy or check UTogether for information about pop-up clinics. At present, clinics are scheduled to take place at:
On Nov. 24, U of T Scarborough is running a vaccine clinic in the Meeting Place from 11 a.m. to 6 p.m.
At U of T Mississauga, flu vaccine clinics are being offered by the Health & Counselling Centre inside the William G. Davis Building, and pop-up clinics will be held inside the Recreation, Athletics & Wellness Centre.
Vaccine clinics are also being run in collaboration with Toronto Public Health and Peel Public Health.
Crown spoke with U of T News about the importance of staying up-to-date with vaccinations and how to manage any anxiety about the process.
---
Why is it important for people to get their flu and COVID-19 shots this year?
Getting the influenza vaccine and a COVID-19 booster is important to protect ourselves and people in our community who are most vulnerable to complications from these viruses. 
We know influenza is now circulating in our community, and cases are greater and rising earlier than usual this year. We also know about the immense strain facing our emergency departments, hospitals and health-care system at the moment. 
In addition to wearing masks indoors, washing our hands and staying home when we are sick, getting vaccinated is the best thing we can do to protect ourselves and our community, and to lessen the burden on the health-care system.
Can you get both shots at once? 
Yes, anyone age five and over can safely get their flu and COVID-19 vaccines on the same day. Most of us should get both a flu vaccine and booster of the bivalent COVID-19 vaccine this fall. You are eligible for a fall booster of COVID-19 vaccine if it has been at least 3 months since your last booster or COVID infection.   
Can you remind us how these vaccines work?  
Vaccines help protect us from severe infections by imitating the virus so that if we get the infection, our body is ready to recognize it quickly and mount the immune response needed to fight it off.    
What does it meant to stay "up to date" with vaccinations? 
This means you are getting all the vaccines that are recommended, considering your age and personal circumstances – including risk factors and other medical conditions. This includes being up to date on other vaccines, such as tetanus and those recommended when we are children.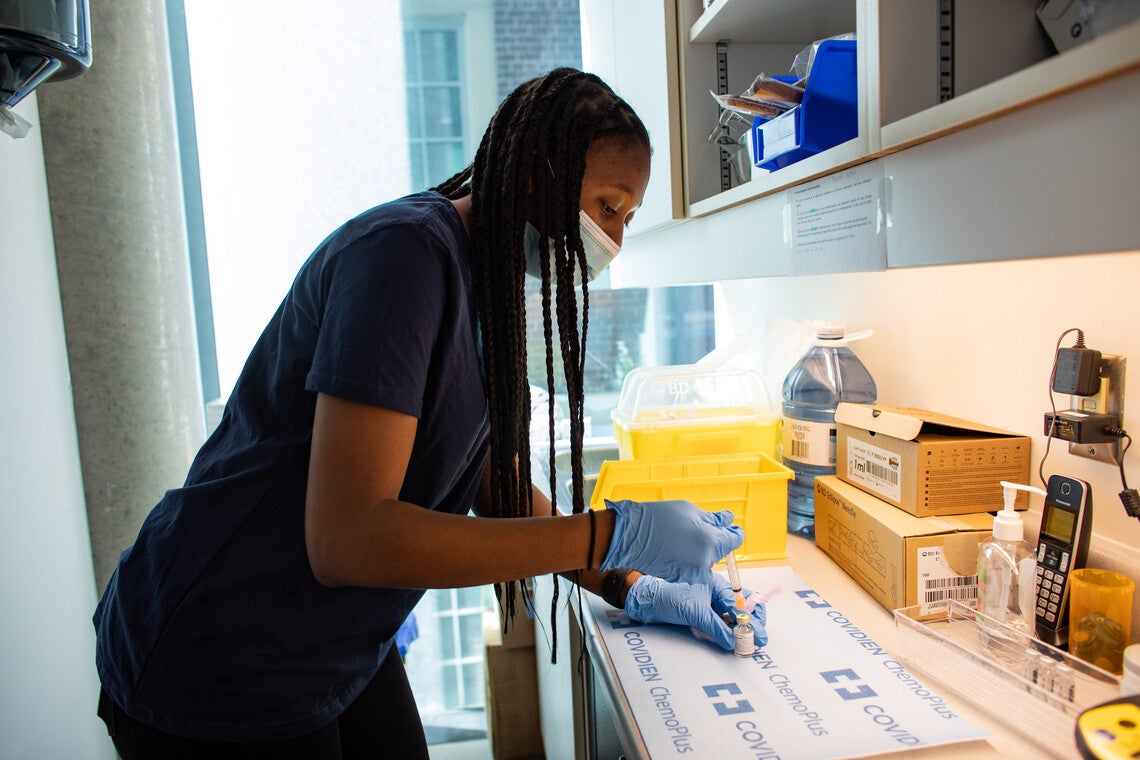 Zaijah Thomas prepares a dose of the flu vaccine at the Discovery Pharmacy clinic located on the St. George Campus (photo by Johnny Guatto)
How should someone deal with anxiety or fear about getting vaccinated? 
This is important. This is often due to one of two reasons: one is being nervous about needles, which is more common than people think; the second is that some people are sometimes afraid when they don't have enough information. 
For either reason, this can mean they don't end up getting vaccinated or become stressed during vaccination. If they are stressed during vaccination, this increases their risk of experiencing adverse reactions, such as dizziness and fainting. 
The good news is we have ways to help. We use the CARD (Comfort-Ask-Relax-Distract) system to invite people to ask questions and share their preferences for how they receive their vaccine. Within each letter category, there are different strategies to address concerns about vaccination.
Here are a few examples: For "Comfort" people may want a private vaccination area or to bring a support person; for "Ask," they may want to ask questions about the vaccine, or how to make the needle hurt less; to "Relax" while getting a vaccine, they can try deep breaths; and they may choose to "Distract" themselves with their cell phone, by playing with fidget toys or by looking away during injection.
Speak to the person administering your vaccine about how the CARD system can help.
UTC