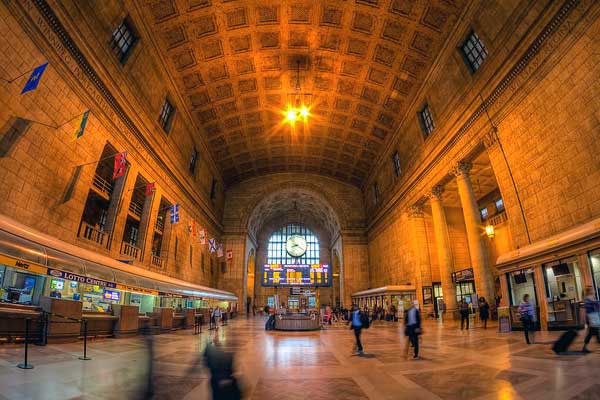 Five ways cities can avoid cost overruns on infrastructure: Matti Siemiatycki
Institute on Municipal Finance & Governance report provides roadmap for better planning
Toronto is heading into a massive period of investment in infrastructure, and a new U of T report suggests ways it can be done without equally massive cost overruns.
The report was prepared for the Institute on Municipal Finance & Governance and released at an event at the university's Munk School of Global affairs on Jan. 21. It was written by Matti Siemiatycki, an associate professor in the department of geography and planning and an expert in municipal infrastructure. 
The report says "cost overruns and schedule delays on infrastructure megaprojects are a common news story in the media, in Canada and around the world. Millions of dollars here, months of delays there. International evidence suggests that the bigger the project the more likely it will go over budget and miss its deadlines."
In an interview with U of T News, Siemiatycki said concerns about cost overruns "are important and timely because we are entering a period where infrastructure has become this key buzzword, everyone is recognizing  across the political spectrum that now is a good time to build it and infrastructure is the bedrock for  prosperity, both here in the city and more broadly across Canada."
The report lists some very public examples of cost overruns: the construction of the Spadina subway extension; the redevelopment of Union Station; the purchase of new TTC streetcars; the revitalization of Nathan Phillips Square; the upgrading of Queen's Quay Boulevard; the building of new city halls in Vaughan and Guelph and the construction of Lansdowne Park Stadium in Ottawa.
(Image below of new streetcars by wyliepoon via flickr)
"Poorly executed public works can burden governments with hundreds of millions of dollars in unexpected expenses, put the financial viability of projects at risk and exacerbate construction related disruptions for residents and businesses," the report states.
Siemiatycki suggested five remedies for city officials to consider:  
Improved performance monitoring, reporting and information sharing.
Government tracking of the best-performing companies and contractors to ensure more predictable outcomes.
Better training of staff overseeing projects in management skills such as enforcing contracts and resolving disputes.
Drawing on more precise forecasting techniques based on data about previous projects. 
Explore public-private partnerships to make it easier to control costs and enforce deadlines.
Siemiatycki noted that cost overruns "really have the potential to undermine the level of support from the public for these big, critically important projects. If people can't believe that governments can deliver these projects effectively, then they won't support them." 
If governments keep their promises to fund infrastructure projects, "we will be heading into the greatest period of spending in Canadian history," Siemiatycki said. The federal government is promising major funding which could come in the spring budget or even sooner. Toronto Mayor John Tory is proposing a special property tax levy to help fund infrastructure projects. 
Public/private partnerships (P3s) are "essentially a model to transfer risk from the public sector to the private sector, especially around construction. The government  buys insurance against the cost of the project escalating and that can be a real benefit for major projects. But the government pays a significant premium on the front end to ensure cost certainty." 
Siemiatycki stressed that cost overruns "don't just only plague public sector projects.  Look at the oil sands, energy projects in the private sector. They demonstrate many of the same phenomena as government. This is a much broader challenge."
(Visit flickr to see the original of the photo of Union Station)