First-year U of T course shines a light on language-based discrimination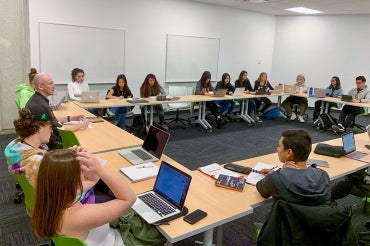 When you think of social justice, you're likely thinking about how some people are discriminated against because of their race, gender, sexual orientation or religion.
 
But you may not realize how language fits into these dynamics.
"A major factor in unjust social structures is language," says Nathan Sanders, an assistant professor in the Faculty of Arts & Science's department of linguistics at the University of Toronto.
"If you speak a prestigious – or even a neutral – variety of the local dominant language, you'll have an easier time accessing various aspects of society than other people generally will."
 
In Canada, this means someone who speaks "Torontonian English" may have better luck finding a job, getting help or being taken seriously than someone who might have a strong Newfoundland accent, someone who recently immigrated to Canada with only a few years of English under their belt or someone who communicates with American Sign Language.
The connection between language and society is something Sanders explores in his first-year foundations seminar on language and social justice this semester.
"Social justice is a broad term that covers a variety of ways of dealing with unjust social structures, from identifying what they are and how they work to educating people about them and working towards eliminating those unjust structures," Sanders says.
He adds that language is not immune to those unjust structures.
"Languages and dialects are not all treated equally. Some are elevated to such a high degree that they're taught in schools and give their speakers increased social power, while other ways of using language are denigrated, ridiculed, oppressed or even wiped out through cultural genocide," he says.
"As linguists, we recognize the validity of all languages and the people who use them, so language-based social justice is a core tenet in linguistics."
For Sanders, introducing these concepts to first-year students can help them challenge language-based injustice they come across in the world. 
"First-year students often come into university with a lot of common misconceptions about how language works," says Sanders. "These misconceptions often form the basis for justifying how language is used to construct and reinforce unjust social structures. So catching them early, when they are still developing as adults, helps them question these misconceptions and hopefully helps reduce language-based injustice in the world."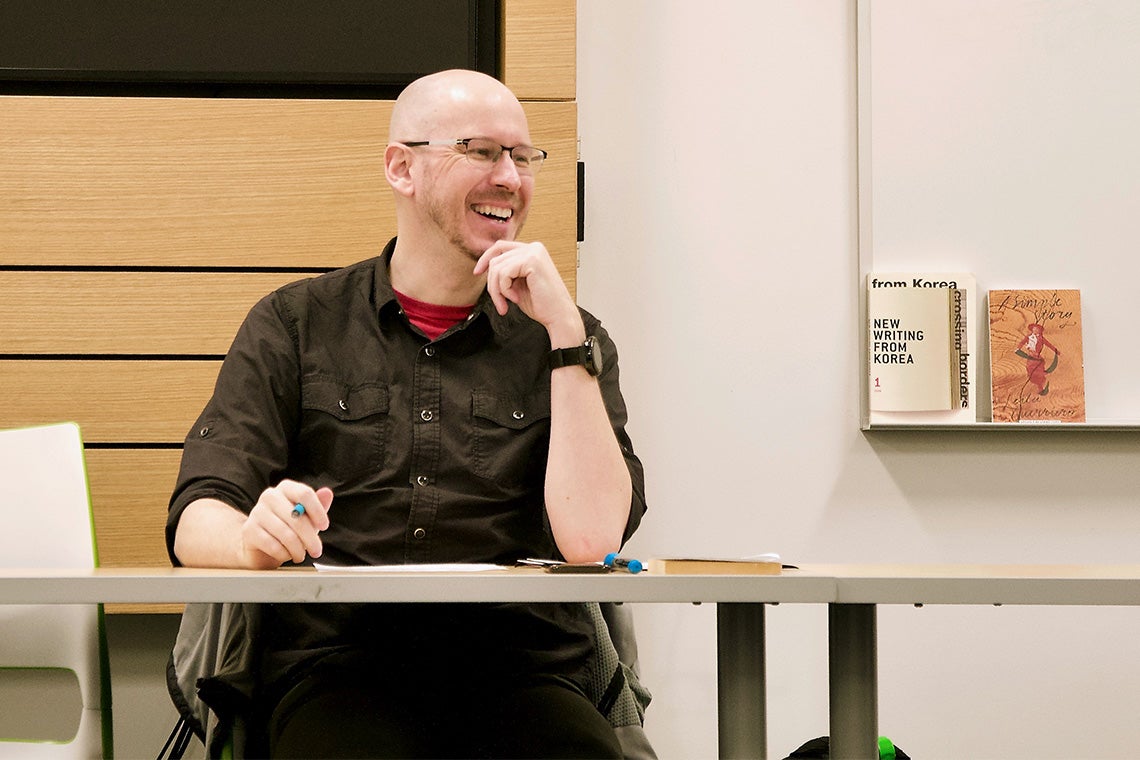 Armed with knowledge from his seminar, Sanders says he hopes students will challenge language-based injustice they come across in the world (photo by Diana Tyszko)

With first-year foundations seminar classes capped at 25 students, courses like Sanders's give new undergraduates the opportunity to experience fascinating – and sometimes controversial – subjects in small class settings that encourage analytical thinking and course participation. 
 
For Dania Ahmed, a first-year student at New College, the course opened her eyes to new ways of thinking about language and its relationship to social justice.
"I've learned an immense amount in this class," says Ahmed. "Our second class was one of the most eye-opening for me, shedding light on sign language and life for Deaf individuals. I had some prior knowledge of Deaf culture, but this class allowed me to see how inaccessible the world is. It infuriated me, but at the same time caused me to self-reflect and recognize many of the opportunities I take for granted."
 
It's a sentiment echoed by Ahmed's classmates.
 
"I never really considered language and linguistics as a factor affecting social justice," says JH Han, a first-year student at Victoria College. "I thought of social justice in more of a racial, gender or status sense. But the name of the course made it sound that much more enticing to take." 
 
For other students, the class discussions have been equally thought-provoking.
"The class is really empowering, fascinating and has incredible group conversations," says Micah Kalisch, a first-year student at Trinity College. "I've really enjoyed the content, readings and conversations about language and how it's taught and shared."
 
At the end of the day, Sanders hopes his students take away one lesson from his class.
 
"They shouldn't use someone's language as a reason to be a jerk," he says.
 
"Society at large has mostly come to a collective understanding that we shouldn't discriminate against someone because of their race, gender, religion, etc., but language-based injustice is still prevalent – even among progressive-minded people who care about social justice.
"It's not quite at the same level of awareness as some of these other categories, so I'm hoping that courses like this will help raise that awareness so that language-based discrimination can ultimately be viewed as equally pernicious as any other form of discrimination."
Arts & Science