Indigenous students celebrated graduation and other milestones in their studies at First Nations House on April 9 (photo courtesy of First Nations House)
First Nations House is often the first stop for Indigenous students who are new to the University of Toronto. And every spring, it's the place for emotional goodbyes as graduating Indigenous students celebrate their achievements together before receiving their degrees or reaching another milestone in their studies.
The students, who came to U of T from as far as Iqaluit, accepted certificates of recognition at First Nations House on Monday and received rousing applause from friends, family, staff and faculty. 
"It is like a family," said Shannon Simpson, director of Aboriginal Student Services at First Nations House. "They support each other, they mentor each other."
Elder and instructor Lee Maracle greeted the students with a welcome song, and Jenny Blackbird, an artist who works for the Centre for Indigenous Studies, sang and played a buffalo-skin hand drum. 
The celebration honoured students at different stages of their studies. Some had completed an academic bridging or transitional-year program, while others were finishing their undergraduate or master's degree.
The ceremony has been a First Nations House tradition for most of the community hub's 25-year existence. 
But there was a time when there were few, if any, Indigenous students at institutions like U of T, said Susan Blight, the student life co-ordinator of First Nations House. 
"It's amazing to look around and see ourselves here now," she said, "but what's amazing is not just our presence here, but how well we do and the depth and the brilliance of what we bring to the institution."
U of T News spoke with four graduates about their time at U of T and their next steps.
---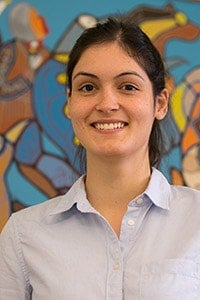 Kayla Viau
From Taykwa Tagamou Nation (near Cochrane, Ont.)
Master of Education, Educational Leadership and Policy
Viau came to U of T after completing law school in Ottawa because she wanted to learn more about education policy in hopes of becoming a school board trustee. 
"This [day] was really interesting because when I was 16 ... I was in U of T's summer mentorship program. It's targeted towards visible minorities and Indigenous students in high school.
I came here with my cousin and stayed on Willcocks Street ... The fact that we would come here, to First Nations House, to do our work – I feel like that's exciting, like we're coming full circle. 
To see success and aspiration and vision for people is exciting, it's invigorating. We're bombarded with so many negatives but this is great, this is a celebration."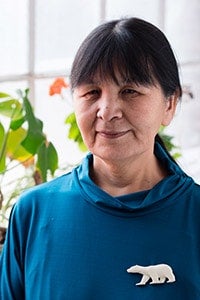 Raigelee Alorut
From Iqaluit
Master of Education
Alorut was a high school dropout before coming to U of T through the transitional-year program. She obtained a bachelor's degree in Indigenous and Caribbean studies while she and her husband cared for their grandkids. 
"I needed this master's of education level to further educate the youth of our community. My passion is teaching youth, engaging with them so they become more productive and more successful. The Inuit up north and the Inuit down south need more direction. I'm here to give answers to the questions they are asking. They need to become leaders. I want to show them a path."
Kandy Kennedy
Master of Education
Oneida Nation of the Thames (west of London, Ont.)
"I still have to finish the summer and then I'm hoping to join the band council on my reserve…I'm running for band council in May and hopefully I'll move down there and build a house."
Brianna Olson
Master of Social Work, Indigenous Trauma and Resiliency
Wikwemikong First Nation (Manitoulin Island in northern Ontario)
Olson came to Toronto from Edmonton, where she worked as an addictions counsellor. She was part of the first class of the new Indigenous Trauma and Resiliency program.
"I have made a huge decision that I'm going to continue with my education. I'm going to go into studying Anishinabemowin, our Indigenous language, at Georgian College. I feel compelled to do it; Indigenous languages are so important and critical in our communities. I believe that a lot of the pieces of where we have to go will start to fit once we pick up that knowledge and embrace those traditions and those languages. That combined with the knowledge that I have around caring and helping with my social work degree are going to be amazing." 
"Recently I've been doing a lot of studying of history and how Indigenous Peoples have worked so hard to create spaces for themselves in institutions. So every time I'm here [at First Nations House], I always remember that – the fights and the work and the struggles of our ancestors."