Danielle Desmarais and Brianna Olson chatting in First Nations House. They are two of the four recipients of the Indigenous Graduate Travel Award (photo by Geoffrey Vendeville)
Danielle Desmarais examines animal remains under a microscope to understand how the Inuvialuit use caribou, muskrat and beluga to make clothes.
But this year, the anthropology PhD student at the University of Toronto is going to Inuvik to meet locals and learn more about the process firsthand.
Desmarais is one of the four students this year who will be able to attend an Indigenous educational or experiential learning activity largely thanks to the School of Graduate Studies' Indigenous Graduate Travel Award, which comes with up to $1,000 in funding.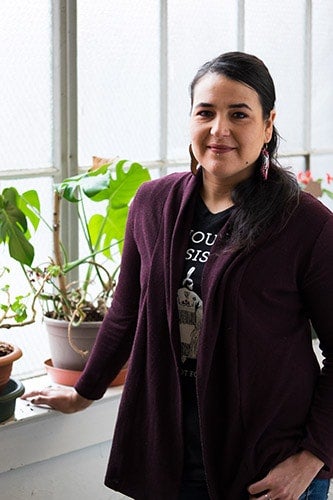 Brianna Olson (left), in the master of social work program, is planning to travel to the Think Indigenous conference in Saskatoon. Erika Pulfer, working toward a master's of public health, is going to a Nehiyaw ceremonial gathering near St. Paul, Alta. And Dustin Moreau, also in the master of social work program, attended a First Nations and Inuit suicide prevention conference in Montreal.
Although graduate students can find funding to present a paper at a conference, it's much harder to get support to learn from Elders at an Indigenous workshop, says University Professor Keren Rice, who served as interim director of the Centre for Indigenous Studies between 2015 and 2017.
"It opens the door to opportunities that are really important for graduate education in these Indigenous areas," she says. "If you put this in context of the Truth and Reconciliation Commission, we're recognizing the wide range of things that are important for our students."
If not for the award, Olson says she couldn't afford the trip to Saskatchewan in March to learn from Indigenous scholars like Leroy Little Bear, an author, educator and member of the Blackfoot Confederacy, and Lillian Crier, a teacher for over 30 years and an advocate for Indigenous education and development.
Olson says she also looks forward to going back to Treaty 6 lands, the boundaries of which include central Saskatchewan and Alberta. For over 10 years, she worked as the manager of an agency in Edmonton leading harm-reduction and arts-based therapy programs for vulnerable youth between 15 and 24 who faced obstacles like addiction and poverty. 
She's a member of the Wikwemikong First Nation, whose traditional territory encompasses part of Manitoulin Island in northern Ontario. She came to Toronto from Edmonton last year to be among the first students in the new Indigenous trauma and resiliency field in the master of social work program.
"I feel really passionate about Indigenous methodologies and those ways of teaching the history of Turtle Island," she says.
"I feel like the more skills I can have to be a really good teacher, I want to enhance that."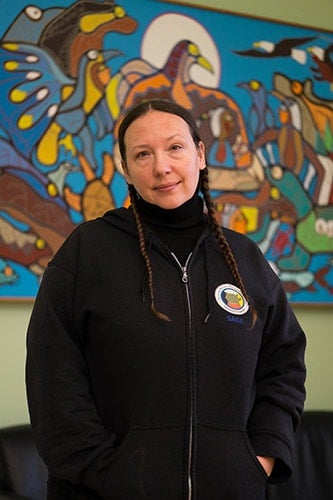 For Desmarais (right), the award was an opportunity to travel 6,600 kilometres northwest of Toronto to take a sewing workshop that allowed participants to use wolf and caribou skins. At U of T, she analyzes animal remains for cut marks that help explain how animals were skinned and why – whether to make clothing, tools or pelts for trading. "The reason I do this is there's so much knowledge that's been lost to colonization," she says. "Archeology has a special place. We can dig up some of this knowledge and re-engage with it.
"To me, that's medicine," she continues. "It's very much needed in all our communities, First Nations, Inuit and Métis."
Before beginning her PhD, she studied fashion design at Sheridan College, where she learned to maintain and repair sewing machines. She is planning to offer lessons on how to fix sewing machines.
After graduation, she sees herself working as a professor or with youth. "Sewing saved my life," she says. "I was a disengaged youth and I struggled and I was suicidal and I understand that feeling and that situation."
Moreau, who is working toward a master of social work in the Indigenous trauma and resiliency program, says the conference on First Nations and Inuit suicide prevention helped him gain perspective on the crisis that these communities are facing.
"I've come away from the conference having learned a greater appreciation for the important role that culture, ceremony and community plays in healing," he said in an email.
Dhanela Sivaparan, the director of Supporting Aboriginal Graduate Enhancement (SAGE), says the award is a first for the university. After Indigenous graduate students said they needed more funding to participate in educational and experiential learning activities, she approached Rice of the Centre of Indigenous Studies, who got the ball rolling with the School of Graduate Studies, which was then led by Dean Locke Rowe.
"The students involved in SAGE and I are very excited," Sivaparan says. "This funding has made a huge difference for our students who are able to enrich their graduate education."
Dean Joshua Barker of the School of Graduate Studies says the award is unique in that it can be used for activities outside a student's area of focus.
"It has the flexibility to recognize that participating in events not directly tied to a student's area of study can still have tremendous impact on their understanding of the world and their sense of identity," he says.
Up to 10 awards are given out each year, and applications are considered in the spring and the fall. The next applications will be considered in spring of 2018.