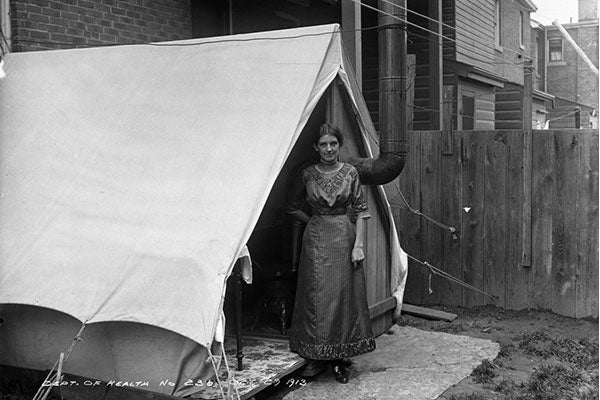 Fighting tuberculosis, promoting public health: the legacy of Sir William Gage at U of T
It was the biggest public health issue of the 19th and early 20th centuries, known to many as "the White Plague" because of the pale skin of its sufferers, who were wracked by chronic cough, fever and weight loss.
Today, we know it as tuberculosis – a highly infectious disease spread when an infected person coughs or sneezes and spreads bacteria into the air.
Although no longer a widespread threat in Canada, TB has infected more than one-third of the world's population and close to two million people globally die from TB annually. 
The desire to fight the scourge of TB led Sir William Gage, a Toronto-based publisher, to donate $100,000 in 1911 to build a headquarters for the National Sanatorium Association at 223 College Street.That building, now the Gage Research Institute at the University of Toronto's Dalla Lana School of Public Health, celebrated its 100th anniversary on February 10 with more than 75 faculty, staff, students, alumni, partners and descendants of Gage in attendance.
"Sir William Gage was a pioneer who had a strong influence on public health in Ontario and Canada," says Howard Hu, dean of the Dalla Lana School of Public Health. "Through his philanthropy and commitment, he built early infrastructure and fueled the innovative thinking that underpinned Canada's public health response to tuberculosis."
Gage was not a physician, yet his ambition and foresight allowed Toronto to emerge as an early global leader in the treatment and prevention of TB. But why did this publisher — who left U of T's medical school in the 1860s to pursue a career in publishing — devote considerable time and resources to the study and combat of TB?
Legend has it that in his youth he knew a blacksmith who was the sole survivor of a family of 14; his siblings and parents all died from the disease. Then, in 1890, the death of the youngest son of Gage's close friend Hart Massey inspired Gage to devote considerable time and personal wealth to the establishment of TB sanatoria to care for the sick, and preventive strategies designed to protect the healthy.
Gage's keen interest in providing sanatoria for those suffering the disease arose from the observations of medical opinion leaders at the time that fresh air, moderate exercise and a nutritious diet greatly improved health and well-being. This pivotal influence of environment on health remains a central theme in public health that rings true today.
Gage didn't just fund infrastructure. He also supported prevention efforts by investing in public health nurses who ran community outreach activities. These nurses educated families about the dangers and proper care for tuberculosis patients and conducted free screening.
As a result, TB rates in Toronto dropped drastically and by the 1970s, the era of tuberculosis was considered history. From 1971 to 1994, the Gage Research Institute was established with National Sanatorium Association, U of T, and the Toronto Western Hospital as partners, with a focus on air health effects.
The partnership was reconfigured as the Gage Occupational and Environmental Health Unit in 1995 to include St. Michael's Hospital and the Department of Community Medicine. With the re-establishment of the Dalla Lana School of Public Health in 2009, this cluster of faculty formed the core of the School's Division of Occupational & Environmental Health.
"Understanding and celebrating history helps us connect our contemporary work to communities of the past and find inspiration in the process," said James Scott, head of the School's division of occupational and environmental health, housed in the Gage building.
Today, researchers in the division are studying air health effects in outdoor and indoor environments, contributing evidence to support smarter transit policy and strategic greenspace development, among other areas.
"One hundred years later, Sir William Gage's vision of the importance of the environment as a key determinant of health remains alive and well within the School," said Scott.
"I appreciate the gravitas and passion the building researchers bought to their science and I am honoured to build on their legacy."
Nicole Bodnar is a writer with the Dalla Lana School of Public Health at the University of Toronto.