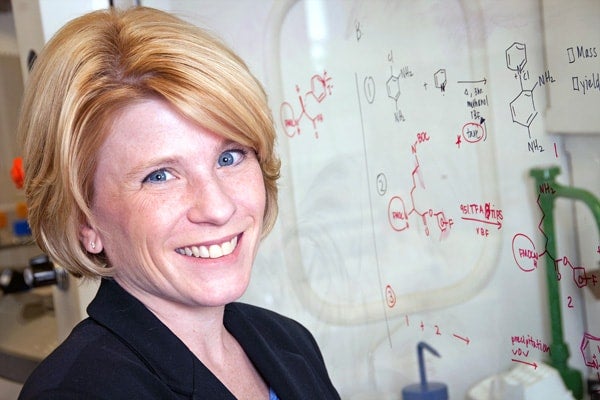 Federal government backs U of T spinoff company
Xagenic Inc. developing diagnostic device
Xagenic Inc., a healthcare diagnostics company founded by University of Toronto professors Shana Kelley and Ted Sargent, is receiving almost $1 million from the federal government's Investing in Business Innovation initiative.
"Infectious disease is an enormous burden on the health care system, and with increasing levels of virulent infections and rising antibiotic resistance rates, we need better solutions for rapid and specific diagnosis," said Kelley, chief technology officer of Xagenic and a professor with the Leslie Dan Faculty of Pharmacy and the Department of Biochemistry.
The Honourable Gary Goodyear, Minister of State for the Federal Economic Development Agency for Southern Ontario (FedDev Ontario), announced the funding Feb. 19, 2013.
Established by Kelley and Sargent, a professor with U of T's Faculty of Applied Science and Engineering, Xagenic is a venture capital backed start-up company dedicated to developing diagnostic tools for the healthcare sector.
In the United States, an estimated $5 billion is spent each year on excess healthcare costs due to the transmission of infectious diseases while patients wait for the diagnosis of samples that can take hours or days to complete. During that wait time, infectious diseases are spread through hospitals and communities, and antibiotics are improperly prescribed, increasing drug resistance and lowering their long-term efficacy.
Xagenic's technology promises to transform the way infectious diseases are diagnosed by enabling rapid-result molecular diagnostic testing to take place outside of clinical laboratories.
The company's fully automated technology platform will enable widespread decentralized diagnostic testing to be performed outside a laboratory— with results occurring in 20 minutes. Using ultra sensitive microelectrode arrays, Xagenic's infectious disease diagnostic tests will detect a variety of analytes in samples, quickly identifying diseases and enabling doctors to make immediate treatment decisions while patients are still in the clinic.
This easy-to-use and inexpensive device eliminates unnecessary delays, reduces healthcare costs, and will transform the way patients receive care and are treated.
"The technology uses electrochemical signals to report on the presence of infectious pathogens in clinical samples," said Kelley. "It provides a solution that can deliver rapid information about what kind of infection is present on a clinically actionable timescale."
The Investing in Business Innovation initiative is designed to boost private sector investment in start-up businesses to accelerate the development of new products, processes and practices and bring them to market. With this investment from the Government of Canada, Xagenic is one step closer to revolutionizing the way infectious diseases are diagnosed and treated across the globe.