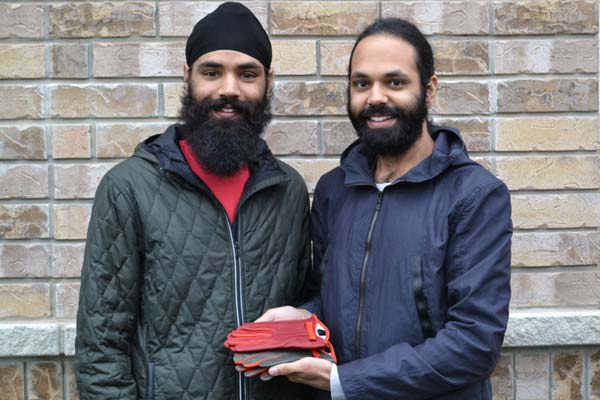 Fashion startup fits like a glove for undergrad entrepreneur
UTM's Ameek Brar inspired to launch Canadian/Italian venture during exchange
The University of Toronto might not offer a fashion program, but its young entrepreneurs are combining their undergrad education with design savvy to launch styles hitting the streets this winter.
"I love to design and I am fascinated by clean details and natural colours," says Ameek Brar, a fourth-year undergraduate taking the commerce program at U of T Mississauga.
Brar founded a fashion startup called Ameek, which designs accessories from Italian leather using rare handcrafting techniques. 
(Read more about Ameek)
"During a trip to Italy, I had a chance to tour an artisanal leather workshop and instantly fell in love with the craftsmanship," Brar says. "My love for design is shared with my passion for marketing. The startup is a great opportunity for me to apply what I learned during my time in school."
(All photos below courtesy Ameek)
Below, Brar explains how it all began with an undergraduate exchange trip to Europe…
---
How did your company get started?
I was inspired by the marketing and communication courses I took during my studies, where I learned the business communication is about creating movements around ideas that matter. Our Art of Neapolitan Glove Making campaign seeks to show that the process with which our gloves are made is just as beautiful as the gloves themselves.
The
Centre for International Experience
at U of T gave me an opportunity to broaden my perspectives which helped me bring my designs to life. In my second year, I had chance to go on international exchange through the CIE to the Netherlands. While there, I made an unexpected trip to Italy, where I toured an artisanal leather workshop and instantly fell in love with the craftsmanship. I showed my designs to the master artisan and we began working together. I sourced leather, worked on prototypes and tested my leather goods during my exchange.
I encourage students to participate in the exchange program as it is a great opportunity to meet new people and broaden your perspectives. Who knows what opportunity awaits you!
Neapolitan Art of Glove Making from Ameek on Vimeo.
How are you juggling the startup and your studies?
I am very close to finishing my education and I am only taking 1.5 credits this year. Still, it would not be possible without help from my younger brother Ameer, who is also a U of T student. 
When I came back from my exchange, I shared my idea for the startup with by brother and showed him the clips that would ultimately form the Art of Neapolitan Glove Making. Ameer jumped on board and put a great deal of effort in the project.  He created our website and continues to work with me on a daily basis.
What are you hoping to achieve with your startup?
Our goal is to show people that the process is just as important is the result. We feel that beautiful design is unobtrusive, it is a window into the process. We believe in our leather goods and we want them in the hands of as many people as we can reach.
What's next for your startup?
Thanks to the people who supported our Kickstarter project this fall, we are launching production on our first collection. Soon after, we will be opening our e-commerce and shipping orders to the first lucky customers. We have begun to design our fall/winter 2016 collection and hope to do trade shows this coming spring.