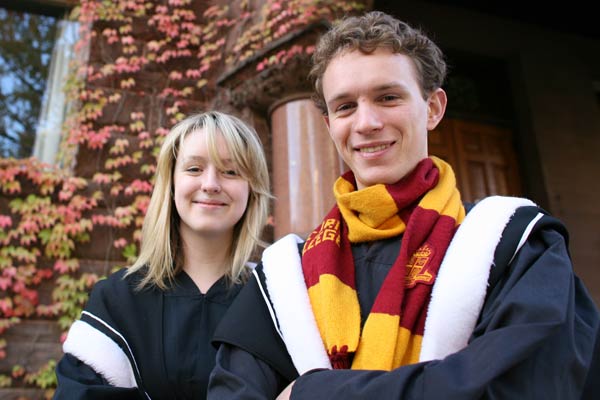 Fall convocation gateway to future for 4,400 U of T students
Fimmaker Deepa Mehta to receive honorary degree
Acclaimed filmmaker Deepa Mehta is one of more than 4,400 extraordinary women and men – gold medal athletes, novelists and global researchers - receiving degrees from the University of Toronto this fall.
Mehta, who receives a Nov. 7 Doctor of Laws, honoris causa, in recognition of her leadership in the arts and her work as a director, producer and screenwriter, studied philosophy as an undergraduate. Higher education "broadens your horizon, helps you explore different areas of your potential interests, and buys you time to get to know yourself," she said.
Mehta's notion of taking the time to explore your interests resonates with many students who opted for fall convocation in order to seize opportunities to study abroad, take part in groundbreaking research, or combine challenging academics with exciting extra-curricular opportunities.
Undergraduate Opportunities
For Andi Wilson, 22, the road to fall convocation began with a 2009 summer exchange trip to China with Professor Joseph Wong, director of the Asia Institute at the Munk School of Global Affairs. That experience sparked Wilson's decision to enroll in a demanding fourth-year senior thesis class, postponing her convocation until fall.
 "It was a great program, a great experience and Professor Wong was a wonderful mentor," Wilson said. "There is not very much written in English on my topic so I travelled to China to interview academics and policy-makers - and U of T even helped pay for it through the Dean's Experience Enhancement fund."
Charles Jurczynski was determined to take advantage of every academic and extra-curricular opportunity possible while studying for his BA. Working on student newspapers, sitting on Hart House committees and playing Varsity squash, all helped Jurczynski overcome the homesickness one might expect in a student who'd left his family behind in London, England.
"There are all these wonderful little enclaves where you can find yourself," said Jurczynski. "And I didn't want to look back later and regret that I'd not gotten more involved."
A Peace and Conflict course held in Kenya just months after the 2008 violence was one of the highlights of his studies, Jurczynski said, recalling the time their aging truck broke down, stranding them for hours at a military checkpoint in the bush.
"It was challenging - we had two hours of class every day and hours of reading in between - but it was an incredible experience," said Jurczynski. "To be in that environment, to actually see what we were studying, to feel it – it's hard to explain but it was a great experience."
While working on her BA in political science and book and media studies, Aya Tsintziras threw herself into extra-curricular opportunities as editor-in-chief of Acta Victoriana, managing editor of the Hart House Review, and arts editor of The Strand, the Victoria College newspaper. She also completed her first novel, Pretty Bones, published in September by James Lorimer & Company.
 "The college system is the thing that's so unique about U of T," said Tsintziras. "It's great because although you're at a big university you're really part of this small community and that makes everything so much easier."
Some programs are geared to fall convocation thanks to practicum requirements which students say are often the highlight of the program. Michèle Haley is graduating with a BScN this fall after taking part in nursing instructor Pam Walker's Aboriginal health option last spring. The program uses seminars and support from First Nations House to prepare students for the challenges they will face working in Aboriginal health.
"The Aboriginal health option was a profound experience grounded in Pam's experience in community health nursing," said Haley. "Pam is a warm, open, highly skilled, and supportive role model with a firm grasp of community health-related theoretical frameworks, hard-earned practical experience, a staunch post-colonial feminist stance, and a deep appreciation and respect for Aboriginal people."
Graduate Students
The strong national and international regard for U of T and its engineering program influenced Tarana Haque, who receives her MASc this fall. 
 "I came to U of T for my undergraduate degree mostly for U of T's reputation for providing a great education in a competitive environment," said Haque.  "I stayed because of the people; I've had some of the best teachers and mentors at U of T, and I met many great lifelong friends."
 Haque spent two summers in an undergraduate research position at U of T with Professor Jeffrey Packer, who introduced her to a steel-related topic on elliptical hollow sections, a new steel shape emerging in the industry. The new steel shape proved such an interesting topic Haque opted to continue researching.
"My MASc was such a great experience partly because Professor Packer was helpful and supportive. He was definitely one of those professors that you could always knock on his door and he'd be there to help. He was always providing new opportunities: I got the opportunity to accept a fellowship in Kananaskis, Alberta  (I'd never been to Western Canada before that) and I even got to present at a conference in Hong Kong (I'd never been to China either).
"Both of those were amazing experiences."
Although Haque conducted all her research and experiments at U of T, she was part of a international group initiative that included the National University of Singapore. Their combined results were published through  Comité International de la Développement et l'Etude de la Construction Tubulaire.
"I had finished my experimentation and courses early enough that I could have graduated in the spring of 2011, but I wanted to add and spend more time on my thesis, as well as to write journal papers," said Haque, who is now working as a junior structural engineer at Canadian Institute of Steel Construction.
 "That's what pushed my graduation into the fall."