Faces of Temerty Medicine: Gazelle Halajha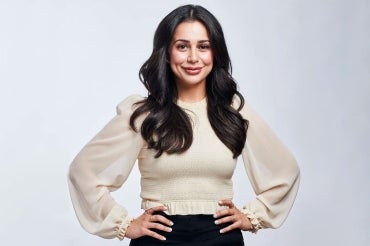 Gazelle Halajha, now entering her fourth year of medical school at the University of Toronto, believes it's important for doctors to  recognize "when someone is struggling and needs more support." 
She witnessed those challenges first hand as her mother and "biggest role model" worked to give her children the best life possible, following the death of their father.
"I grew up in a single parent household and saw how often people in these situations can struggle to access care," Halajha says. "I saw my mom's health and well-being suffer as she worried about her next paycheque and how to provide for her children."
The aspiring surgeon has conducted research in chemotherapy, quality improvement in trauma surgery and women's health while working to help cover the cost of her education. Alongside the inspiration and support provided by her mother, Zena, she attributes her achievements and ability to balance her busy schedule to the support of multiple student awards.
She spoke with writer Deanna Cheng about what drew her to medicine and her dreams for the future. 
Why did you decide to pursue medical school at the Temerty Faculty of Medicine?
I was born and raised in Toronto – my mom and my entire family lives here. When I was applying for medical school, I was looking at what was close to home and what fit my needs, as well as the kind of doctor I wanted to become. I wanted to be able to work in a place like Toronto, where there are people from all different walks of life coming into its hospitals who need help. Temerty Medicine trains you as a physician to recognize when someone is struggling and needs more support and that was big for me. It's a school that reflects my values.
What kind of doctor do you want to become?
I want to become a doctor who is inclusive and self-aware. I grew up in a single-parent household and saw how often people in these situations can struggle to access care. I saw my mom's health and well-being suffer as she worried about her next paycheck and how to provide for her children.
What inspired you to become a doctor?
I always say that I wouldn't be anywhere in life without my mom. I learned through her what it meant to persevere and to be dedicated to what you love. My mom was 30 years old when my dad passed away in a car accident. To her, all that mattered was that she was working towards giving her two kids the best life possible. She is my biggest role model.
Now that you're entering your fourth year of medical school, what can you tell me about your experience?
In my third year, I had my surgery rotation very early on and basically fell in love with the specialty. I know for certain it's what I want to do. During my surgery rotation at Sunnybrook's trauma centre, I got to see and do so much. I never felt more useful. I soon realized that what I had a passion for was surgery especially in the areas of surgical oncology, breast cancer and trauma surgery.
Tell me more about your research in surgical oncology.
In my second year of the MD Program, I started working in the area of breast cancer. I found I was really interested in the surgical aspect of breast cancer treatment as well as in medications used and the effects they have on the body. I was mentored by and worked with Dr. Husam Abdel-Qadir, assistant professor of medicine at the University of Toronto and a staff cardiologist at Women's College Hospital, doing research related to chemotherapy and its cardiotoxicity. A lot of breast cancer patients are in their 20s and may wish to have children one day. I wanted to look at how chemotherapy affects egg fertilization and what it means for these patients. I've also started looking at caesarean section scarring. I haven't figured out exactly what I want to do in general surgery, but I just know that that feeling of excitement is something that I want to work towards.
You are also interested in trauma surgery. Can you tell me more about that?
While I was at Sunnybrook's trauma centre, I saw patients coming in after experiencing vehicle accidents, shootings and stabbings. It's remarkable what these teams do to help patients in the operating room, while making sure their families are well supported. I lost my father quite young due to trauma from a car accident in Iran. The health-care system there is not the same as it is in Canada. Growing up, I spent a lot of time thinking about what would have happened to my dad if he had the car accident somewhere else in the world where the trauma response is faster. I'm curious to see what other parts of the world are like and am excited to take my knowledge and my skills to trauma centres around the world and to bring my experience back here, to Canada.
You received the T.S. Butcher Bursary and the Frank William Moore Award in Medicine from the Temerty Faculty of Medicine. In what ways has donor support helped bring you closer to this dream?
I committed to putting myself through school because my mom was a single parent. Medical school is costly, so I worked part time for my first two years. I was a nanny, I worked in retail, I also worked as an autism support worker at Woodview Mental Health and Autism Services and in research at Women's College Hospital. I was so thankful to have help from scholarships and bursaries, which made a huge difference. It was challenging to balance work with school and with my other extracurriculars. Support from donors meant I could focus more on my education and on myself and my well-being. Thanks to donors, I can dedicate my energy to learning and supporting patients and becoming a better doctor.
What has been your most memorable moment at Temerty Medicine so far?
One highlight was a Health Systems Research (HSR) course. I focused on types of cancers, like pancreatic cancer, which are caught so late in the game and are very devastating and very hard to recover from. A lot of my research was looking at young patients who receive chemotherapy treatments, and who later on have side-effects like heart failure. I wanted to investigate screening guidelines for these cancers. The research project yielded that lymphoma patients are at greater risk of cardiovascular events after treatment with chemotherapy. I created an abstract and was able to present it at the American College of Cardiology (ACC) annual meeting presentations. Now, we're talking about creating guidelines that can be implemented across Toronto.
What do you think lies ahead for you?
Coming into medicine, my goal was to always, ultimately, give back. I hope that when I become a surgeon, I can make sure my patients are well supported and have adequate follow-ups. While I was clerking, I saw a lot of interdisciplinary work being done (involving social workers, occupational therapists, physical therapists, etc.). Many teams would come together to support individual patients. I hope my journey will include more training as part of interdisciplinary teams, so I can learn from different kinds of health professionals and take that knowledge to other hospitals.
Medicine