Explore Canada's culinary history at U of T library exhibit and Doors Open event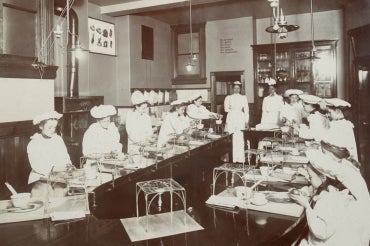 If you want to stump a Canadian, ask them to describe their national cuisine.
Unlike pasta in Italy or tapas in Spain, Canada's culinary culture is hard to pin down. But that's what makes our food culture so unique, says Irina Mihalache, assistant professor of museum studies in the Faculty of Information.   
Mihalache is co-curating an exhibit at the Thomas Fisher Rare Book Library that explores Canada's culinary history through the voices of women from the 1820s to the 1960s using a range of artifacts, including rare cook books, manuscripts, culinary objects and photos.
Mixed Messages: Making and Shaping Culinary Culture in Canada will run from May 22 to Aug. 17.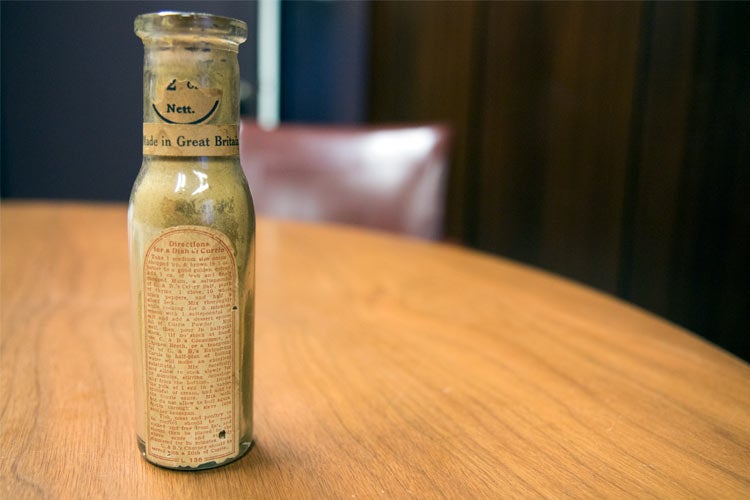 The exhibition includes a bottle of curry powder from the 1890s and scent cubes – small museum-grade boxes that contain a scent (like pineapple or curry) that helps to tell the story of Canada's culinary history. "We thought it was important to give visitors that sensory experience," says Sadie MacDonald, Master of Museum Studies student and curatorial assistant (photo by Romi Levine)
"We wanted to deconstruct the idea of Canadian identity," says Mihalache. "What we wanted to do is rather than say this is what Canadian culinary culture looks like, we wanted to show how chaotic and messy and impossible it is to pin down."
Mihalache worked alongside Elizabeth Ridolfo, special collections projects librarian at Fisher Library, and Nathalie Cooke, professor and associate dean of library rare and special collections at McGill University, on curating the exhibition with the help of Master of Museum Studies students Cassandra Curtis and Sadie MacDonald.
Additional research was done by students as part of the Jackman Humanities Scholars in Residence.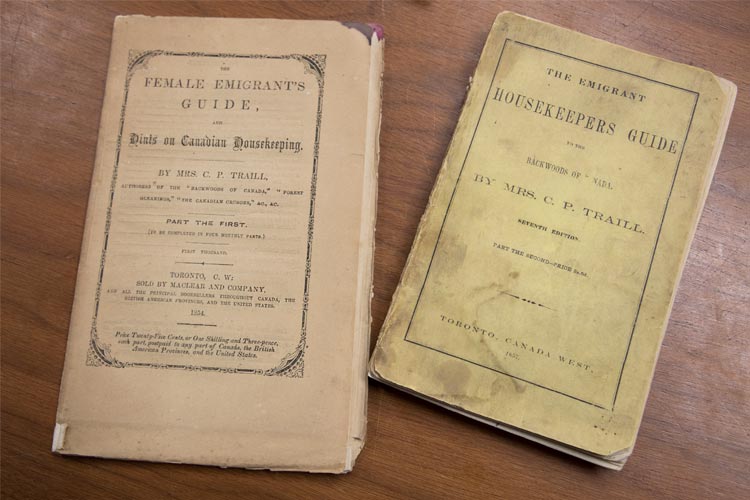 On display are various editions of Catharine Parr Traill's Female Emigrant's Guide. "She could arguably be the first person to create Canadian cookbooks with Canadian people in mind and Canadian ingredients," says Ridolfo. The book includes advice on what immigrants should bring to Canada from England, what seasonal produce to grow, and observations about Indigenous food (photo by Romi Levine)
The exhibition will touch on a number of themes, including how recipes were adapted during wartime when resources were scarce, how recipes were collected and distributed and who was left out of the conversation about culinary culture.
"We want to think about the absences and the forms of marginalization," says Mihalache. "For example, the fact that you have Chinese recipes in a 1930s Chatelaine but you wouldn't have the voice of the Chinese community."
The same goes for Indigenous recipes, she says. "When the settler Canadians came, they appropriated a lot of dishes Indigenous people were eating and they became Canadian."

This community cookbook was published by the Co-operative Commonwealth Federation, a precursor to the NDP.  Recipes are attributed to individual women, says MacDonald. "They crowd-sourced their recipes from a huge variety of people – including immigrant and Indigenous communities – and these recipes are credited" (photo by Romi Levine)
In addition to the Fisher Library exhibition, Curtis and MacDonald will be at Fort York during this year's Doors Open on the weekend of May 26, running activities using the themes of Mixed Messages.
"The idea is to give people a behind-the-scenes look at the Mixed Messages exhibit," says Curtis.
The Fort York programming will include a spotlight on the women behind Canadian cookbooks, an opportunity to try out culinary technology throughout the ages and, of course, a taste test of dishes like a wartime cake and mulligatawny soup.
"Learning about the history of culinary culture in Canada has been so eye-opening," says Curtis. "I had no idea it was so complicated – so many different layers, all these different people coming from different places, contributing different things."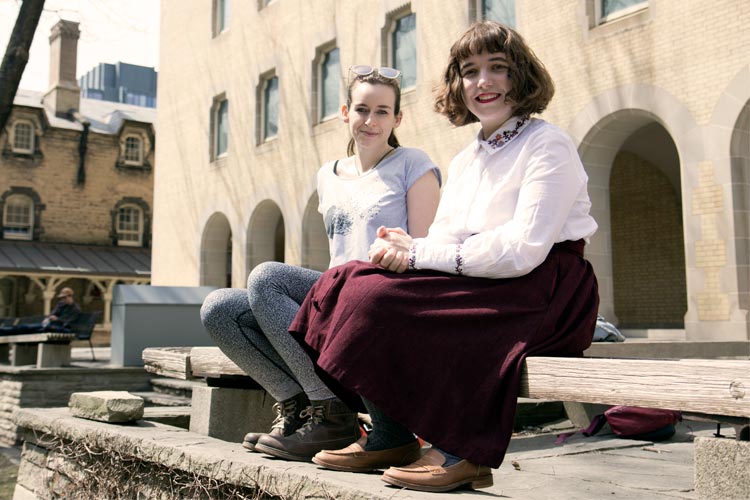 Curtis and MacDonald will help to tell the stories of women in Canadian culinary culture at Fort York during Doors Open (photo by Romi Levine)
UTC