'Excited, nervous and happy': African Scholars Awards recipients celebrated at in-person ceremony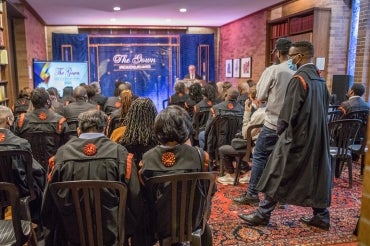 Victor Bukenya Muwanguzi remembers the challenge of navigating a big life transition when he moved from Uganda to Canada to attend the University of Toronto – an experience that motivated him to help others who are facing similar hurdles.
Working with several U of T faculties, Muwanguzi mentors current and prospective U of T students of African descent, as well as students in Uganda who want to study abroad or join the tech industry.
"Mentorship in a nutshell is offering the experience I have to someone and using it as a tool to guide them to the next step," said Muwanguzi, a recent master of information graduate from U of T's Faculty of Information.
Muwanguzi was one of 17 U of T community members to be recognized at a recent African Scholars Awards ceremony – in his case with an Outstanding Recent Alumni Award (see the full list below). Presented by the U of T African Alumni Association, this year saw the return of an in-person award ceremony at Massey College. Recipients, staff, and faculty were greeted by a red carpet in the college's common room while the presentation of the awards took place in the upper library. 
Henry Ssali, the founder and executive director of the U of T African Alumni Association, said he felt "excited, nervous and happy" for the community to gather in-person again.
"I'm very excited for the recipients who are here to be honoured and hopefully they can carry on the baton to others in the community," he told U of T News.
Co-hosted by Joseph Wong, U of T's vice-president, international, and Aanchal Vashistha, author and public speaker, the awards ceremony saw 17 U of T alumni, faculty and staff recognized for their contributions in realms ranging from academic achievement and social innovation to community development and volunteer work.
The event was attended by several senior U of T leaders, including: U of T President Meric Gertler; Vice-President and Provost Cheryl Regehr; Vice-President, People Strategy, Equity and Culture Kelly Hannah-Moffat; and Vice-President, Advancement David Palmer. Sheree Drummond, secretary of U of T's Governing Council, Jodie Glean, interim executive director, equity, diversity and Inclusion; and Nathalie Des Rosiers, principal of Massey College, were also in attendance.
President Gertler said the annual ceremony has quickly become an important date in the U of T calendar.
"As we see here today, it celebrates the amazing range of outstanding leaders among Africans and people of African descent in the U of T community," he said. "That includes faculty and staff members, students, alumni and friends across our three campuses and well beyond. You have made – and are making – extraordinary contributions in everything from research, teaching and innovation to volunteerism, advocacy and community development."
"You are a tremendous source of inspiration as role models – not only for Africans and people of African descent, but for everyone at U of T."
For Maame Efua DeHeer, the ceremony was a particularly special occasion since she got to share it with her mother, who lives in Ghana – and whom she hasn't seen in six years.
DeHeer, who graduated with a masters of public health in social and behavioural health sciences from U of T's Dalla Lana School of Public Health, works as a policy analyst with the Public Health Agency of Canada and founded the Power of Love Foundation Canada, a grassroots organization that empowers Black women and girls.
"Growing up, when I saw Black women in our community that were making impacts, I always desired to be like them," said DeHeer, who also received the Outstanding Recent Alumni Award. "To be that big sister who is doing amazing things in the community – it's really humbling."
Assistant Professor Onye Nnorom, a family doctor and the associate program director of the public health and preventive medicine residency program at the Dalla Lana School of Public Health, received the Community Development Award.
She said her community work honours her family and ancestors – including her grandmother in Nigeria, a healer who helped women with health issues.
"I'm half Nigerian, half Trinidadian and when my parents came to Canada, they were very involved in community work when I was a child," Nnorom said. "I didn't even know what volunteering was because I just thought it was part of life: It's what you do – you contribute to community, you let people know where you can get resources in this country – you help out."
Nnorom is also the Black health theme lead at U of T's Temerty Faculty of Medicine and the past president of the Black Physicians' Association of Ontario, which has been helping with COVID-19 vaccination efforts.
"We know that during this pandemic anti-Black racism is killing Black people," Nnorom said during her acceptance speech. "But on the flipside: Where we do the work to counter stereotypes, where we do the work to reach forward, where we do the work to celebrate ourselves and each other, then that does the opposite – that's actually saving lives."
Some recipients who were not able to attend the ceremony sent video messages or had friends accept the award on their behalf.
Siham Rayale, who has a bachelor's degree in political science from U of T, was recognized with a Global Impact Award for her work on developing policy and programming that promotes women's political and economic empowerment in Africa. Maydianne Andrade, a professor in the department of biological sciences at U of T Scarborough, was recognized with a Distinguished African-Caribbean Award.
Wisdom Tettey, vice-president and principal of U of T Scarborough, received the Distinguished Influencers Award – and said it was an honour to be recognized.
"I think it's important to have the humility to say that this doesn't just represent me," Tettey said at the ceremony.
"It represents all the people who motivate me every day to do what I do and hopefully carve a pathway for people to reach their aspirations and their potentials." 
---
Here is the complete list of this year's African Scholars Awards recipients:
Outstanding Recent Alumni Award: Maame Efua DeHeer, Victor Bukenya Muwanguzi, Fikremariam Gedefaw
Social Innovation Award: Osholene Oshobugie Upiomoh, Rhoda Akuol Philip
Community Development Award: Ibrahim Hindy, Onye Nnorom
Global Impact Award: Lekan Olawoye, Siham Rayale
Emerging Academic Award: Gerald Bareebe, Apondi Judith Odhiambo
Distinguished Volunteer Award: Imanzi Kayitare, Patricia Ssebazza
Distinguished African-Caribbean Award: Andrew Campbell, Maydianne Andrade
Distinguished Influencers Award: Alpha Abebe, Wisdom Tettey
UTC