Exam stress? Classes that combine downward dogs and meditation could help U of T students de-stress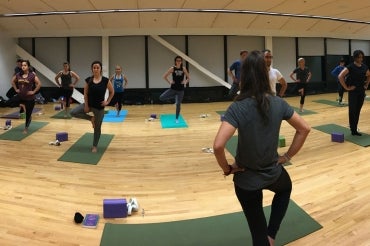 Students are now entering a stressful period as they begin studying for exams. So how can they best deal with the impending pressures? 
The University of Toronto's Faculty of Kinesiology and Physical Education (KPE), along with Student Life, has recently introduced Mindful Moments Yoga and Meditation – a research-based approach to fighting stress.
It's just one of many programs gearing up across the University of Toronto to help students de-stress. U of T Mississauga, U of T Scarborough and the downtown Toronto campus are all planning exam jams in the next week, offering students massages, puppy therapy and hiking to calm nerves and focus.
At the downtown Toronto campus, the Mindful Moments Yoga and Meditation programs are being offered twice a week at the Goldring Centre for High Performance Sport and the Athletic Centre. Students relax through mindfulness meditation, downward dog, cat and cow poses, and sun salutations.
"In the past, we've offered meditation and yoga separately. Now we're combining the two because students say movement helps them reset their thoughts," says Jill Cressy, assistant manager of fitness and instruction at KPE. "When we practice, our thoughts turn to what we're sensing in the present moment rather than getting caught up in the past or worrying about the future – we're training both the body and the mind."
These classes are part of a larger campus-wide mindfulness meditation program that started 12 years ago. In partnership with the Factor-Inwentash Faculty of Social Work and the School of Continuing studies, Mindful Moments are offered at locations including the Faculty of Kinesiology and Physical Education, Hart House, Trinity College, the Multi-Faith Centre, the Centre for International Experience, the Faculty of Medicine and the Faculty of Applied Science & Engineering. 
In 2014, Cressy along with Richard Chambers, director of U of T's Multi-Faith Centre, and Janine Robb, executive director of the Health & Wellness Centre, helped develop the drop-in Mindful Moments program. 
"I ask attendees to do a body scan – bringing awareness to sensations from their feet to the crown of their head. We also use mindful breathing to bring everyone into the present moment," says Rose Mina Munjee, a certified Mindful Moments mindfulness meditation and yoga instructor. "People sit a lot, and are hunched over their phones and desks. Their hips and shoulders become tight and abdominals weak, so stretching and strengthening while breathing are really important."
Munjee, along with 46 other instructors, was certified in Applied Mindfulness Meditation through the School of Continuing Studies. The certification teaches instructors about the latest research in the area, which shows that people who are caught up in their own narrative are more likely to suffer from depression and anxiety.
"Mindful meditation can help shift people from a narrative to an experiential mode. We know from research done at Harvard that the mind wanders 47 per cent of the time," says Michael Apollo, director of U of T's Mindfulness Meditation certificate program. "Today, technology is so prevalent and ADHD is on the rise. We are so overwhelmed that we need effective coping skills to focus and become more resilient."
So how has Mindful Moments Yoga and Meditation helped students develop these skills? 
"I took my GRE test recently, and it's four to five hours of verbal reasoning and quantitative math – if I hadn't used the coping techniques I've learned, I would have bombed," says Maria Fakhoury, a fourth-year undergraduate student. "I tend to think 10 steps into the future. Now I've noticed that I'm not obsessing about the future and it's lessened my anxiety."  
Fellow fourth-year student Daman Rehal agrees.
"I feel like all the students I speak to are so stressed out. We all want to know where we're going to be in ten years. We want to be secure. But if you learn to accept where you are right now, and that you don't know where you're going to be in ten years, it lessens the existential anxiety." 
With the success of the current classes, Cressy hopes to see them expand in the future.  
"We've made the classes convenient and accessible to all levels. Our ideal is to help students develop better relationships with themselves and others. We want to set them up for lifelong success by helping them better understand themselves and how they interact with the world."
As for other exam de-stressing programs, exam jams are being organized by U of T's Faculty of Arts & Science, Faculty of Applied Science & Engineering, U of T Mississauga and U of T Scarborough.