'An essential resource': U of T course focuses on Black mental health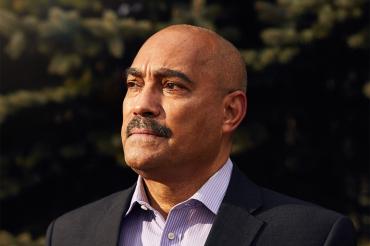 A new University of Toronto course explores Black mental health from a public health perspective amid mounting evidence that the COVID-19 pandemic has had inequitable effects on the wellbeing of racialized Canadians.
Offered by the Dalla Lana School of Public Health this fall, Fundamentals of Black Mental Health examines specific racialized challenges facing Black people and the most effective treatments and interventions related to addiction, mood and anxiety disorders, dementia and psychosis.
"All of the post-slavery societies have constructed a racialized experience in which Black people have increased mental health pressures," says Akwatu Khenti, an assistant professor at the Dalla Lana School of Public and a scientist at the Centre for Addiction and Mental Health (CAMH) who developed the course and will teach it.
"There's added stress from the slavery-based stereotypes and stigmas that exist around Black phenotypes, beauty, intelligence and morality."
Perceived dangerousness is also an ever-present source of stress and/or distress for men of African descent. Khenti points out that Black populations in the West suffer higher rates of schizophrenia – suggesting that racism can even influence diseases considered genetic in nature. In Ontario, Kwame McKenzie, a professor of psychiatry in the Temerty Faculty of Medicine and director of health equity at CAMH, has found that Black populations face a 200 to 300 percent increased risk for serious mental health conditions.
Khenti and McKenzie have adapted cognitive behaviour treatment interventions (CBT) for Anglophone, Francophone and Spanish-speaking Black communities that have expanded the repertoire of depression counselling. The culturally adapted approaches add cultural and socio-economic context to better address what sociologists call "virtual social identities" – the stereotypes and stigmas that influence how racialized "others" are perceived by the mainstream.
They argue that cultural adaptation should be a necessity given the pervasiveness of systemic racism experiences across Black people's lifetime.
"Black children have to deal with low academic expectations, underappreciation of their beauty and giftedness that starts as early as kindergarten," says Khenti. "It grows worse. By the time you get to high school you're dealing with expectations of criminalization. You don't get to do the same things white male adolescents do and get a pass."
Khenti is concerned about the pandemic's effect on mental health rates, particularly among Canadians who face other pressures such as inability to work from home, loss of social supports, job insecurity, home schooling and other social determinants of health. The course offers tools to support effective treatment and early interventions as well as health promotion, prevention, and harm reduction for Black communities.
Khenti and his guest lecturers, including McKenzie, will teach approaches for engaging with Black communities in public health efforts to reduce mental health stigma and culturally adapted treatment approaches.
"Given huge mental health consequences of COVID-19 for Black Canadians, this course will be an essential resource for post-pandemic planning and the development of meaningful interventions," McKenzie says.
The course, open to all U of T students, is aimed at physicians, nurses, social workers, public health practitioners and policy analysts.
"The literature showing the effectiveness of culturally adapted interventions is growing," says Khenti. "Health sciences and social work students should be learning this in school, and it should be normalized expectation for both clinical and non-clinical practice."
Dalla Lana