'An environment I wanted to be a part of': U of T's American students on why they headed north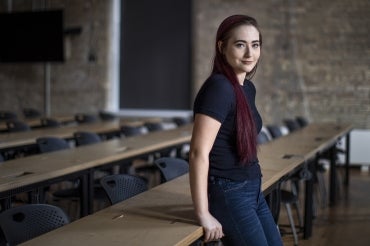 The University of Toronto is home to roughly 19,000 international students from more than 168 countries – with greater numbers of international students arriving every year.
One country where the university's popularity has been rising fast is the United States, where applications to U of T soared by nearly 70 per cent between 2016 and 2018. U of T's depth and breadth of academic disciplines, coupled with its global reputation and proximity to the U.S., are just a few of the reasons American students give for choosing U of T – along with the diversity and inclusivity of Toronto and Canada.
One might think that being a student in Canada is easier for Americans than for students from other countries due to the similarities between two cultures. But is it? 
Cansu Aydemir, a reporter at U of T News who is herself an international student from Turkey, asked five Americans to share their U of T experiences. Here's what they said:
---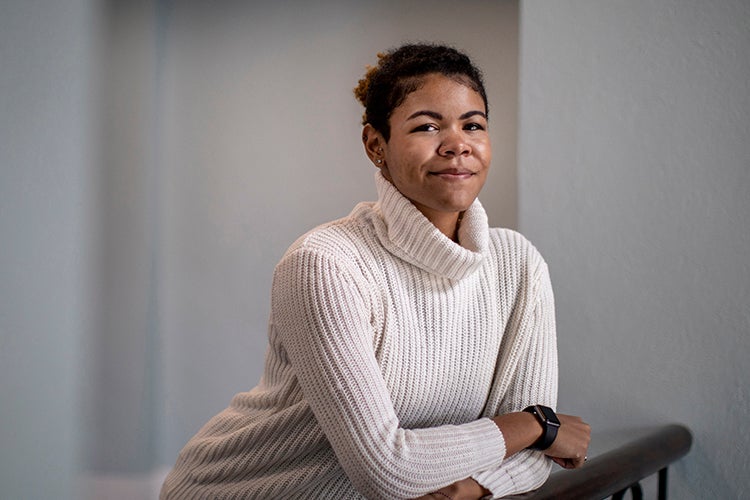 Home for Rebekah Robinson is Maryland – but it was a passion for Russian that brought her to the University of Toronto.
"Not a lot of universities in the United States offer Russian studies as a major program," says Robinson.  
Yet, while U of T's reputation in the field was a big draw, Robinson – now in her second year of a double major in history and Russian language and literature in the Faculty of Arts & Science – says it was the university's people who sealed the deal.
"When I came to visit U of T for the first time, my tour guide was friendly, all the other students were friendly; it was the kind of environment I wanted to be a part of," she says.
Once she'd settled in at New College on the downtown Toronto campus, the city – with its range of festivals, cuisines, and events – proved to be another asset.
"Life is different in Toronto, there are so many people speaking so many different languages – it is really a multicultural city," says Robinson. "Because I study Russian, I am so surprised every time I'm walking on the street – I hear people speaking Russian and that makes me really happy."
Coming from a small high school, Robinson says she can see why some students might find U of T`s size and competitiveness intimidating, but she says an international student orientation helped her settle in quickly. And once classes began, she made a point of visiting professors during office hours and getting involved. Now, Toronto feels like home.
"I genuinely came here without knowing anyone. Now I want to spend more time here instead of going back home, because I genuinely feel like all my friends are here," she says. "I miss my dog, I miss my family, but otherwise Toronto feels like home right now. When I am not here I miss this place."
---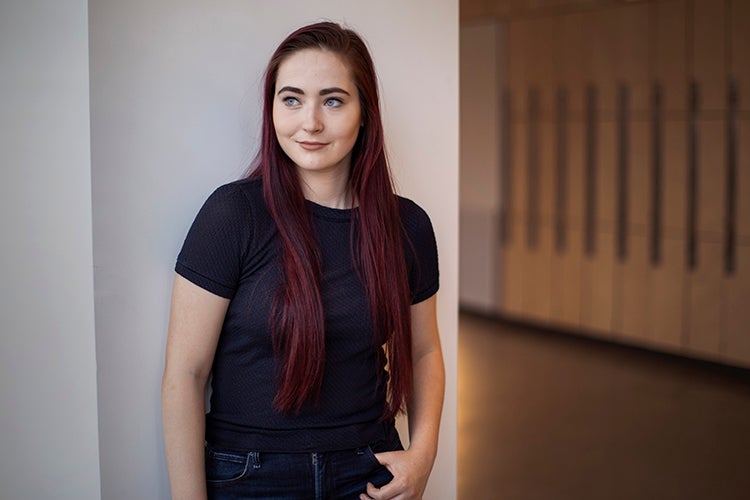 San Francisco's Celine Simone is a second-generation U of T student. Her mother, who was born in Croatia, came to Canada during the communist era, received asylum status and graduated from U of T.
"My mom really loved U of T," Simone says. "She liked the idea of me going to Canada and, because U of T treated her very well, she was very happy that I went to U of T."
But it was more than her family's ties that brought Simone, now in her first year studying architecture and history, to Toronto.
"I know this is a very stereotypical response, but it really is the city – it is one of the most international cities in the world."
Coming from a high school in which the graduating class was 73 people, Simone says she always wanted to attend a big school. She was the only member of her class to apply outside the U.S.
"When you are from America and there so many of the world's top universities and international students there, you just kind of assume by default, 'Okay, I will go to an American school,'" Simone says. "I really liked the size of U of T and how incorporated into the city it was, and, of course, it is also an incredible school."
She says she also likes the way the sprawling downtown Toronto campus comprises smaller communities.
"There are tens of thousands of students, but I am in architecture, which is quite small, and I live at Trinity College, which is also very small," says Simone. "I thought it would always be giant, I'd always be surrounded by people I had never seen before – but I really like the combination.
"It is both very big and very small."
Although she misses home, "politically, I am very happy to be here; I was very happy to escape Trump," she says, adding that she encourages other American students to live a different experience by studying abroad.
 "People are so focused on Ivy League schools, but I just want to let people know that you can leave America and still get an incredible education that you can compare with those Ivies."
---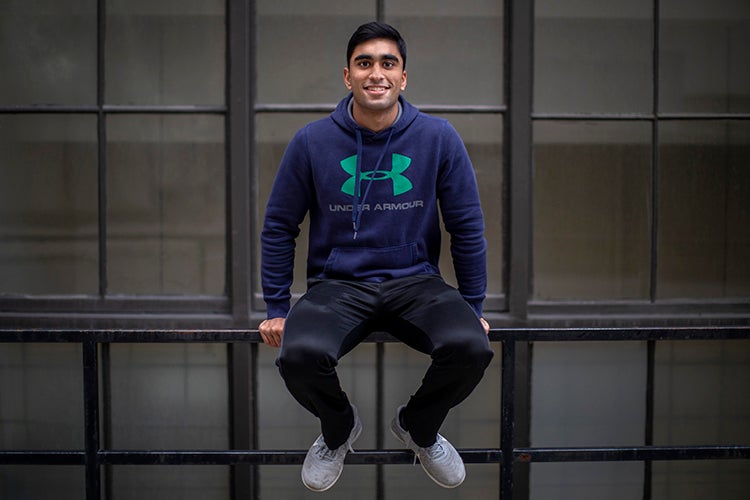 A keen interest in artificial intelligence motivated Priyanshu Arora to leave New Jersey for Toronto.
"I knew that U of T was one of the best on AI in Canada and in the world," says Arora, now in his first year of studying computer science. "Since it is such a research-heavy university, I assumed that the professors would be amazing – and so far that's true."
A student in the Faculty of Arts & Science, Arora says that he chose New College because of the all-you-can-eat dining hall plan and its close proximity to Bahen Centre.
"I also heard from my peers on Reddit that New College dining hall is the best in all of U of T," says Arora adding that the residence's modern buildings were another factor.
Arora says he's found enough similarities between American and Canadian culture to make life as an international student an easy transition.
But there was one difference he wasn't expecting.
"One surprising thing for me, at first, was the number of international students," says Arora.  "I thought it was going to be 90 per cent Canadian students here." Instead, he adds, many are from "halfway around the world." 
Arora says he's noticed that people from the same countries tend to form their own groups at the beginning. He recommends international students "get involved with sports activities, intramurals or clubs and to get out of their comfort zones."
Discovering that many of his professors are not only renowned for their research, but also for their teaching was another revelation.
 "I have one amazing math professor: Alfonso Gracia-Saz. He is a great professor – I absolutely love him, best teacher I have had in a long time," Arora says. "If you look at the textbooks and if you look at the authors, the very authors of textbooks are the ones teaching the courses.
"You are being taught by the people who wrote the book, which is great."
---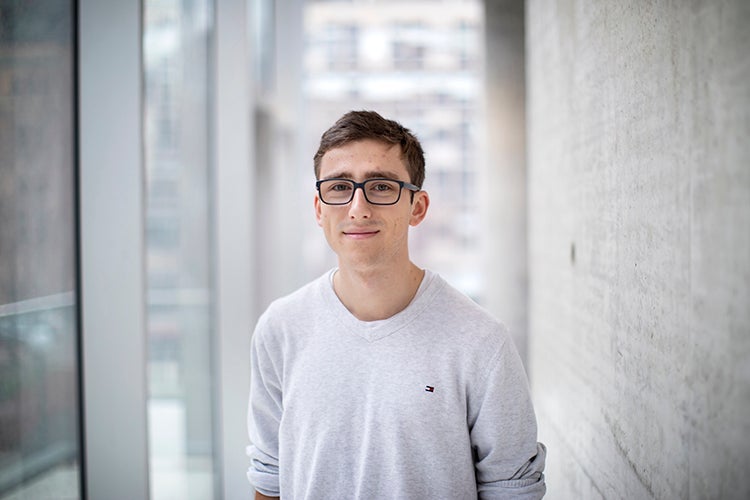 Boston's Jacob Nazarenko had dreamed about going to a top school for computer science – and then a visiting recruiter from U of T told him about the Lester B. Pearson International Scholarship Program. 
He applied, and won.
"A dream come true," says Nazarenko, pointing out U of T "is very well ranked – top 10 or 15 in computer science."
Before coming to the school, Nazarenko says he had heard about U of T's competitiveness and the "work hard, play hard" mentality of students.
"There are definitely a lot of people who work hard," he says, but "I think that aligns with my personality and goals."
A student in the Faculty of Arts & Science, Nazarenko says that he chose New College primarily for its size, accommodation and dining options, as well as its proximity to his classes.
"I also chose New because it is known to have one of the highest percentages of international students compared to other colleges at U of T, and has students representing a variety of different disciplines, including my own." 
Nazarenko says Toronto is "basically a bigger and more diverse version of Boston, but it also has a somewhat different vibe." Every week he ends up trying some new food or hearing of a cool event.
Nazarenko says U of T offers a great range of opportunities, events, clubs, and info-sessions for students.
"There is something at U of T for everyone."
---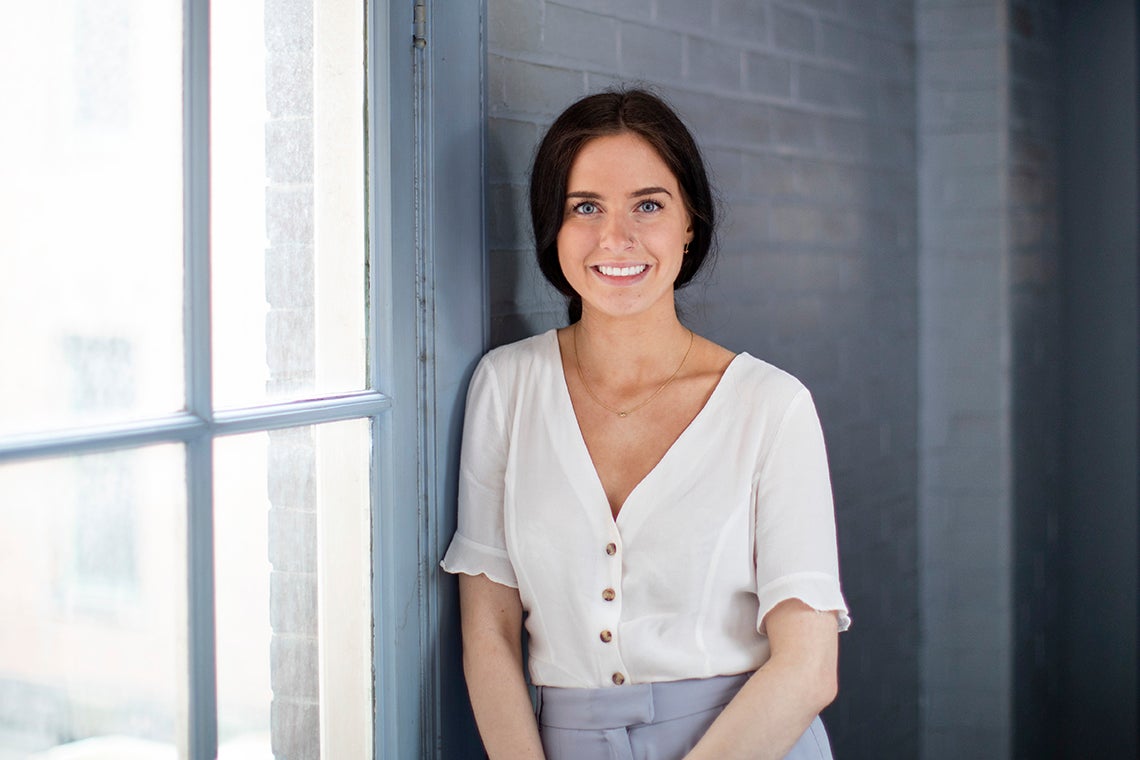 Michigan's Christina Visser wanted to leave home to attend university. Her mother wanted her to choose a school with a global reputation.
 "I wanted go out and explore intellectually, I guess. But I also wanted a different geography," Visser says.
Visser's mother, who works in education, suggested U of T. But some of the online comments Visser read suggested the university had a reputation for being all about the books. 
 "It was just like people didn't socialize as they do in college towns was and academic rigor is insane – those were the expectations I went in with," Visser says. "But I know that what you put in is what you get out – and it is completely different; it is not antisocial at all."
Visser adds that, while the school is huge and academics are rigorous, U of T is no more difficult than other top universities.
"It is not crazy," she says.
Visser attends U of T's John H. Daniels Faculty of Architecture, Landscape and Design.
"I wanted to focus on architecture, and I like that it is a small, specialized community so it's more intimate, which I think is very advantageous," Visser says.
This is Visser's fourth year in Toronto, away from home. She says she misses her family, but adds that she feels Toronto is now her home, too.
"When I go home now it just feels like I am visiting a place where my parents live," says Visser.
She says she likes the slight differences she's found between American and Canadian cultures.
"Canadians are noticeably nicer, and I think their general attitude towards each other is more collective; they are more aware of how their actions affect other people," says Visser.
Visser says her experience as an international student has given her a critical perspective.
"There is so much I have learned about myself," she says.
International student Cansu Aydemir is an intern at U of T News. Originally from Turkey, she has lived in Toronto since 2012 and is now in her fourth year of studies at U of T where she is specializing in history and minoring in diaspora and transnational studies.
UTC