'Enormous pride': Faculty of Kinesiology & Physical Education celebrates classes of 2020 and 2021
In March 2020, David Sewell and his classmates walked out of their classroom at the University of Toronto's Faculty of Kinesiology & Physical Education (KPE), not knowing that it would be the last time they would see each other in person in a classroom again.
A couple of days later, an email from the faculty explained classes would be shifting to a virtual format due to COVID-19, "something none of us, students or faculty, were truly prepared for," said Sewell, who graduated from the master of professional kinesiology (MPK) program in 2021.
The students of the program were supposed to start their in-field learning in April. But another email informed them that the placements, a key feature of the program, would also be pivoting online or have to be cancelled altogether.
After the initial feeling of frustration and disappointment, Sewell's mindset started to shift, in large part due to the efforts of KPE Assistant Professor David Frost, director of the MPK program, who used his open format Zoom sessions to regularly check in on the students and discuss their virtual placements.
"We began to realize the opportunity we had been given," said Sewell. "We were part of the health-care system during the largest public health crisis of the past century. The program connected us with a wide variety of public and private health-related businesses who, just like us, were forced to change how they operate with no notice and no pre-existing plan of how to do it.
"We became part of the solution to the COVID-19 pandemic."
The experience, Sewell says, made them resilient.
"When we all enrolled in the University of Toronto's Faculty of Kinesiology & Physical Education, we knew we would be offered a world-class education in this field, but I don't think any of us ever imagined that the soft skill of resilience would become such a large part of our education," he says. "We became experts in adapting, we solved problems, we forged new paths, we were leaders in our field."
This week, Sewell and other KPE alumni who graduated in 2020 and 2021 finally had the opportunity to gather on campus in person to celebrate their academic achievements. They join more than 7,700 grads expected to cross the stage at Convocation Hall in a series of in-person celebrations for the classes of 2020 and 2021. Alumni and their 24,000 anticipated guests will attend 28 special in-person graduation celebrations over 13 days.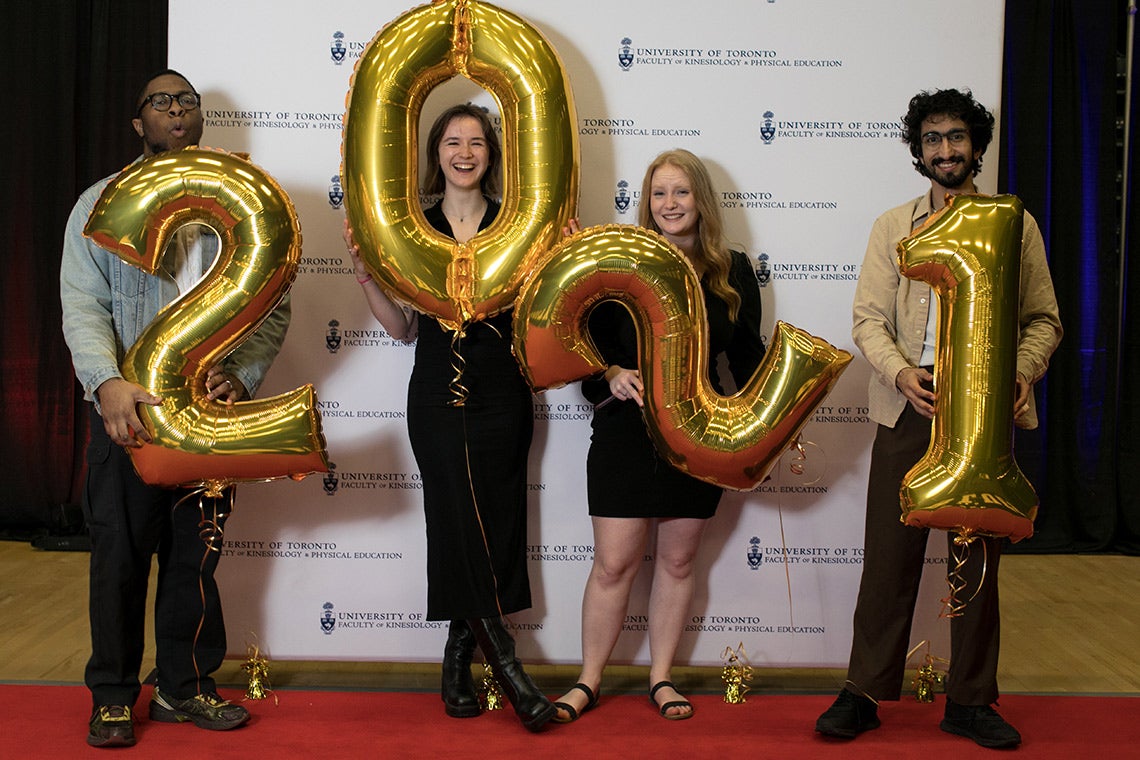 Professor Gretchen Kerr, dean of KPE, welcomed the KPE classes of 2020 and 2021 in a special graduation celebration at the Goldring Centre for High Performance Sport.
"We appreciate that the cancellation of your convocations due to COVID-19 came as a huge disappointment to you, your families, friends, teachers and mentors," said Kerr. "Our Faculty and the University of Toronto take enormous pride in your accomplishments and that is why we're delighted and grateful to welcome you back to campus today for an in-person celebration."
Kerr congratulated the alumni on graduating from Canada's top university in challenging times.
"Graduating from a world-renowned, rigorous academic program is something to be proud of at any time, but you did it in the most unusual of times, during a worldwide pandemic that added more than the usual share of challenges to how we study, teach – and go about our daily lives," she said. "Still, you persevered, and in doing so, you showed why KPE students enjoy the reputation of being hard working, committed and resilient."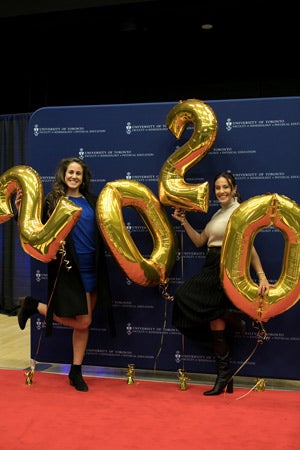 Aalaya Milne came out to celebrate her master of science degree in kinesiology, completed in 2021. Milne previously earned a bachelor of kinesiology from U of T and is pursuing doctoral studies at the faculty.
"It feels surreal being able to stand among you all after months of Zoom calls, just looking at people's faces in little squares on the computer screen," she said. "I feel blessed and grateful to be able to celebrate again in person with you all."
Reflecting on the years behind them, Milne said it wasn't easy.
"Not only did we choose to be in grad school, but we chose to do it during a global pandemic," she said. "We saw the challenge that was presented to us, and we rose to the occasion.
"I hope that you all take a moment to think about how incredible your accomplishments truly are."
KPE