Embrace the unexpected, says Elena Kagan, U.S. Supreme Court Justice and U of T honorary degree recipient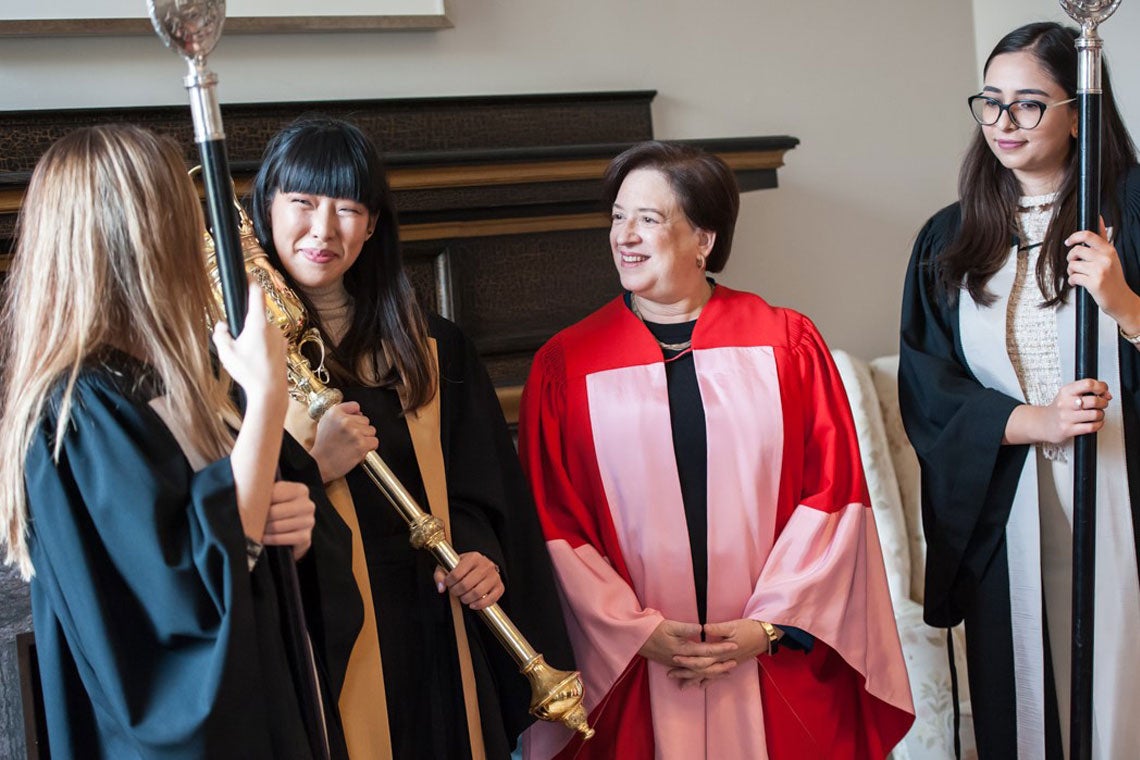 Elena Kagan's career has been both varied and accomplished. The associate justice of the Supreme Court of the United States has worked in the White House, taught at the University of Chicago, and is the first woman to become dean of Harvard Law School and to hold the job of U.S. solicitor general.
Now, she can add an honorary degree from the University of Toronto to her impressive resumé.  
On Monday, Kagan spent the day participating in events around the downtown Toronto campus including a special convocation ceremony, followed by a discussion with Yasmin Dawood, an associate professor in U of T's Faculty of Law and department of political science. She also paid a visit to the Jackman Law Building for an event with Rosalie Abella, a justice of the Supreme Court of Canada.
"While the university has held thousands of convocation ceremonies over the years, it has held relatively few special convocations," said U of T President Meric Gertler at the convocation ceremony held in Simcoe Hall's Governing Council chamber. "Such events have been reserved for exceptional purposes, for persons of truly unique stature … Today we honour such a person by conferring the degree of Doctor of Laws, honoris causa, on Justice Kagan."
During the ceremony, Kagan immediately lit up the room with her warmth and dry humour.
"Now you know I can't keep a job," she joked of her many career moves.
Kagan said she owes her accomplishments to her willingness to embrace change.
"A good part of what happens is unexpected, is a kind of serendipity," she said. "I found continually there were opportunities that I didn't expect that fell in my path."
Kagan offered a behind-the-scenes look at the U.S. Supreme Court – describing the goings-on within the walls of the justices' conference room, where all important discussions and deliberations take place.
"That was very gratifying to me," she said. "The level of conversation is really high – people are super prepared when they walk into conference. … We make sure all nine [justices] get to talk, and also have the ability to really converse with each other and exchange points of view and go at each other and debate with each other."
Even at an esteemed institution like the U.S. Supreme Court, junior justices are put through a series of what Kagan calls hazing rituals.
During her seven years as junior justice, Kagan had to complete a series of tasks that included note taking, opening the door to the conference room when someone knocks (even when she was hobbling on an injured foot), and becoming a reluctant member of the cafeteria committee.
"You go to these meetings every month and they're talking about what happened to the good chocolate chip cookies," Kagan quipped.
Despite the antics, Kagan said her time on the Supreme Court has been "extraordinary."
"It is the hardest questions, the most interesting questions, the most important questions," she said. And it's an opportunity to make a difference "for your country, to make a difference for citizens."

Abella and Kagan had a lively discussion in the Jackman Law Building's Moot Court Room (photo by Lisa Lightbourn)
In recent months, the Supreme Court has dominated the headlines amid the controversial – and politically divisive – confirmation of Justice Brett Kavanaugh.
Though she would not comment on his confirmation, Kagan did say that the confirmation process needs an update.
"I don't think they work very well in their current form, nor would I say we should get rid of them," she said during her conversation with Abella.
"I don't think anybody can look at what's going on in our government and in our country and not think there are some deep divisions in American society."  
It's all the more reason to maintain the separation of America's highest court from the politics that take over the House of Representatives and the Senate, Kagan said.
"The asset that is most important for the court to have is its own credibility and own legitimacy," she said.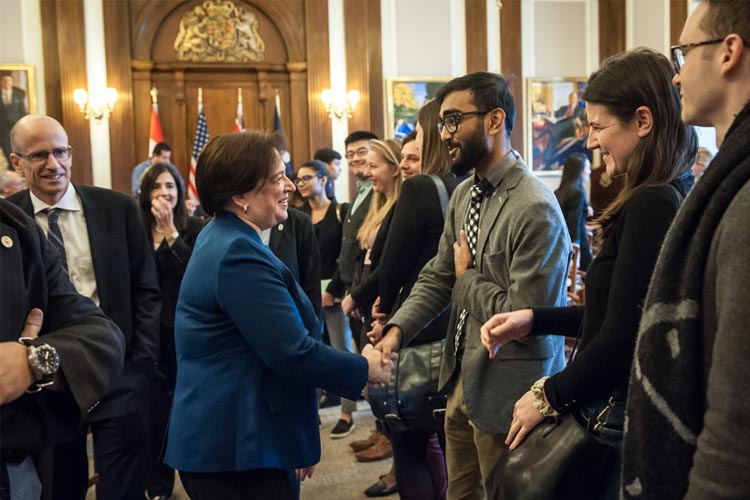 Kagan chats with students and other members of the U of T community after her convocation ceremony (photo by Lisa Sakulensky)
Despite the differing ideologies held by Supreme Court justices, Kagan said there's a surprising amount of consensus.
Of around 80 cases the Supreme Court presides on each year, the justices decide unanimously on half of them, she said.
But there are cases that divide justices in a more predictable fashion, particularly those that are of great public interest. This has become a bigger issue with the retirement of Justice Anthony Kennedy, who acted as a swing vote when the remaining justices were evenly split.
It's too soon to tell if a sitting justice will serve that purpose, said Kagan.
"American court watchers will say this is a really interesting time to think about our institution because for the first time in quite some time, not all the attention will be on one person," she said.
In the meantime, the justices must work harder to find common ground, said Kagan.
"There's value to building bridges, there's value to building consensus, there's value to not seeming and not being politicized. If that means we go back to our offices and think harder about how we can find areas of agreement, I think that's a good thing."
Kagan's conversation with Abella was an invaluable experience for the U of T law students who were able to attend.
"There are two Supreme Court justices, both female, at a time when Supreme Court justices are in the news a lot. This is the dream," said law student Jasmit De Saffel.
Kagan said she was grateful to be receving an honorary degree from "one of the great universities in the world."
"I know from personal experience that it's one of the great law schools in the world," she said. "Everybody in the American legal profession knows the strength of the University of Toronto law school and its leadership."                                                                         
UTC