U.S. Supreme Court Justice Elena Kagan receives U of T honorary degree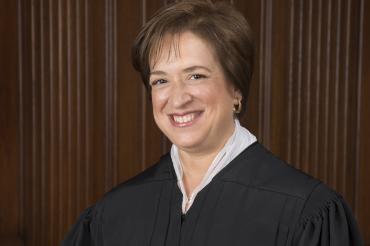 The University of Toronto hosted a special convocation Monday to recognize Elena Kagan, an associate justice of the Supreme Court of the United States. Kagan received an honorary degree to acknowledge "her excellence in the academy and her outstanding service for the public good, as lawyer, scholar and jurist."
As part of the ceremony, Kagan participated in a conversation with Yasmin Dawood, an associate professor in U of T's Faculty of Law and department of political science, as well as the Canada Research Chair in Democracy, Constitutionalism, and Electoral Law.
Later on Monday afternoon, Kagan was at U of T's Faculty of Law along with Rosalie Abella, a justice of the Supreme Court of Canada – affording students a unique opportunity to hear from a sitting U.S. Supreme Court justice.  
In 2010, Kagan became the U.S. Supreme Court's 112th justice and only the fourth woman to hold the position, nominated by then-President Barack Obama.
"She believes, as I do, that exposure to a broad array of perspectives is the foundation not just for a sound legal education but of a successful life in the law," said Obama of Kagan when announcing her Supreme Court nomination.
Her time on the Supreme Court has included important rulings, most notably the legalization of same-sex marriage, and has earned her admiration in the law community for her judgments, which present careful legal analysis in an accessible way.
With political polarization at an all-time high in the U.S., Kagan is a strong advocate for the Supreme Court to rise above partisanship.
"This is a really divided time," said Kagan, speaking at an October event at Princeton University. "Part of the court's strength and part of the court's legitimacy depends on people not seeing the court the way they see the rest of the governing structures of the country now."
Kagan completed her bachelor's degree at Princeton University and her master's at the University of Oxford before attending law school at Harvard University.
After clerking and briefly practising law, Kagan returned to academia as a law professor at the University of Chicago Law School.
During Bill Clinton's presidency, she spent four years working at the White House as associate counsel and then deputy assistant to the president for domestic policy.
She returned to Harvard in 1999. In 2003, she became the first woman to serve as the dean of Harvard Law School.
In 2009, Obama appointed Kagan solicitor general – the first woman in that role.
UTC