'Embrace the entire innovation ecosystem': President Meric Gertler in the Hill Times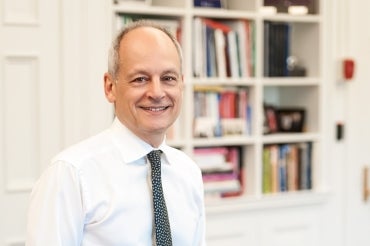 University of Toronto President Meric Gertler says governments are rightly focused on convincing business to invest in innovation, but that sustained investments in university research, growing the country's research talent and championing partnerships between universities and industry are equally as important. 
In a recent op-ed for the Hill Times, President Gertler noted Canada was the first country to release a national AI strategy, an initiative funded by the federal government and led by the Canadian Institute for Advanced Research (CIFAR) – and that five years on, the country is now a global leader in the field. "Canada's innovation policy must embrace the entire innovation ecosystem, from fundamental research to the creation of new products, services, and companies. And it must do so by harnessing the distinct, but complementary, roles of the public and private sectors," President Gertler wrote.
The point was also raised in an op-ed that President Gertler and CIFAR president and CEO Alan Bernstein recently wrote in the Globe and Mail.
President Gertler further highlighted the need to strengthen linkages between public investment, university research, commercialization and adoption for long-term impactful outcomes. He cited the decades of publicly funded AI research by University Professor Emeritus Geoffrey Hinton as an example of cutting-edge work that spurred private investments and "revolutionized industry after industry." 
U of T is expanding this approach through its new Institutional Strategic Initiatives portfolio, which focuses on grand challenges and opportunities to build the economy of the future.
UTC