Canada must boost support of science and tech: President Meric Gertler and Alan Bernstein in the Globe and Mail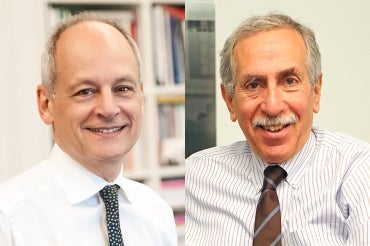 Canada must step up its support of R&D in science and technology if the country's innovation economy is to remain competitive globally.
That was the key message of a Globe and Mail op-ed by University of Toronto President Meric Gertler and Alan Bernstein, president and CEO of CIFAR (Canadian Institute for Advanced Research), who noted substantial recent investments by the U.S. government in the country's AI, robotics, clean electricity and green energy sectors.
"The U.S. initiatives demand a commensurate response from Canada both in size and breadth. Otherwise, our economic performance will continue to lag behind other advanced economies," Bernstein and President Gertler warn in the op-ed published Sept. 5.
Support in basic research must come from government, according to Bernstein and President Gertler, given the public interest in challenges ranging from vaccine development to clean energy and income inequality. Meanwhile, private sector investment in market-oriented R&D is vital because it "leverages the research of our universities and turns discovery into new products and new companies that create employment and prosperity."
Bernstein and President Gertler note that government and private-sector leadership are equally essential to creating a robust innovation ecosystem. Case in point: CIFAR's early support for the groundbreaking AI research of Geoffrey Hinton, University Professor Emeritus in the department of computer science in the Faculty of Arts & Science, led to the Pan-Canadian Artificial Intelligence Strategy and helped establish Canada as a world leader in AI.
"Now we need to expand on what we've learned from AI as the basis for a comprehensive and ambitious research-and-innovation policy," Bernstein and President Gertler write.
UTC