'The embodiment of grace and inclusion': Carol Chin installed as principal of Woodsworth College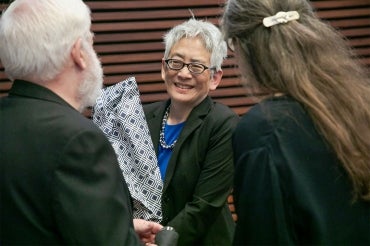 Carol Chin, who was officially installed as the eighth principal of Woodsworth College this week, describes herself as "an app with ideas." 
During her installation address on Wednesday, the associate professor in the University of Toronto's department of history spoke of the significance of being installed – much like a mobile phone application – because things that are installed are expected to work hard.
"All of this pomp and circumstance is to ensure that I'm going to do the work of the college – work that involves both public events like this and the less visible but no less important work like an app that runs in the background."
As for the "ideas" part, Chin was referring to an acronym that captures Woodsworth's emphasis on values such as inclusion, diversity, equity, access and support.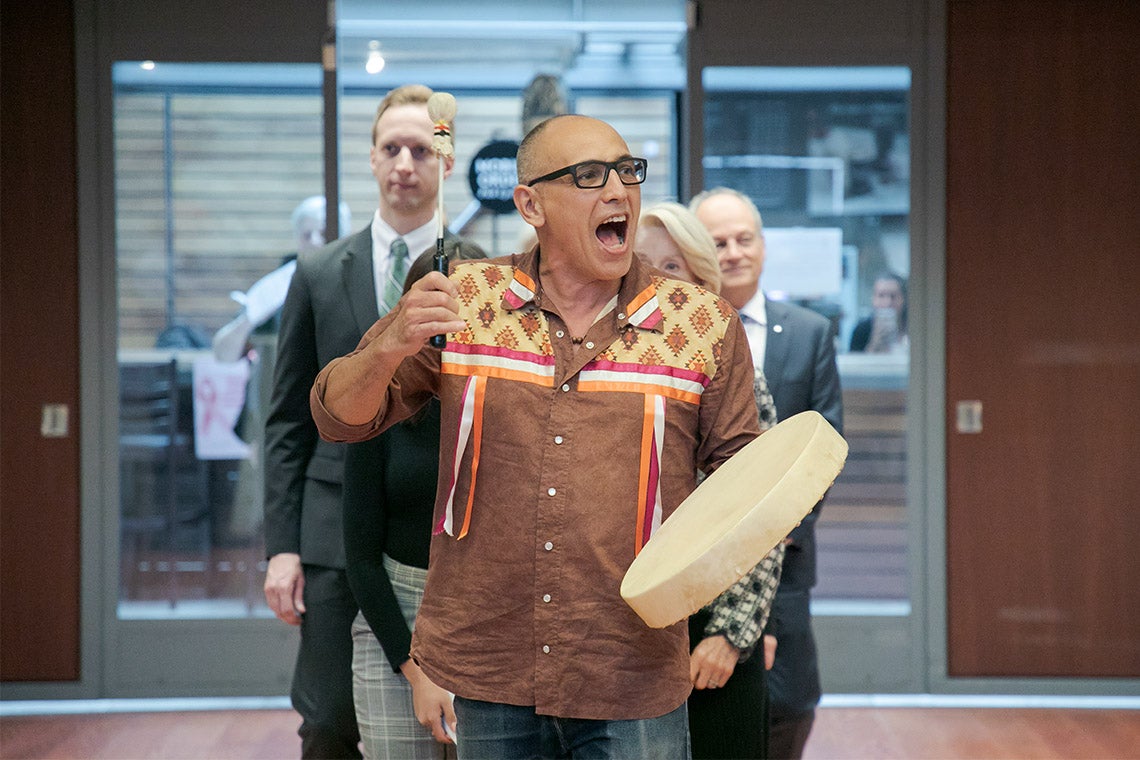 Archer Pechawis, a new media and performance artist, led the procession, which included President Meric Gertler and Chancellor Rose Patten, at Carol Chin's installation ceremony on Wednesday (photo by Johnny Guatto)
U of T President Meric Gertler, who called Woodsworth a "very special place with a distinctive history,"  said Chin was the perfect person to helm the college and champion its strong commitment to diversity, equity and outreach.
"I've had the great pleasure of working with Carol in her previous administrative roles, and I've really come to appreciate so many things about her – her calm, unflappable manner being among them," President Gertler said. 
"But most of all I've been deeply impressed by her focus on students and her dedication to their success. That quality aligns so perfectly with the ethos of this college and it will continue as a great source of strength for Woodsworth in the years to come." 
U of T President Meric Gertler speaks at Carol Chin's installation ceremony at Woodsworth College as Chin looks on (photo by Johnny Guatto)
Chin, who began her tenure as principal in July, has served at U of T in various administrative roles over the years. She was the acting principal of Woodsworth from 2015 to 2016; the acting chair of the department of history in 2018, and the associate chair, undergraduate in the same department between 2010 and 2015. She has also served in various committees, including the Provostial Advisory Committee on the Prevention of and Response to Sexual Violence (2015-16); Academic Board (2015-16); and the Planning and Budget Committee (2015-16).
With a bachelor's degree from Harvard University and a master's degree and PhD from Ohio State University, Chin's research interests include late 19th and 20th century American foreign relations, with a particular focus on U.S.-East Asian relations. She also studies the intersection of national identity with concepts of empire, culture and gender, as well as the ways in which these themes can enhance the study of international relations.
"You can undoubtedly see why Carol Chin is perfect for this role," said Cheryl Regehr, U of T's vice-president and provost, in her remarks. "She has brought to the college the ideal blend of intelligence, compassion and vision. Carol Chin's cross-disciplinary and global interests will without a doubt contribute to Woodsworth's mission, ethos and community."
"You are the embodiment of grace and inclusion, and Woodsworth is absolutely going to benefit from your intellectual rigour."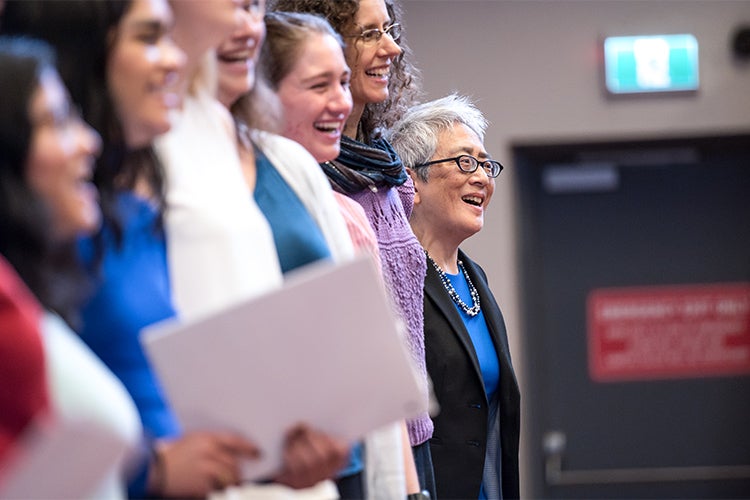 Carol Chin sings alongside U of T's Spirit Singers to close the ceremony marking her installation as principal of Woodsworth College (photo by Lisa Sakulensky)
In a display of her involvement with campus life, Chin jumped into the chorus line as U of T's Spirit Singers closed the ceremony with a traditional Hebrew song "Hine ma tov," with lyrics that translate to "How good it is for all of us to dwell together in peace."
UTC