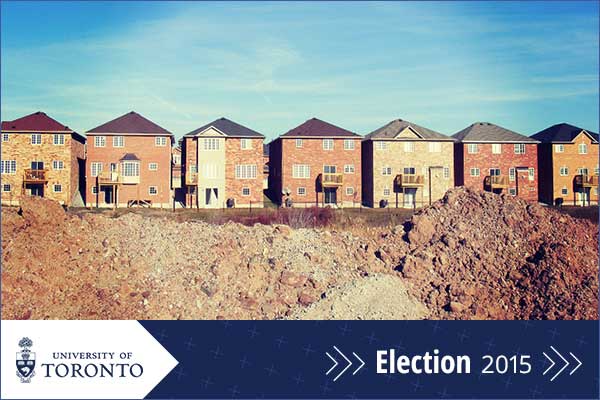 Election 2015: "If you can make it in Brampton, you can make it anywhere," says expert
Associate Professor Peter Loewen on the significance of the region and its five seats
Like much of the GTA, Brampton voted Liberal Monday, turfing out its Conservative representatives.
In the weeks leading up to the election, Brampton was a key battleground between Conservatives and Liberals. With five seats up for grabs, Brampton was an important player, says Associate Professor Peter Loewen of political science – and with recent history showing anything could happen in Brampton, Loewen was keenly watching the city's races and polling residents in the days leading up to the election. 
In 2011, Brampton went from a Liberal stronghold to a Conservative sweep. The region had seen its population jump by 21 per cent and visible minorities account for 66 per cent of the residents. With the region's demographics changing rapidly, each Brampton riding had voted Conservative, helping to propel Stephen Harper to a majority government. 
All of that meant pundits weren't surprised when Liberal leader Justin Trudeau picked Brampton to hold his largest campaign rally earlier this month. Or when the Conservatives ran ads in ethnic media last week claiming Trudeau would put brothels in their neighbourhoods – a move many felt was targeted to immigrant communities such as those in Brampton – and followed that up with a rally in Brampton. 
Loewen talked to U of T News about voter sympathies in the area and why the city played such a significant role.  
Why did Brampton matter so much in this election?
I think Brampton matters for at least three reasons. First, five seats are up for grabs. All were won by the Tories in the last election. To win government, those were useful pick-ups for the Liberals. To hold government, the Tories needed to protect them. 
Second, Brampton is a bit of a media centre for a large non-English press that has reach and influence across the GTA. 
Third, the Brampton constituencies are just the type that each party has tailored its policy packages to win. "If you can make it in Brampton, you can make it anywhere."  
Why did Brampton back the Conservatives during the last federal election?
On the face of it, it may seem surprising, but it should not. Brampton is exactly the demographic the Tories targeted: middle class, family-oriented, a lot of households often with a sole breadwinner, a distinct sense of being squeezed by taxes. The only factor that might – on the surface – have moved it out of the Tory category is the long-standing poor performance of the Tories among new Canadians. But that assumption fundamentally misunderstands both the Tories increased appeal among all immigrants and their specific appeal among many South Asian groups. 
So what happened Monday night? How did the Liberals take it all in Brampton? Do the ridings vote as one community?
There was a uniform swing towards the Liberals. Those who voted NDP last time realized they needed to vote Liberal to remove the Prime Minister. They needed to coordinate, and they did.