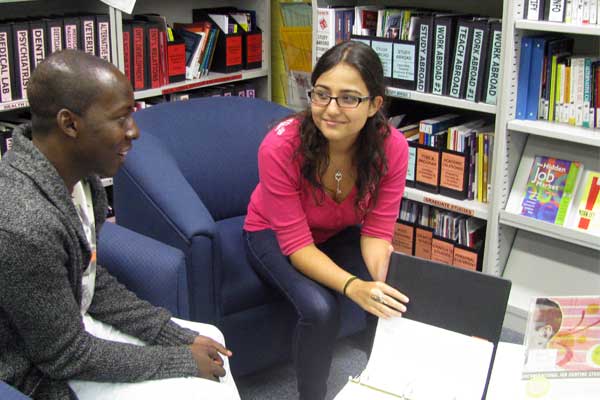 Earning while learning: U of T students at work on campus
The University of Toronto is known for its hard working students, but few would guess how much of that work takes place outside classrooms. In fact, thousands of jobs were created for students last year – a total of 4162.
The Faculty of Kinesiology and Physical Education (FKPE) alone filled 265 student positions – many of them paid above minimum wage – making it the top employer on the St. George campus.
"We have students employed to lead larger physical activity community outreach initiatives such as MoveU, which is delivered across all three campuses," said Michelle Brownrigg, director of physical activity and equity at FKPE. "And many students are employed as instructors in aquatics, fitness, personal training, strength and conditioning, dance, and recreation, as well as in child and youth sport programs and summer camps."
Akanksha Ganguly, who is starting her Master's at the Dalla Lana School of Public Health, works for the MoveU campaign and says the position is a perfect fit for her field of studies.
"I feel like I am able to apply everything that I learn in the classroom to a real-life setting," said Ganguly.
Sara Ali, a specialist in History with minors in Political Science and Jewish Studies, is a coordinator at Camp U of T.
"I have always been interested in jobs that work with children and youth," said Ali. "Camp U of T provides the perfect environment for this interest."
Career centres at the three University campuses are also a place of student employment. U of T Mississauga English major Maria Ruiz works as a senior career assistant at the UTM Career Centre and the experience is reaping benefits beyond the financial.
"This position has taught me an incredible amount about career planning and job searching that will be extremely valuable once I start looking for full time employment," said Ruiz. "And I work in an incredibly supportive environment with a team of wonderful people."
Giving back to a supportive community is precisely what prompted UTSC student Priyanti Antony to apply for a work study position at the UTSC Academic Advising and Career Centre.
"Every day I learn something new and I enjoy working here," said Antony, who is in his final year of a double major program in Biochemistry and Health Studies. 
U of T's favourite place for co-curricular learning, Hart House, has always had a special draw for students looking for creative opportunities to explore their interests. Luckily, there are also jobs to be found, ranging from student ambassadors and programme interns, to support staff in the Fitness Centre, and positions in Events and Catering.
"I actually used Hart House as the focus of an ethnographic study that I completed for a class a few years ago," said Sian Layton, who works part-time at Hart House' main information desk, the HUB, while pursuing a double major in Biological and General Anthropology.
Finding their own voice and taking ownership of projects that are meaningful to them is what Philip Cox, Marketing & Communications Coordinator at Food Services, hopes students get from on campus employment. The Veggie Mondays campaign, winner of the 2013 Green Ribbon Award, was the result of a work-study position at U of T Food Services.
"Students bring energy, personality and fresh ideas to the table," said Cox. "Through their contributions we grow as an organization and evolve to meet the needs and interests of the current generation."
Students interested in exploring on campus employment are advised to look at job postings advertised on the websites of the Career centres at the three University campuses, and those specific to departments, programs or colleges.