Early Career Teaching Award spotlight: Q&A with kinesiology and phys-ed expert and dog trainer Ashley Stirling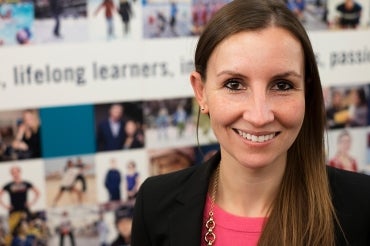 Ashley Stirling wants all of her students to fulfill their potential – whether they walk on two legs or four.
The assistant professor in the Faculty of Kinesiology and Physical Education, who recently won an Early Career Teaching Award, mixes practice and theory so that students get the most out of professional placements. In these placements, undergrads in the faculty get 100 hours of experience alongside a mentor at organizations including Toronto FC, the central YMCA and Upper Canada College.
When she isn't educating human students, she's teaching her pet dogs to reach new heights – sometimes literally. She and her three dogs, Teague, Cole and Nova, perform with the President's Choice SuperDogs, a theatrical show in which dogs dance, high jump and do a variety of other tricks.
"In some ways student development can be thought of as quite similar," she told U of T News. "It's about learning the unique strengths and interests of the students and supporting them in developing those traits further."
This is the second instalment in a series casting a spotlight on the 2017 Early Career Teaching Award winners. The awards, valued at $3,000 each, go to faculty who are effective teachers and demonstrate a commitment to student learning, engagement and innovation. The others winners are:
Sanja Hinić-Frlog, assistant professor, teaching stream, in biology at University of Toronto Mississauga
Dawn Kilkenny, assistant professor, teaching stream in the Institute of Biomaterials & Biomedical Engineering at the Faculty of Applied Science & Engineering
David Roberts, assistant professor, teaching stream, Innis College urban studies program, Faculty of Arts & Science
---
What do you enjoy most about teaching?
Students are inspiring. I'm continually learning from the graduate and undergraduate students with whom I have an opportunity to work. It's exciting to see students' potential and development over the tenure of a course or program of study.
How would you describe your teaching style?
The location of the University of Toronto in the heart of Canada's largest city provides a breadth of opportunities for hands-on practice and engagement with the community. Recognizing this distinct opportunity, as much as possible, I like to embed opportunities for work-integrated learning and community engagement within the courses that I teach, whether it's placements, structured experiential learning opportunities or directed research projects.
I also describe myself as a student-centred teacher, meaning that I approach teaching as a collaborative process.
You drew up guidelines for universities and colleges offering internships. Why was this necessary, in your opinion? 
The topic of work-integrated learning, including internships and co-ops, is on everyone's radar. There seems to be increasing pressure on Ontario colleges and universities to offer more of these types of experiences for students, but it's paramount that we keep educational quality as the top priority.
There's a risk of simply labelling various activities as experiential learning or work-integrated learning, for the sake of labelling, and not actually achieving the intended student learning and development.
I've read that you train dogs in your spare time for the President's Choice SuperDogs show. What does that entail? 
The SuperDogs is a national performance team that I've been a member of for almost eight years. I'm a huge dog lover and initially got into the sport of agility with my first dog as an application of my research in sport psychology and athlete development. I now have three dogs, and they all have unique talents. I've travelled all over North America with my dogs and some great friends, performing for large audiences and promoting the use of positive reinforcement in canine training.

Ashley Stirling performs in a national family dog show with her three pet dogs, Teague (a Nova Scotia Duck Tolling Retriever), Cole (Dalmatian) and Nova (Working Cocker Spaniel). 
Are there any parallels between canine and student development?
Well, while there are some clear differences in canine and student development, I guess there are some parallels that can be drawn. At the heart of it, what I enjoy most about dog training is recognizing the unique strengths and potential of a dog, and then turning it into something amazing. My puppy Nova is very light and agile. She has springs for legs and is quite bouncy so I've trained her to jump rope. In comparison, Cole naturally likes to stand on his hind legs so I taught him to dance. And my first dog Teague is super fast, runs low to the ground, and excels in speed races and long throw disc. 
In some ways, student development can be thought of as quite similar. It's about learning the unique strengths and interests of the students, and supporting them in developing those traits further. You can't force either a dog or a student to learn something they don't want to learn about, so in both settings I'm challenged to find strategies that make the learning engaging and relevant.
What do you hope students take away from your classes?
I hope to provide students with a learning experience that sticks with them – one that can be drawn upon long after graduation from U of T.
Where does your passion for teaching and student learning come from?
As a former U of T student myself, I was fortunate to have learned from some great teachers in our faculty. I also had a great mentor and coach who helped me recognize my own strengths as a student and has provided me with the education and support I needed to get to where I am today. She inspired me to want to be a great teacher and a positive role model for future generations of students. 
UTC