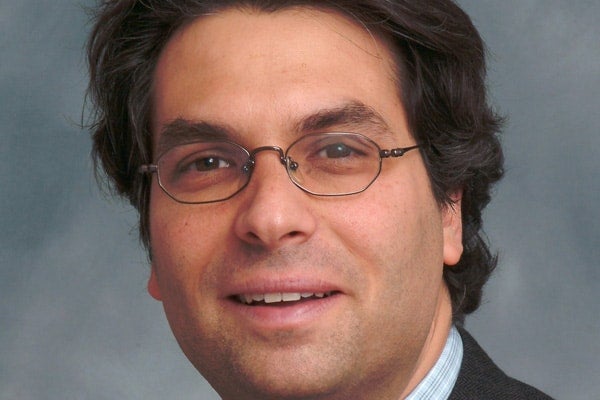 Drug treatment delays progression of prostate cancer
Localized cancer responds to dutasteride

Treatment with the drug dutasteride (Avodart) and regular monitoring delays the progression of low-risk, localized prostate cancer, according to the results of a three-year clinical trial conducted by the University of Toronto's Dr. Neil Fleshner.
The research also shows that the treatment reduces anxiety, said Fleshner, a professor of surgery and head of the Division of Urology at the University Health Network. The findings are published online Jan. 23 in The Lancet.
"The results prove that using active surveillance [regular monitoring] plus dutasteride is a viable, safe and effective treatment option for men who often undergo aggressive local treatment despite low risk of dying from the disease," said Fleshner, who also holds the Love Chair in Prostate Cancer Prevention Research
"This is very good news for men with low-risk disease because aggressive treatment can have a major impact on their quality of life, with risks of impotence and incontinence."
The three-year clinical trial enrolled 302 men between the ages of 48 and 82 diagnosed with low-risk localized prostate cancer and regularly monitored for clinical changes – a treatment option called "active surveillance".  In the trial, participants were randomized 1:1 to receive dutasteride or a matching placebo daily. The men also underwent biopsies at 18 months and three years.
The study showed that fewer men treated with dutasteride  saw their cancer spread – 38 per cent compared with 48 per cent who received the placebo. As well, the final biopsies showed the men treated with the drug  were cancer free – 36 per cent for the placebo group compared with 23 per cent for those taking the drug. 
 "The drug, currently commonly used to treat enlarged prostate, works by inhibiting the male sex hormone that causes the enlargement in the first place," said Fleshner.
Fleshner noted that a small percentage of men reported drug-related side effects. including sexual difficulty with either desire or erections (five per cent), or breast tenderness or enlargement (three per cent).
 "It's important to realize that these drugs have been around for almost 20 years in clinical practice to treat enlarged prostates and so we have a wealth of knowledge about their side effects, which are reversible if the drug is stopped," said Fleshner.
Participants were also assessed for cancer-related anxiety and the men on dutasteride reported feeling much less anxious because their biopsies and PSA blood test values improved, added Fleshner.  (PSA – or prostate-specific antigen – is a blood test used to help diagnose prostate cancer.)
The Canadian Cancer Society estimates 25,500 new cases of prostate cancer will be diagnosed this year and that 4,100 men will die from the disease.
The clinical research was funded by GlaxoSmithKline. Fleshner is affiliated with The Campbell Family Cancer Research Institute at Princess Margaret Hospital and his research is also supported by The Princess Margaret Hospital Foundation.