'Dream big,' says Edil Ga'al, U of T's globe-trotting new Rhodes Scholar
Edil Ga'al didn't take a calculated approach to her studies at the University of Toronto. She followed her passions wherever they led, from the classroom to East Africa and back.
"Seek out the experiences you think will be enriching to you," she says. "As with anything in life, don't disqualify yourself."
Ga'al, who graduated with high distinction over the summer, was one of only 11 Canadian students to be awarded a prestigious, all-expenses-paid Rhodes Scholarship to study at Oxford University. She got the life-changing news in a phone call, while watching Bend It Like Beckham at home with her family.
Ga'al, a Manchester United fan, hopes to see her first Premier League match during her stay in England. The former African studies and political science student intends to pursue a master of science in African studies at Oxford followed by a doctor of philosophy in political science.
Ga'al grew up in Scarborough and Brampton, in a family with four kids, and chose U of T partly due to the sense of community fostered by the college system. Canada's largest university could be intimidating, but at U of T's Victoria University, she made friends and found supportive staff. The college endorsed Ga'al for the Rhodes. 
"Her deep commitment to equity, diversity, and inclusion speaks to values shared by Victoria College and its students," says Principal Angela Esterhammer. "She is a wonderful example of the way Vic students apply their learning and research for the benefit of society."
Ga'al's eureka moment, one that influenced the direction of her studies, came while taking a seminar on migration, mobility and displacement in contemporary Africa. Her professor, Marieme Lo, the director of U of T's African studies program, became a mentor.
"Her persistent encouragement is the only reason I applied to the Rhodes," Ga'al says.
Lo describes Ga'al as a bright, enthusiastic student and "feisty debater," who often stopped by during office hours to weigh in on scholarly debates and current events. The seminar – a mix of upper-year undergraduate and graduate students – was heavy on coursework since it was meant to prepare students for the rigours of grad school. Ga'al appeared to have no difficulty keeping up. 
"I wasn't just impressed with her based on her intellect and academic commitment," Lo says, "but I was [also] so impressed with her dedication, her altruism and her intellectual curiosity."
Ga'al says Lo isn't the only person at U of T who had a hand in her academic success. She cited staff and faculty Dickson Eyoh, Tara Goldstein, Melissa Levin, Aziza Virani and Aggrey Wasike as important influences, and also thanked Michael Burgess, her social sciences teacher at Chinguacousy Secondary School. 
Some of Ga'al's most inspirational experiences as a U of T student took place thousands of kilometres away from campus, on an internship, course abroad and scholarship in East Africa.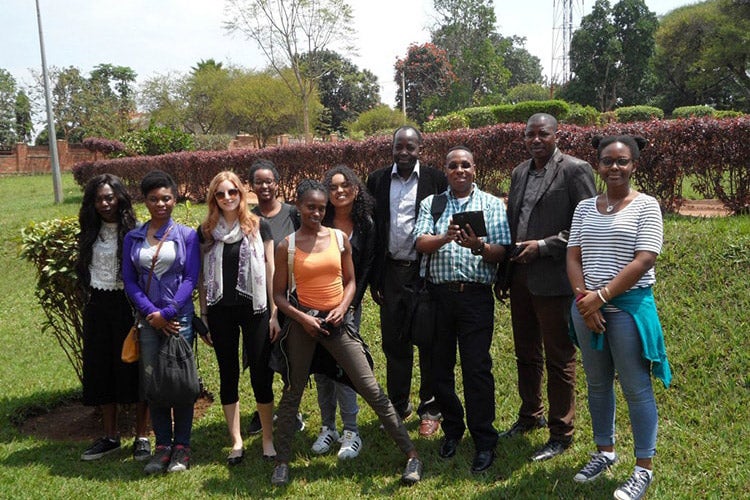 Edil Ga'al, fourth from left, on a trip to Rwanda in 2017 for a course on African systems of thought (photo courtesy of Chinezelum Azogu)
After her first year in the global-issues-focused Munk One program, she interned at an NGO that promotes human rights in Uganda.
In the winter semester of 2017, she was part of a class that went to Rwanda to study the aftermath of the 1994 genocide, which killed more than 800,000 people according to some estimates, primarily of the minority Tutsi ethnic group. The course took her south of the capital city Kigali to Nyamata Church, the site of a massacre that is now a memorial.
"I learned about the paramountcy of survivor participation [in truth and reconciliation], about the power of restorative justice, about the capacity for human resilience and also for compassion and forgiveness," she says. 
"It was at times a very heavy experience," she adds, "but I'm fortunate it was a component of the African studies program."
Ga'al returned to Rwanda in the summer of 2017, this time to Gisenyi, a lakeside town in the northwest. Funded through a Queen Elizabeth scholarship, her project centred on education and disability, community development and helping with curriculum development. "My time here has forced me to realize that no person is an island," she wrote online about her experience. "Gisenyi has taught me to re-evaluate my place in my communities."
Ga'al joins the ranks of past Rhodes Scholars from U of T, notably former Ontario Premier Bob Rae, University President Emeritus David Naylor and, more recently, Kofi Hope, who works in public policy and is a Bousfield Distinguished Visitor in Planning at U of T.
"Edil has an outstanding record of academic achievement and engagement," says U of T President Meric Gertler. "She is also clearly eager to travel and learn about the world first-hand. In these ways she exemplifies the comprehensive excellence and global outlook that we seek to encourage in our students. I look forward to hearing about her accomplishments in the years ahead."
Ga'al expects to begin her studies at Oxford in the fall of next year. Beyond that, she isn't sure what the future holds. "I really hope that I can use my future research and experiences to contribute to larger global discussions about peace, about stability and about justice," she says. "I know it's a lofty goal, but you kind of have to dream big."
As for her U of T mentor, Lo, she's confident her former student will excel in whichever field she chooses.
 "This is just the first chapter of a long book we're going to write about Edil," she says. 
UTC