Dozens of U of T faculty, alumni and supporters named to Order of Canada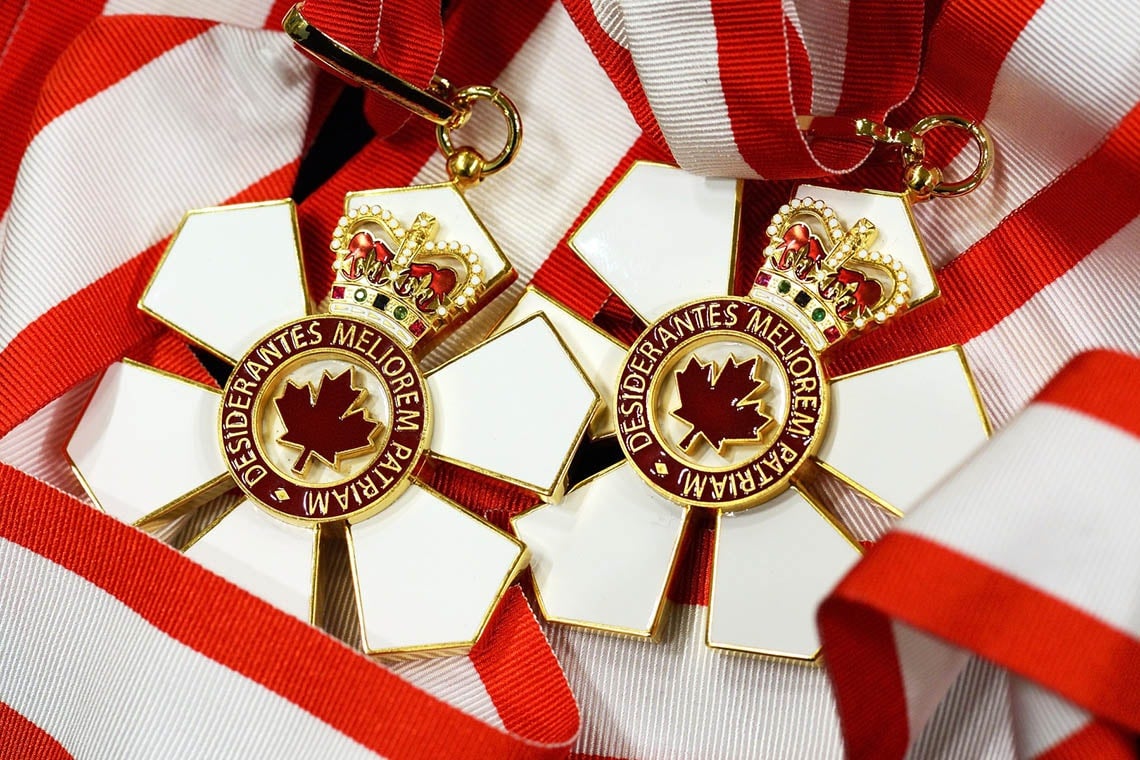 A who's who of notable Canadians, many with ties to the University of Toronto, have been named to the Order of Canada or promoted within the Order. 
Governor General and former astronaut Julie Payette – a U of T graduate herself – announced the 125 new appointments last week.
Several current faculty members were among the honourees. 
University Professor Molly Shoichet of the Faculty of Applied Science & Engineering, who was made Ontario's first Chief Scientist in the fall, has been named an Officer of the Order, the second-highest of its three levels. She is cited for her "cutting-edge research in biomedical engineering, and for efforts to promote women in science and to advance scientific literacy."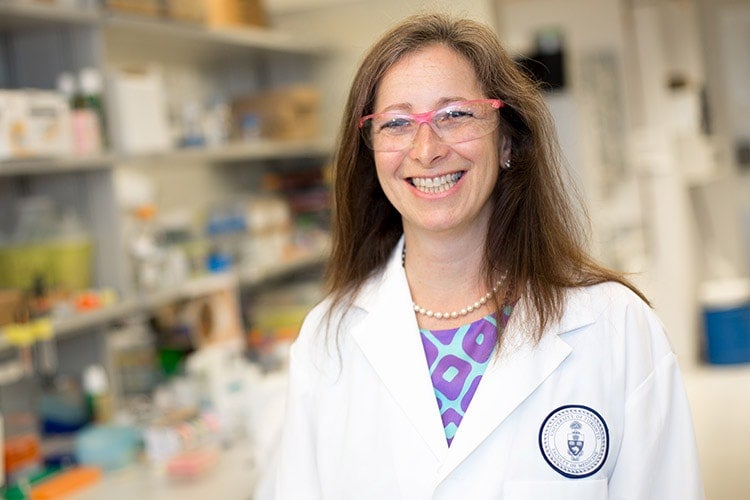 University Professor Molly Shoichet has been named an Officer of the Order of Canada (photo by Roberta Baker)
Also from the Faculty of Applied Science & Engineering, University Professor Michael Sefton has been named an Officer for his "seminal contributions to the field of biomedical engineering and his mentorship of the next generation of engineers."  He was one of the first to combine living cells with polymers, effectively launching the field now called tissue engineering.
University Professor Sajeev John, of the department of physics in the Faculty of Arts & Science, has been named an Officer for his "revolutionary contributions to optical sciences."  He is known for his groundbreaking research on the localization of light and the invention and development of what are known as new photonic band gap materials, among other things. He won the Killam Prize in 2014, one of Canada's most prestigious scholarly awards.
From testing the grips of winter boots to making bathrooms more accessible, Geoffrey Fernie's research is focused on improving the lives of people with disabilities and an aging population more broadly. The professor at U of T's Institute of Biomaterials & Biomedical Engineering and senior scientist and research director at Toronto Rehabilitation Institute has been named a Member of the Order for his advancements in the field.
Poet and author Lee Maracle, an Indigenous Elder and instructor at U of T's Centre for Indigenous Studies, has been named an Officer for enriching Canada's literary landscape and "for her influential voice in cultural relations between Indigenous and non-Indigenous peoples in Canada." She has written Ravensong and other novels and short story collections, and mentors Indigenous students at U of T.
Cancer researcher Dr. Kathleen Pritchard, a professor emerita in U of T's Faculty of Medicine, has been recognized as a Member for advancing the treatment of breast cancer in women, particularly by leading important clinical trials. She was the first to show that tamoxifen, a hormonal drug used to treat breast cancer, is effective in premenopausal women who have cancer that has spread to other parts of the body. 
The lengthy list of notable Canadians with ties to U of T who were honoured for their achievements and community service also includes: 
Lynn Factor's name hangs alongside her husband's at U of T's Factor-Inwentash School of Social Work, which received a generous donation from the pair back in 2007. Factor, who worked for the Durham Region's Children's Aid Society for 17 years, has been named a Member for her contributions to the field and her dedication to improving the lives of children.
A construction magnate, Carlo Fidani heads one of Canada's leading commercial development and leasing firms. He has been recognized as a Member for contributing to the country's prosperity and for his health care-focused philanthropy. That includes a multimillion gift that helped lay the foundation for the Mississauga Academy of Medicine, a partnership between U of T's Faculty of Medicine, U of T Mississauga and Trillium Health Partners. 
Joseph Lebovic and his brother Wolf Lebovic, whose foundation has supported U of T's Anne Tanenbaum Centre for Jewish Studies, have been named Members for "their contributions to real estate development in Toronto  and for their generosity in support of community initiatives, health care and education." The businessmen and Holocaust survivors' foundation founded a program at U of T that lets students take "interdisciplinary and innovative courses" in Jewish studies over the summer, the centre's director Anna Shternshis said. "Over the years, hundreds of undergraduate students have benefited from the Lebovic Summer Program and gone on to pursue Jewish Studies," she added.
The late Bernard Sherman, an entrepreneur, philanthropist and U of T graduate, has been named a Member for his impact in the pharmaceutical industry and "unwavering support and commitment to education and charitable causes." Sherman enrolled in the engineering science program at U of T at just 16 and founded Apotex, the largest generic drug manufacturer in the country. Sherman and his wife Honey donated more than $12 million to medicine and pharmacy education and research at U of T.
Jurist Thomas Cromwell has been named a Companion, the highest of the Order's three levels. He taught at U of T and Dalhousie, acted as executive legal officer to former Chief Justice Antonio Lamer and served on the Supreme Court for eight years.
Louis LeBel, another former Supreme Court justice, has been named a Companion. He received a master's in law at U of T in 1966 and served on Canada's highest court for 14 years.
Dr. Paul Armstrong, who did post-graduate training and taught at U of T before moving to the University of Alberta, has been made an Officer for his impact in cardiology, particularly his "pioneering research in acute cardiac care and leadership in health care institutions."
Journalist and filmmaker Sally Armstrong, who received a master of science from U of T in 2001, has been named an Officer for "highlighting human rights and the struggles of women in the world's conflict zones."
Michael Church, who acquired a bachelor's degree at U of T, has been named Officer for his important contributions in geomorphology, which has improved our understanding of rivers and river processes.
Dr. May Cohen graduated at the top of her class in U of T's medical school in 1955, when fewer than seven per cent of medical students in Canada were women. She has been named an Officer for advancing the field of women's health in Canada.
Carol Hopkins, who has a master's of social work from U of T, is cited for her work in addiction and mental health, and as an advocate for culturally based treatment services. She has been named an Officer.
Rose Patten has been named an Officer "for her financial acumen as a senior banking executive," her community involvement and advancement of women in leadership roles. A leader in the banking industry, she joined U of T's Rotman School of Management in 2013. 
Brian Robertson, a longtime president of the Canadian Recording Industry Association who taught entertainment law at U of T, has been made an Officer for showing leadership in promoting Canadian talent on air, the screen and the stage. 
Mary Pat Armstrong, a U of T alumna, has been named a Member for her four decades of community engagement, particularly for her work with people with disabilities. She helped establish the first Ronald McDonald House in Canada and, in 1982, founded Camp Oochigeas for children with cancer. Inspired by her daughter, Armstrong also helped create a program with Community Living Toronto to allow people with intellectual challenges live more independently.
An award-winning children's author and editor, Marilyn Baillie has been recognized as a Member for her contributions to Canadian literature, education and the arts. Baillie is a Trinity College alumna and donor whose fondness for nature and the outdoors is highlighted by the environmental themes in her books.
Having studied English and comparative literature at U of T, Helen Burstyn has been named a Member for her leadership at a range of non-profit organizations that promote everything from arts and culture to health and the environment. She's also a visiting professor at Ryerson University.
Jocelyn Downie, a U of T alumna and current law professor at Dalhousie University, has been recognized as a Member for her contributions to Canadian health law and policy, including challenging issues related to end of life law and policy like voluntary euthanasia, assisted suicide, terminal sedation and the withholding of potentially life-sustaining treatments.
John Hilborn, a reactor physicist, has been named a Member for his "innovative contributions as a physicist in the development of Canada's nuclear industry." He acquired a bachelor's degree from Trinity College in 1949. 
Dale Lastman, director of Maple Leaf Sports & Entertainment, chair of Goodmans LLP and son of former Toronto mayor Mel Lastman, has been named a Member. He is recognized for "his contributions to the growth of the Canadian sports industry and for his volunteer work in support of health initiatives and LGBTQ2 communities."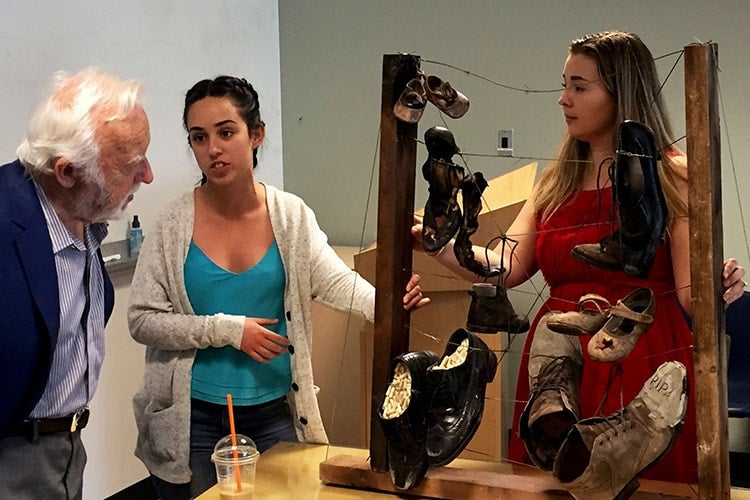 Joseph Lebovic talks to U of T student Olivia Oliveros and Emily Springgay about a project completed for a course on the history of the Holocaust (photo courtesy of Anna Shternshis)
Karen Mock, a former director with B'nai Brith Canada and the Canadian Race Relations Foundation, earned a PhD at U of T. She has been named a Member for "the promotion of human rights, notably through her work on cultural integration and strengthening of Jewish-Muslim relations in Canada."
Barbara Neis, a sociology professor at Memorial University who received her PhD from U of T, has been named a Member and is cited for "her innovation research on the interactions between work, environment and health" in Newfoundland and Labrador. Her professional biography says she has researched many aspects of Newfoundland and Labrador fisheries, from fishing vessel safety to occupational asthma.
Stephen Otto, a historian and advocate for heritage conservation, has been appointed a Member for his passionate support for preserving Ontario's historical buildings and architecture. Otto obtained a bachelor's degree from Trinity College and is one of the founders of Friends of Fort York, a non-profit dedicated to maintaining Fort York and the Garrison Common.
Beverly Salmon studied nursing at U of T, where she also met her future husband Douglas. The first Black female city councillor in Toronto, she has been named a Member. She and her family established an award in Douglas's name for Black medical students at U of T. Beverly is cited for her service to the city, "notably as an advocate for the educational and social well-being of Black communities."
Jay Switzer, who graduated from U of T with a bachelor's in commerce, was named a Member "for his exemplary leadership in the Canadian broadcasting community and for his mentorship of emerging Canadian artists and filmmakers." He was president and CEO of CHUM from 2002 to 2007, when the company was acquired by CTVglobemedia.
Barbara Jean Weihs, a U of T alumna, librarian and teacher, was appointed a Member for "her national and international contributions to library sciences," particularly the standardization of the non-book cataloguing system. She has written 19 books and received many national and international awards. 
Created in 1967, the Order is one of Canada's highest civilian honours and recognizes outstanding achievement, dedication to one's community and service to the nation. These are many of the alumni and U of T-affiliated individuals named to this year's Order. Please let us know about other U of T-connected appointees at uoftnews@utoronto.ca.
UTC