Donald Trump shaking up policy before inauguration: U of T expert
"It's an interesting question whether Trump understands how damaging all this is to U.S. influence and prestige"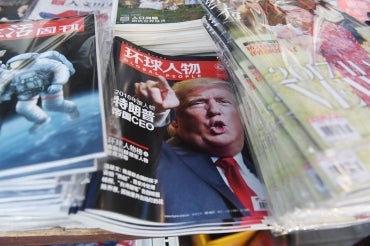 Donald Trump's inauguration is still three weeks away, but he's been influencing policy and global markets since the day after his election as the next U.S. president.
On Monday – under repeated criticism from Trump – Ford Motor Company announced it would cancel plans to build a small-car assembly plant in Mexico. Just a few hours earlier, Trump had threatened to impose tariffs on cars made in Mexico by General Motors Corporation.
He's created waves in China over the "One China Policy" after taking a call from Taiwanese leader Tsai Ing-wen. China regards Taiwan as a renegade province, and the One China Policy says there's only one state called "China." Not only has Trump been attacking Beijing over Taiwan via his Twitter account, but he has taken jabs at China over trade, the South China Sea and North Korea. The state news agency this week responded with the headline "An obsession with Twitter foreign policy is undesirable."
The Trump effect may have also led House Republicans to back down on plans to weaken the independent Office of Congressional Ethics.
U of T News asked Carla Norrlof, an associate professor of political science at U of T Scarborough, about Trump driving change even before he takes office.  
---
How has Trump already influenced policy and actions?
We're dealing with three different effects.
First, there are the things Trump claims he's influenced, like "bringing back jobs", e.g., Sprint and OneWeb, which he didn't influence. They were planned before the election.
But there's a second form of diffuse influence, which reflects a growing responsiveness to the priorities of the incoming president. If the president-elect calls a company's plans an "absolute disgrace" and threatens to slap border taxes on a rival producing in Mexico, U.S. business might see an interest in foregoing the plant abroad as Ford did in scrapping their $1.6-billion plant in Mexico.
Whatever one's stance on Trumponomics, there's a scarier manifestation. His policies and language have received high approval ratings from far-right populist leaders and authoritarian regimes. He's distanced himself somewhat but some of his nominations, along with the "New Year's speech," reintroduced some ambiguity.
Third, there's reckless influence – muddying the One China policy, razzing China over North Korea. The spar with China reflects his deep-seated belief that other countries are free-riding on the U.S. economically while not doing enough to help the U.S. strategically.
Before Trump, has any incoming president ever triggered actions by foreign countries and industries before taking office?
Presidential transitions have not always been smooth. Recently, it was for instance revealed that President Richard Nixon asked his aide H.R. Haldeman to "monkey wrench" President Lyndon B. Johnson's 1968 peace initiative.
But up until now, no presidential candidate or president-elect, has encouraged, and defended allegations against, a foreign power interfering in U.S. elections. All the evidence regarding Russia's involvement hasn't been disclosed yet but we do know Trump asked Russia to "find those emails."
Is this damaging?
It's an interesting question whether Trump understands how damaging all this is to U.S. influence and prestige. From afar, it looks very messy, signaling deep divisions in a landscape wide open for rivals to exploit.