Don't brood or wallow when feeling bad, U of T study says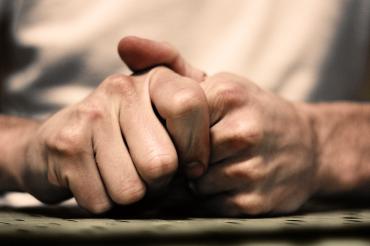 Don't bury your feelings, but don't dwell on them, either.
That's the key message of a new study from researchers at the University of Toronto and UC Berkeley on the psychological health benefits of accepting negative emotions.
Brett Ford, the lead author and an assistant professor of psychology at U of T Scarborough, says her research shows that people feel better when they treat bad feelings like "passing clouds."  
"When times are tough, and you're feeling angry, worried, sad and so forth – try to simply let your feelings happen," she said.
Here are four takeaways from the study, in The Journal of Personality and Social Psychology:
Acceptance helps over the long-term: Researchers measured participants level of acceptance, then asked them to complete daily diaries, and measured their psychological health again after six months. Those who "habitually accepted mental experiences tended to report greater psychological health." Researchers controlled for such factors as gender and ethnicity.
 
Accepting negative emotions doesn't cause "collateral damage" with positive emotions: The researchers subjected 156 female undergrads to a lab stressor, asking them to sell themselves for an on-the-spot and unexpected fake job interview. The students reported both negative and positive emotions, including feeling excited and energetic. However, acceptance of the negative emotions – measured with a mindfulness questionnaire – didn't lessen their positive feelings. "This is important, given that accepting mental experiences could theoretically have the downside of attenuating positive emotion experiences in addition to negative emotion experiences," the paper says.
 
Engaging with your emotions doesn't mean wallowing in them: In fact, it's the opposite – accepting your emotions tends to be correlated with "lower rumination" or brooding. "This may be because an important part of brooding/wallowing is the act of judging and evaluating one's emotions," Ford said in an email. "Acceptance helps alleviate this judgment." 
 
Accepting your emotions isn't the same as accepting a situation: One motto of Alcoholics Anonymous is to "accept things we cannot change." That's not the kind of acceptance measured in Ford's study, which focused on thoughts and feelings. The acceptance of situations is a "double-edged sword," she said. It can be helpful to stop struggling against circumstances outside your control, but it can also lead to "passive resignation." 
"When individuals accept their emotions and thoughts, it is actually an active process that involves non-judgmentally acknowledging and even embracing one's feelings," she said.
The research was supported by National Institutes of Health grants awarded to Iris B. Mauss.
UTC