Dexter Voisin to become new dean of U of T's Factor-Inwentash Faculty of Social Work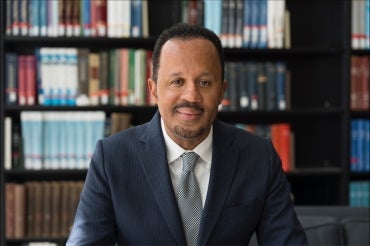 Dexter Voisin, a renowned expert on community violence, mental health and HIV prevention, will become the University of Toronto's new dean of the Factor-Inwentash Faculty of Social Work.
Voisin, after two decades as a professor at the University of Chicago's School of Social Service Administration, will take up the position on July 1 for a five-year term.
He said he is excited to assume the leadership role at a faculty known for its excellence in both teaching and research.
"This is a world-class faculty at a world-class university. The faculty is ranked among the top in North America, and the university among the top 20 globally. Yet they are both distinctly known for innovation," he said.
Compared to other social work faculties, U of T's "is unique in that you have a large faculty embedded in a multi-faceted institution that is so nimble, in terms of moving towards innovation and making change," Voisin added.
Another big draw for Voisin is the broad, interdisciplinary focus at U of T, where the social work faculty can interact with academics working in public policy, education, kinesiology, and other "sister disciplines which align well with social work." 
Voisin replaces Faye Mishna, who is completing a ten-year term as the faculty's dean.
"I sincerely thank Professor Faye Mishna for her leadership over the past decade," said Cheryl Regehr, the university's vice-president and provost.
"The Factor-Inwentash Faculty of Social Work is ideally situated to welcome Professor Dexter Voisin as its new dean. Professor Voisin's exceptional leadership, insight and keen dedication to collaborative administration will be invaluable to the faculty and its exemplary work in the years to come."
Voisin said his first priority at U of T is to become familiar with the faculty, students, staff, and alumni and learn the "local context" of the Faculty of Social Work.
"One of my early priorities will be amplifying a lot of the already exceptional work and the capital that already exists in the school," he said.
Voisin's own research focuses on how community violence affects mental health, academic performance and risky sexual practices that can lead to HIV infection, particularly among emerging adults. While these issues may not be as apparent in Toronto as in Chicago, they are present here, he said.
"When looking at my research foci – like disadvantaged populations, child welfare, individuals exposed to neighbourhood violence, structural inequality and poverty – those are conditions that exist not just in Chicago, but in Canada and across the globe."
Gun violence and homicides may also not be as acute a problem in Toronto as Chicago, he noted, but it is still an issue, and there are many other factors that have an impact on low-income and marginalized populations in the city, and which need deeper study.
"I will be trying to understand how I can take insights from the U.S. contexts, as well as from other global settings, and bring it to bear on the pressing needs that are prevalent in Toronto," Voisin said.
Voisin has a bachelor's degree in psychology from St. Andrews College in Laurinburg, N.C., a Master of Social Work from the University of Michigan, and a Master of Philosophy and PhD from Columbia University in New York.
He said the multicultural fabric of Toronto is an exciting draw, especially after having grown up in Trinidad and Tobago, the most culturally diverse island in the English-speaking Caribbean. "Diversity is strength, because there are unique needs for every sub-group, and those sub-groups also have important expertise and insights that need to be part of the conversation when you are thinking about the issues that are present in these communities," Voisin said.
Voisin added he is also interested in Indigenous reconciliation, which he sees as a broad human rights issue in Canada. "That for me is central. It is a priority that the government, the university and Faculty of Social Work supports, a real cross-system commitment to an important issue."
With his research often cited in the U.S. media and globally and his commentary sought out on public policy issues, Voisin said he will advance the public profile of U of T's social work faculty.
"It is important to take the knowledge and the insights that we have in the academy, and bring them to bear on larger societal discourses," he said. "I'm very big on breaking down the artificial barriers between the university and community and public spaces.  Social work, as a values-driven profession, should be at the foreground of some of these complex conversations."
Voisin has had an influence on public health policy in Illinois, through his appointments to state-level committees and advisory work as a director of the STI/HIV Intervention Network and co-director of the Center for Chicago HIV Elimination.
As he makes the shift to U of T, Voisin will be shepherding the launch of his new book, to be released this summer. America the Beautiful and Violent: Black Youth & Neighborhood Trauma in Chicago is expected to get considerable press attention when it is released, and he hopes he will be able to use the publicity to raise the visibility of the social work profession and U of T's social work faculty.
"I'm excited about working with other administrators across the university, around their shared vision, elevating the profile of the school of social work, and advancing the impact of the institution," he said.
"My initial goal would be to promote the important scholarship, teaching and community impact that is already happening, amplify it, and work with the faculty, students, staff and alumni to create a shared vision moving forward."
 
UTC