Design, drones and drumming: U of T hosts 26th annual Bring Our Children to Work Day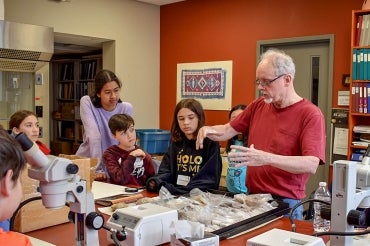 Faculty, librarians and staff collectively brought more than 450 kids to the University of Toronto's 26th annual Bring Our Children to Work Day on Thursday.
The event welcomed those who work at U of T to bring children in Grades 4 to 7 to learn about their careers and participate in a day of activities hosted by departments across all three campuses.
Professor Heather Boon, U of T's vice-provost of faculty and academic life, kicked off this year's events on the downtown Toronto campus with a special message directed at the younger participants.
"The University of Toronto is your home too," said Boon. "Every day, your parent or other important person comes to work at U of T. Because you share your family with us, that means you are a part of our family too."
Boon's welcome remarks were followed by a talk from Professor Marcel Danesi. The expert on semiotics and linguistic anthropology gave a captivating address about riddles. The talk provided examples from childhood literature, and what they tell us about language, the mind and the origin of human cultures.
After the talk, Camp U of T staff led participants to one of their pre-selected tours and activities in one of 16 departments.
For Jennifer Sheehan, the opportunity to bring her child to experience U of T for a day meant a lot for both of them.
"[My son] has always been curious about where I work and the campus in general so this is a great opportunity to bring him down here with me," said Sheehan, a LAN administrator for the Information Commons in Robarts Library. "We live in Whitby so we don't get to spend a lot of time here. I'm glad that U of T does this because it shows that they really care about faculty and staff."
One of the activities this year included "Drones in the City." This exercise, facilitated by the John H. Daniels Faculty of Architecture, Landscape, and Design, explored the disruptive technology's potential and how city designs might respond to this budding element. This demonstration also served as a preview into some of the faculty's new summer programs, which will include a more in-depth look at how drone technology might affect design.
"I don't work for this faculty [Daniels] but my child is interested in architecture, so this is a really cool thing for him to be able to experience," added Sheehan.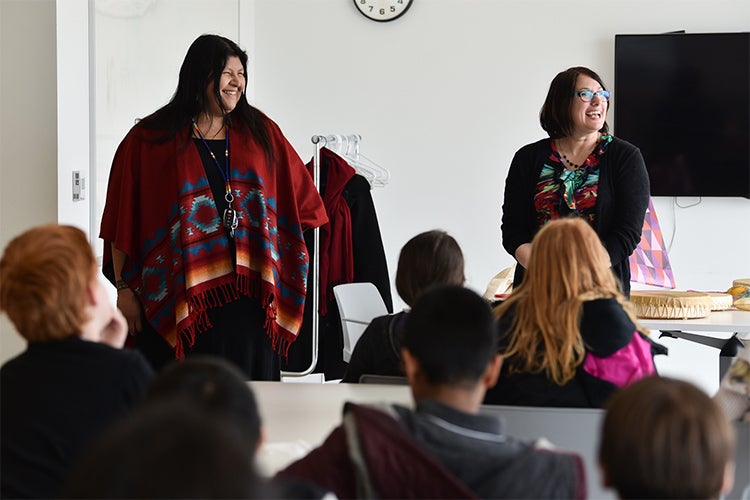 U of T Scarborough Elder Wendy Phillips (right) and Juanita Muise, Indigenous engagement co-ordinator (left), led a sharing circle with participants. The children in attendance also took part in a drumming activity after the session (photo by Tina Adamopoulos).
This year's Bring Our Children to Work Day also served as an opportunity to travel down memory lane for another member of the U of T community. Tricia Kenderdine, manager of communications projects in the Division of Student Life, got her kids to agree to sign up for a tour that was tied to her own history with the university.
"I studied archeology at U of T," said Kenderdine, who took her children on a tour in the department of anthropology where Professor Edward Banning exhibited a series of Jordanian pottery and stone tools from the Bronze Age to the Neolithic period. "I had classes with Professor Banning so I thought it would be interesting for them to see what I studied when I was a student here."
Over at U of T Scarborough, faculty, staff and children spent their day participating in activities that included making slime and bath bombs in chemistry sessions, taking part in a sharing circle on Indigenous ways of being, and interactive presentations on safety and culture. At lunch, participants were treated to a cold treat as they watched liquid nitrogen being used to make ice cream.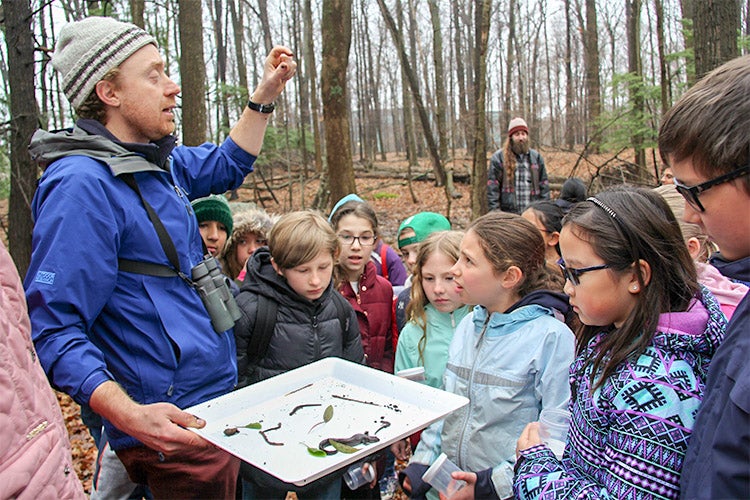 U of T Mississauga's Marc Johnson, an associate professor of biology, took kids on a trek along the UTM Trail to discover local wildlife and nature (photo by Blake Eligh).
And at the opposite end of the city, participants at U of T Mississauga trekked along the UTM Trail to search for wildlife with Associate Professor Marc Johnson and students from the department of biology.
Attendees were also treated to activities in the department of geography with Assistant Professor Trevor Porter and laboratory technician Philip Rudz where they examined a fallen pine tree in the forest, counted its rings and took several core samples to learn more about the tree.
Lunch activities included a virtual fire-extinguishing exercise where participating children got a chance to use the same digital training equipment used by campus fire marshals to put out computer-simulated flames.
In the afternoon, kids got their hearts pumping with leadership games organized by assistant camp directors Sarah Tracz and Graham Childs of Camp U of T Mississauga.
"Our goal is to encourage the kids to think about their health and wellness with activities to support a healthy lifestyle," says Cameron Walker, community outreach officer for the Recreation Athletics & Wellness Centre.
The annual tri-campus U of T Bring Our Children to Work Day is hosted by U of T Mississauga and U of T Scarborough, and in partnership with the Office of the Vice-President, Human Resources & Equity, the Office of the Vice-President & Provost, Family Programs & Services, the Organizational Development & Learning Centre and Camp U of T.
With files from Alexa Battler, Maeve Doyle and Blake Eligh
HRE