Derrick Rossi, the stem cell scientist who co-founded Moderna, receives honorary degree
A stem cell scientist and successful biotechnology entrepreneur, Derrick Rossi knew he was onto something big in 2009, when his Harvard University lab was able to successfully modify messenger RNA – molecules that relay genetic information in the body.
He immediately recognized the potential to develop new treatments for disease and co-founded the biotechnology firm Moderna – the name a play on "modified mRNA."
What the University of Toronto alumnus couldn't anticipate at the time was the arrival, a decade later, of COVID-19 – and the role Moderna would ultimately play in developing a vaccine that would save countless millions of lives.
"That was not foreseen," he told U of T News in 2021.
Today, for his ground-breaking scientific research that has been translated into effective therapeutics with global impact, and for his extraordinary contributions to global public health and biotechnology innovation, Rossi will receive a Doctor of Laws, honoris causa, from the University of Toronto.
Rossi was born in Toronto, the youngest of five children to Maltese immigrant parents. He attended Dr. Norman Bethune High School in Scarborough, where he says a science class instilled in him a passion for molecular biology. "As soon as I learned about molecular biology that was it, I knew what I wanted to be," he told the National Post in 2020.
He went on to earn two degrees in molecular genetics at U of T, then a PhD from the University of Helsinki. He did a post-doc at Stanford University, and in 2007 was appointed assistant professor at Harvard University, where he ran his own lab.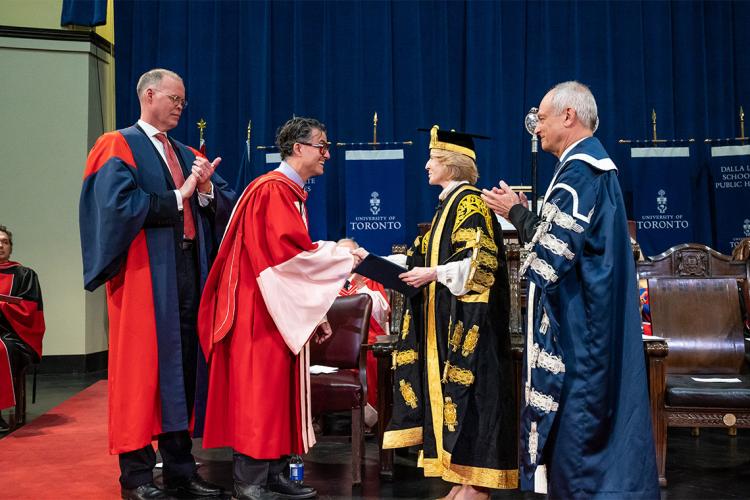 Rossi's research focused on stem cells. In particular, he was interested in determining whether he could modify the messenger RNA molecules to relay genetic code to human cells. "Genes and mutations in genes underlie pretty much all human genetic diseases, which is a large fraction of human diseases," Rossi said in the interview with U of T News.
He realized that if you could "reprogram" a cell to bypass bad genes and mutations, then you could, in theory, treat a large range of genetic disorders, from Parkinson's disease to sickle cell anemia and more.
Rossi initially didn't expect the discovery to serve as a platform for a new kind of vaccine. The reason was financial, not scientific: vaccines are generally not very profitable. "It's not something that a biotech company would be thinking about because there's not much money to be made there," he told U of T News.
The exception, it turns out, is a global pandemic.
Having undergone a career transition in 2010 from scientist to scientist-entrepreneur, Rossi says his research became increasingly focused on real-world applications. "As a biologist in a lab, you can answer a question that's really interesting but isn't going to move the needle on patient health at all," he told U of T News. "Or you can ask a different question that, if you get an answer to it, might solve a [patient's] problem.
"As soon as I realized that, pretty much all the questions we asked in my lab had that type of focus."
He notes that co-founding Moderna gave him the entrepreneurial "bug." Since leaving the company in 2014 (he is still an investor), he has co-founded four other biotech startups: Intellia Therapeutics, which uses the genome editing technology CRISPR/Cas9 to create novel medicines for genetic diseases; Magenta Therapeutics, which is developing ways to use stem cell transplants to reset patients' immune systems to cure autoimmune and other diseases; Stelexis Therapeutics, which focuses on the discovery of drug targets for cancerous stem cells: and Convalo Therapeutics, which has identified promising drug targets for treating neurological disorders.
Rossi, who retired from Harvard in 2018, is a recipient of the Princess of Asturias Award for scientific research – an honour previously conferred on Stephen Hawking and AI pioneer and U of T University Professor Emeritus Geoffrey Hinton. He serves as a mentor at the Rotman School of Management's Creative Destruction Lab and conducts many media interviews in an effort to expand public knowledge about vaccine efficacy and safety. In 2011, Time magazine named Rossi one of the world's 100 most influential people.
In his convocation address today to graduate students in social work and public health, Rossi urges them to choose the road less travelled. "And if there isn't a road there? That's even better. Grab a machete and whack your way through the jungle of life, forging your own path. By doing so, you will maximize your life experience by colouring it in hues and pigments that you didn't even know existed ... this is also a great strategy to prepare oneself for whatever may come your way in the future."
UTC