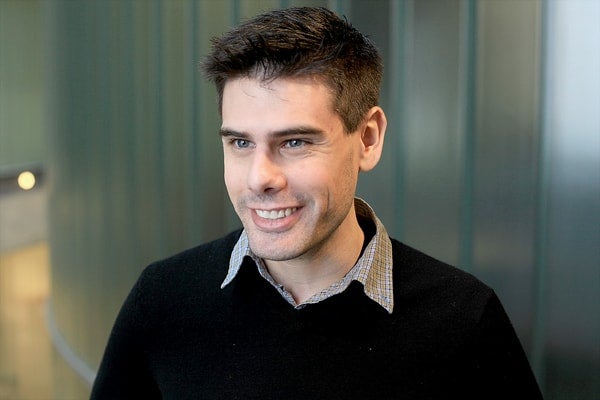 Death is new design consideration in technological age
PhD candidate coins term "thanatosensitive design"
At first glance, death seems like an unlikely thesis topic for a computer scientist. But for the University of Toronto's Mike Massimi, it makes perfect sense.

"Technology plays a large role in our lives," he said. "Ideally, technology design would take into account the entire life course, from the time we are young children to our deaths." 

Massimi, who will complete his PhD later this month, is a computer scientist specializing in human-computer interaction (HCI), a sub-discipline that studies, plans and designs the interactions between people and computers. However, he thinks that traditional user-centred design has been too focused on the immediate, short-term needs of users and should adopt a long-range perspective that considers mortality, death and dying during the design process.

 "The time has come for HCI specialists to consider this because of the rapid aging of populations worldwide, and the increasing likelihood that we will have to deal with issues of dying and death numerous times in our lifetime." said Massimi's supervisor, Professor Ron Baecker, director of U of T's Technologies for Aging Gracefully lab (TAGlab).
For his thesis, Massimi chose to develop a technology specific to death and decided to build an online bereavement support system.

"What my project is trying to do is to create a safe space for bereaved people -- a place where members of a support group can talk openly about grief without being subjected to the kind of comments that appear on social network sites," said Massimi.

He noted that although social media sites such as Facebook have become places for supporting one another after the death of a friend or family member, users might also post inappropriate comments or information visitors didn't know or want to know about the deceased.

"The trivial nature of most content [on Facebook] doesn't match what people are feeling," said Massimi.  "Seeing a friend complain about a mediocre latte while you are mourning the loss of your child just doesn't work."

He built an online prototype called Besupp and conducted a pilot study with participants who had previously attended in-person group sessions at community organizations such as Bereaved Families of Ontario (BFO), a non-profit, peer support group.

Massimi used a chat room and online group platform for his project and admits that there is nothing new about the technology itself. The difference is the way the technology is positioned.

Besupp is modelled on BFO's group support paradigm. Unlike the typical online chat rooms, these support sessions are only open to participants who go through a screening process before gaining access to the site; participants post using their real names and moderators are trained in bereavement support.

"Online bereavement support is not meant as a replacement for face-to-face contact," said Massimi. "It's intended to complement other forms of support."

The advantage to participating in online group support sessions is that they are there when needed. For people living outside major urban centres, it may be their only connection to support groups. However, Massimi discovered there were some drawbacks. Some study participants found the conversation too slow and wanted the immediate responses like those they would get in a face-to-face group.

He said the chat feature could be handled better in this environment and that his pilot study provided him with many insights into improving his experimental system. 

Massimi says there are also issues to consider with regard to personal data and death.

"In my thesis I tried to raise a set of questions that designers might want to consider in the course of their work," he added. "I'm not saying they need to be thinking about death all the time, but it could be helpful at some point to think about."

Massimi calls this approach thanatosensitive design, a term derived from Thanatos, the Greek word for death. It looks at the conceptual and practical problems surrounding death in the creation of interactive systems. 

"Mike chose a dissertation topic with imagination and courage, and has been vigorous in evangelizing its importance to the field of human-computer interaction," said Baecker. "This has led to a rapid growth of thanatosensitive design research worldwide, and to an increasing number of papers and workshops at leading conferences."

Ultimately, Massimi hopes his project prompts web designers to ask what happens if the user were to die, or which other stakeholders need to be considered when designing interactive systems.

"I hope it makes people stop and think about how technology plays a role in their lives over time," said Massimi.